DUPLICITY OF THE FEMORAL VEIN AS A RISK FACTOR FOR DEEP VENOUS THROMBOSIS - DIAGNOSIS BY ULTRASONOGRAPHY
Keywords:
Ultrasonography, Doppler, Color, Femoral Vein, Thrombosis
Abstract
Femoral vein duplication is an anatomical abnormality with high prevalence in general population. Its diagnosis is through imaging exams, with greater emphasis on Doppler ultrasonography. The identification is crucial because it masks the clinical symptoms of deep vein thrombosis. Besides being an important anatomical pathway and, while in duplicity, it can be used as a possible vascular substitute, therefore making the knowledge of the anatomical path and its variants essential. Ultrasonography has attractive advantages over other methods, collecting data from patients in physiological conditions with- out the need of contrast, or exposure to ionizing radiation, providing anatomical details of the venous system and anatomical variations. When thrombus is suspected in a duplicated segment, examination of the lower limb with anatomical variation should not be used to justify the presence of duplication in the contralateral limb.
Downloads
Download data is not yet available.
References
Sharma P, Salwan. Duplication of femoral vein and its significant clinical implications. IJAV. 2011;4:188–91.
Casella IB, Presti C, Yamazaki Y, Vassoler AA, Furuya LA, Sabbag CD. A duplex scan-based morphologic study of the femoral vein: incidence and patterns of duplication. Vasc Med. 2010 Jun;15(3):197-203.
Gordon AC, Wright I, Pugh ND. Duplication of the superficial femoral vein: recognition with duplex ultrasonography. Clin Radiol. 1996 Sep;51(9):622-4.
Paraskevas P. Femoral vein duplication: incidence and potential significance. Phlebology. 2011 Mar;26(2):52-5.
Zamboni P, Gianesini S. Surgical Technique for Deep Venous Reflux Suppression in Femoral Vein Duplication. EJVES Short Rep. 2016 Feb 19;30:10-12.
Zhang Y, Xia H, Wang Y, Chen L, Li S, Hussein IA, Wu Y, Shang Y, Yao S, Du R. The rate of missed diagnosis of lower-limb DVT by ultrasound amounts to 50% or so in patients without symptoms of DVT: A meta-analysis. Medicine (Baltimore). 2019 Sep;98(37):e17103.
Screaton NJ, Gillard JH, Berman LH, Kemp PM. Duplicated superficial femoral veins: a source of error in the sonographic investigation of deep vein thrombosis. Radiology 1998; 206: 397–401.
Liu GC, Ferris EJ, Reifsteck JR, Baker ME. Effect of ana- tomic variations on deep venous thrombosis of the lower extremity. AJR Am J Roentgenol 1986; 146: 845–848.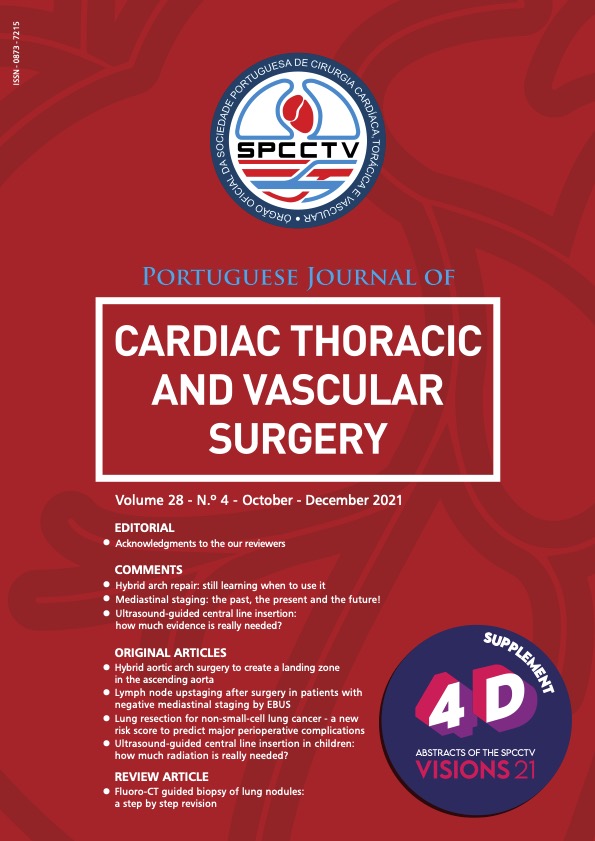 Downloads
How to Cite
1.
Campagnolo MT, de Queiroz Pereira da Silva A, Duarte ML, Ribeiro dos Santos L, Alves Urzeda M. DUPLICITY OF THE FEMORAL VEIN AS A RISK FACTOR FOR DEEP VENOUS THROMBOSIS - DIAGNOSIS BY ULTRASONOGRAPHY. Rev Port Cir Cardiotorac Vasc [Internet]. 2022 Jan. 4 [cited 2022 Dec. 8];28(4):63-5. Available from: https://pjctvs.com/index.php/journal/article/view/228
License
This work is licensed under a Creative Commons Attribution 4.0 International License.