SYNOVIAL HAEMANGIOMA OF THE KNEE – DIAGNOSIS BY MAGNETIC RESONANCE IMAGING
Abstract
Synovial hemangioma is a rare nonneoplastic vascular malformation of the synovial membrane described by Bouchut in 1856. Fewer than 200 cases have been described in the literature, corresponding to 1% of all hemangiomas. The presenting symptoms are often non-specific, which often leads to a delay in diagnosis of many years and can result in arthropathy if left undetected. The early diagnosis of a synovial haemangioma is important as recurrent haemarthrosis may lead to irreversible joint damage and chronic inflammatory synovitis. In practice, there is no consensus on the best treatment of synovial hemangiomas in children. Total resection of the tumor can be performed by arthroscopy in localized forms and for small lesions. Open resection associated with synovectomy is necessary when the hemangioma occupies most of synovial membrane.
Downloads
Download data is not yet available.
References
Mrani Alaoui N, Lamalmi N, Saouab R, Gourinda H, Dendane MA. Synovial hemangioma: a rare case of knee joint tumefaction in children. Ann Vasc Surg. 2014 Jan;28(1):260.e1-4.
Wen DW, Tan TJ, Rasheed S. Synovial haemangioma of the knee joint: an unusual cause of knee pain in a 14-month old girl. Skeletal Radiol. 2016 Jun;45(6):827-31.
Hoe HG, Zaki FM, Rashid AHA. Synovial Haemangioma of the Elbow: A rare paediatric case and imaging dilemma.
Sultan Qaboos Univ Med J. 2018 Feb;18(1):e93-e96.
Arslan H, İslamoğlu N, Akdemir Z, Adanaş C. Synovial hemangioma in the knee: MRI findings. J Clin Imaging Sci.
Apr 30;5:23.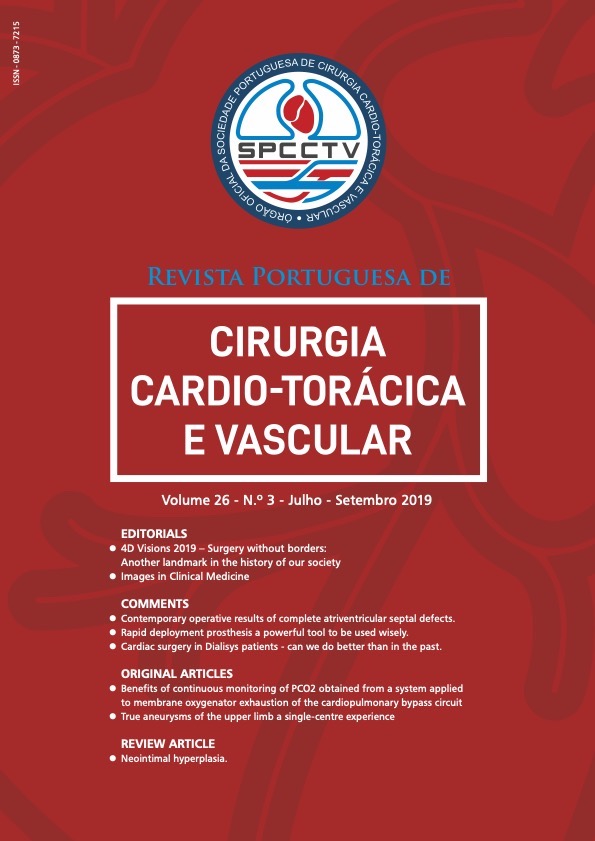 Downloads
How to Cite
1.
Duarte ML, Ribeiro dos Santos L, Nogueira Dantas Gastaldi T. SYNOVIAL HAEMANGIOMA OF THE KNEE – DIAGNOSIS BY MAGNETIC RESONANCE IMAGING. Rev Port Cir Cardiotorac Vasc [Internet]. 2021 Apr. 30 [cited 2022 Dec. 8];26(3):235-8. Available from: https://pjctvs.com/index.php/journal/article/view/111
License
This work is licensed under a Creative Commons Attribution 4.0 International License.