Brachial Vein Transposition Versus Arteriovenous Graft – Two-year Results
Keywords:
brachial vein transposition, dialysis access, AV fistula, catheters, prosthetic grafts
Abstract
Background: Proper vascular access is essential for effective hemodialysis. There are three main access modalities: arte- riovenous fistula (AVF), arteriovenous graft (AVG), and central venous catheter. AVF has better patency and fewer complications, with lower morbidity and mortality rates. Some patients have limited superficial venous patrimony, and the best vascular access remains undetermined, with AVG and brachial vein transposition (BVT) representing upper limb alternatives. Our aim is to inves- tigate BVT and AVG followed by our institution regarding patency and need for intervention.
Methods: This paper is based on a retrospective analysis of BVT and AVG followed/intervened our center between 2014 and 2018. To primary outcome was to define and compare patency rates for each group. Primary failure and need for reinterven- tion were considered secondary outcomes.
Results: There was no statistically significant difference between primary and secondary patency in both groups. BVT has a higher post-intervention primary patency and fewer interventions due to thrombosis, despite the overall number of inter- ventions per patient similar to AVG.
Conclusions: Despite the absence of a statistically significant difference in secondary patency and the need for reinter- vention between BVT and AVG, thrombosis-free time is higher in the BVT group. Overall, BVT is a valid access option that should be considered in patients with no other autogenous access alternative in upper limbs.
Downloads
Download data is not yet available.
References
Santoro, D., et al., Vascular access for hemodialysis: current perspectives. Int J Nephrol Renovasc Dis, 2014. 7: p. 281-94.
Fissell, R.B., et al., Hemodialysis patient preference for type of vascular access: variation and predictors across countries in the DOPPS. J Vasc Access, 2013. 14(3): p. 264-72.
Johansen, K.L., Life Expectancy Gains for Patients with ESRD. Clin J Am Soc Nephrol, 2018. 13(1): p. 11-12.
Mendes, R.R., et al., Prediction of wrist arteriovenous fistula maturation with preoperative vein mapping with ultrasonography. J Vasc Surg, 2002. 36(3): p. 460-3.
Lee, B.B., New approaches to the treatment of congenital vascular malformations (CVMs)--a single centre experience. Eur J Vasc Endovasc Surg, 2005. 30(2): p. 184-97.
Taylor, G., et al., Prospective surveillance for primary bloodstream infections occurring in Canadian hemodialysis units. Infect Control Hosp Epidemiol, 2002. 23(12): p. 716-20.
Lee, T., et al., Standardized definitions for hemodialysis vascular access. Semin Dial, 2011. 24(5): p. 515-24.
Norton de Matos, A., et al., Brachio-Brachial Arteriovenous Fistula Superficialization with Short Skip Incisions. Ann Vasc Surg, 2017. 41: p. 311-313.
Jennings, W.C., et al., Brachial vein transposition arteriovenous fistulas for hemodialysis access. J Vasc Surg, 2009. 50(5): p. 1121-5; discussion 1125-6.
Spergel, L.M., et al., Autogenous arteriovenous fistula options. J Nephrol, 2007. 20(3): p. 288-98.
Bazan, H.A. and H. Schanzer, Transposition of the brachial vein: a new source for autologous arteriovenous fistulas. J Vasc Surg, 2004. 40(1): p. 184-6.
Elwakeel, H.A., et al., Unusual vascular access for hemodialysis: transposed venae comitante of the brachial artery. Ann Vasc Surg, 2007. 21(5): p. 560-3.
Angle, N. and A. Chandra, The two-stage brachial artery-brachial vein autogenous fistula for hemodialysis: an alternative autogenous option for hemodialysis access. J Vasc Surg, 2005. 42(4): p. 806-10.
Dorobantu, L.F., et al., The brachio-brachial arteriovenous fistula: a new method in patients without a superficial venous system in the upper limb. J Vasc Access, 2006. 7(2): p. 87-9.
Torina, P.J., E.F. Westheimer, and H.R. Schanzer, Brachial vein transposition arteriovenous fistula: is it an acceptable option for chronic dialysis vascular access? J Vasc Access, 2008. 9(1): p. 39-44.
Casey, K., et al., Brachial versus basilic vein dialysis fistulas: a comparison of maturation and patency rates. J Vasc Surg, 2008. 47(2): p. 402-6.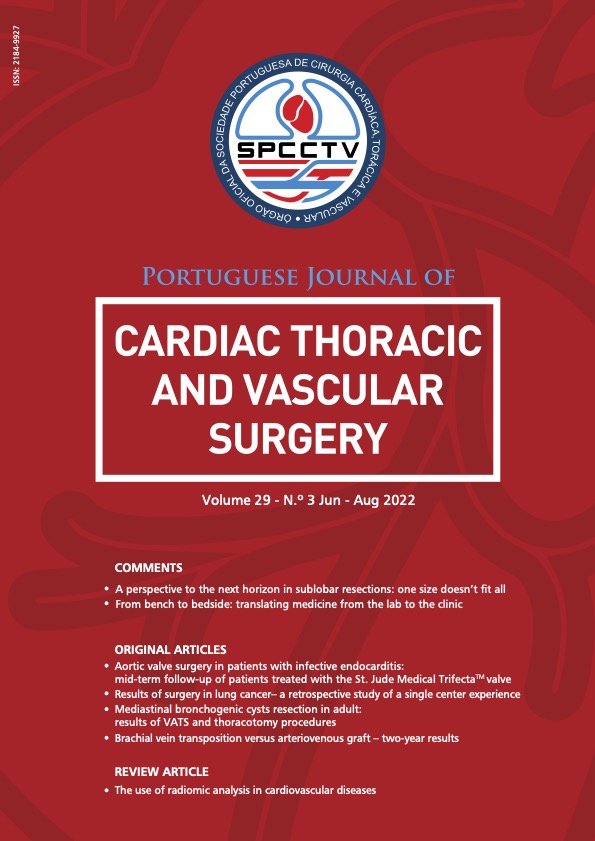 Downloads
How to Cite
1.
Antunes I, Pinelo A, Almeida P, Loureiro L, Oliveira P, Almeida R, Norton de Matos A. Brachial Vein Transposition Versus Arteriovenous Graft – Two-year Results. Rev Port Cir Cardiotorac Vasc [Internet]. 2022 Oct. 5 [cited 2023 Dec. 9];29(3):41-4. Available from: https://pjctvs.com/index.php/journal/article/view/303
Section
Original Articles
License
This work is licensed under a Creative Commons Attribution 4.0 International License.