DEEP VEIN ULTRASOUND-GUIDED THROMBOLYSIS
Keywords:
vascular ultrasound, deep vein thrombosis, catheter-directed thrombolysis
Abstract
Catheter directed thrombolysis is a minimally invasive procedure that results in a significant reduction in venous obstruction after deep vein thrombosis. The technique implies the performance of phlebographies to monitor the thrombolysis progression. The objective of this paper is to describe the use of vascular ultrasound to follow the thrombus lysis and to adjust the catheter position according to the progression of the thrombolysis. This is the first case reported describing the application of ultrasound to monitor the thrombolysis. A 36-year woman was admitted ilio-femoral vein. The ipsilateral great saphenous vein was the percutaneous access to perform the anterograde thrombolysis. The procedure, including the control of thrombus lysis, as well as catheter progression was performed under ultrasound guidance. The thrombolysis took 52 hours. The patient has two years of follow-up without any complaint. The use of vascular ultrasound to monitor the thrombolysis has several theoretical advantages in patients with adequate biotopes. It minimizes the number of venograms and can be performed at the bedside. It is effective and inexpensive.
Downloads
Download data is not yet available.
References
Fleck D, Albadawi H, Shamoun F, Knuttinen G, Naidu S, Oklu R. Catheter-directed thrombolysis of deep vein thrombosis: literature review and practice considerations. Cardiovascular Diagnosis and Therapy 2017;7(3):S228–S237.
Jenkins JS, Michael P. Deep Venous Thrombosis: An Interventionalist's Approach. The Ochsner Journal 2014;14(4):633–640.
Gogalniceanu P, Johnston CJC, Khalid U, Holt PJE, Hincliffe R, Loftus IM, Thompson MM. Indications for Thrombolysis in Deep Venous Thrombosis. European Society for Vascular Surgery 2009;39:192–198.
Marston WA, Hill C. Results of the ATTRACT trial do not change the management of acute deep vein thrombosis. Journal of Vascular Surgery: Venous and Lymphatic Disorders 2018;6(1):5–6.
Comerota AJ, Kearon C, Julian JA, Goldhaber SZ, Kahn SR, Jaff MR, Razavi MK, Kindzelski AL, Bashir R, Patel P, Sharafuddin M, Sichlau MJ, Saad WE, Assi Z, Hofmann LV, Kennedy M, Vedantham S. Endovascular Thrombus Removal for Acute Iliofemoral Deep Vein Thrombosis. Circulation 2019;139:1162–1173.
Lin M, Hsieh JCF, Hanif M, McDaniel A, Chew DK. Evaluation of thrombolysis using tissue plasminogen activator in lower extremity deep venous thrombosis with concomitant femoral-popliteal venous segment involvement. Journal of Vascular Surgery: Venous and Lymphatic Disorders 2017;5(5):613–620.
O'Connor P, Lookstein R. Endovascular Interventions for Venous Disease. Techniques in Vascular and Interventional Radiology 2018;21(2):55–64. Doi: 10.1053/j.tvir.2018.03.010
Fiengo L, Bucci F, Khalil E, Salvati B. Original approach for thrombolytic therapy in patients with Ilio-femoral deep vein thrombosis : 2 years follow-up. Thrombosis Journal 2015;13:1–5. Doi: 10.1186/s12959-015-0070-0.
Duan P, Ni C. Randomized study of different approaches for catheter-directed thrombolysis for lower-extremity acute deep venous thrombosis. Journal of the Formosan Medical Association 2016;115(8):652–657. Doi: 10.1016/j.jfma.2015.07.001.
Conte MS, Bradbury AW, Kolh P, White JV, Dick F, Fitridge R, Mills JL, Ricco J-B, Suresh KR, Murad MH, GVG Writing Group. Global vascular guidelines on the management of chronic limb-threatening ischemia. Journal of Vascular Surgery 2019;69(6):3S–125S.e40. Doi: 10.1016/j.jvs.2019.02.016
Madsen CP, Gesla J, Vijdea RL, Serifi MA, Christensen JK, Houlind K. Results of catheter-directed thrombolysis for acute ilio-femoral deep venous thrombosis- A Retrospective cohort study. JRSM Cardiovascular 2018;7:1–8. Doi:10.1177/2048004018766801
Kohi MP, Kohlbrenner R, Koli KP, Lehrman E, Taylor AG, Fidelman N. Catheter directed interventions for acute deep vein thrombosis. Cardiovascular Diagnosis and Therapy 2016;6(6):599–611.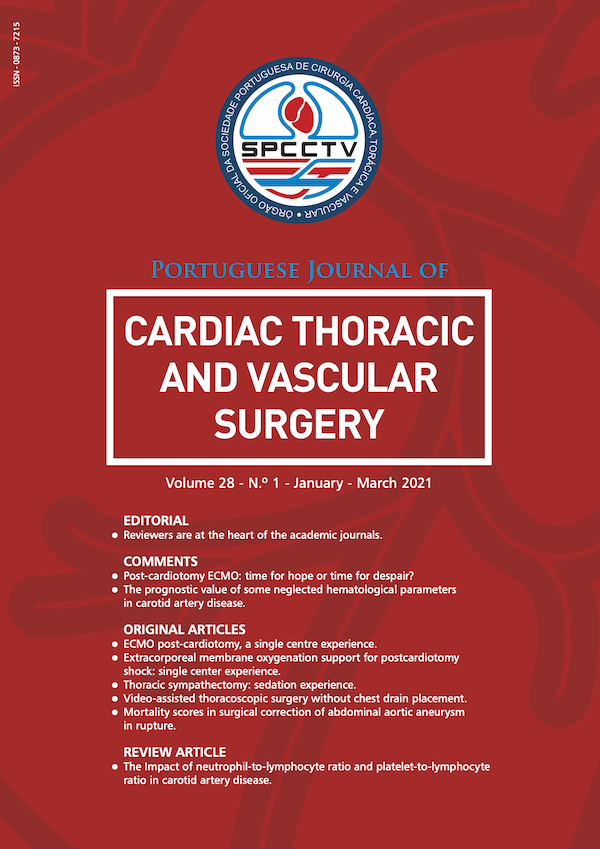 Downloads
How to Cite
1.
Ferreira J, Simões J, Braga S, Sousa P, Carrilho C, Mesquita A. DEEP VEIN ULTRASOUND-GUIDED THROMBOLYSIS. Rev Port Cir Cardiotorac Vasc [Internet]. 2021 Apr. 8 [cited 2023 Oct. 3];28(1):65-7. Available from: https://pjctvs.com/index.php/journal/article/view/19