PLEURAL METASTASIS OF A PEDIATRIC OSTEOSARCOMA
Keywords:
Osteosarcoma, pleural metastasis, pediatrics
Abstract
Introduction: Osteosarcoma is the most common primary bone tumor in children and young adults.
Although osteosarcoma is a tumor with a great metastatic potential, mainly to the lung; pleural metastasis in patients with osteosarcoma are rarely reported.
We present a case of 16 years-old male with a pleural metastasis of a tibial osteosarcoma diagnosed 4years earlier. He was submitted to a left thoracotomy and intra-operatively a pleural mass and a left upper lobe lesion was identified. Video-assisted resection of the extra-pulmonary mass and a wedge resection of the left upper lobe lesion was performed. The surgery was uneventful.
The patient is clinically well, asymptomatic, maintains active surveillance.
Downloads
Download data is not yet available.
References
Saha D, Saha K, Banerjee A, Jash D. Osteosarcoma relapse as pleural metastasis. South Asian J Can- cer. 2013;2(2): 56. doi: http://doi.org/10.4103/2278- 330X.110483:10.4103/2278-330X.110483
Li W, Zhang S. Survival of patients with primary osteosarcoma and lung metastases. J Buon. 2018; 23(5): 1500-1504
Marchiori E, Barreto M, Zanetti G. Pleural Metastasis of Osteosarcoma. Images in Cardiothoracic surgery. 2018; 105: E87-E88. doi: https://doi.org/10.1016/j.athorac- sur.2017.09.010
Sujing J, Guannan W, Ying D. Endostar combined with chemotherapy in a pediatric osteosarcoma with pulmonary metastasis and malignant pleural effusion: A case report. Medicine. 2017;96(51): 9077. Doi http://dx.doi.org/10.1097/MD.0000000000009077
Krishnamurthy K, Alghamdi S, Kochiyil J, Bruney G, Poppiti R. Osteosarcoima pre-senting with malignant pleural effusion in a 55 year old, Respir Med Case Rep. 2018;25:314-317. Doi 10.1016/j.rmcr.2018.10.017
Marina NM, Pratt CB, Rao BN, Shema SJ, Meyer WH. Im- proved prognosis of children with osteosarcoma metastatic to the lung (s) at the time of diagnosis. Cancer. 1992;70:2722–7.
Japan Autopsy Annual Database. Japanese Society of Pathology; Tokyo: 1981-2002. (Japanese Society of Pa- thology. In Japanese).
Salah S, Toubasi S. Factors predicting survival following complete surgical remission of pulmonary metastasis in osteosarcoma. Mol Clin Onco. 2014; 157-162. doi: https://doi.org/10.3892/mco.2014.426
AbdullGaffar B. Osteosarcoma pleural effusion: A diagnostic challenge with some cytologic hints. Diagn Citopathol. 2021;49(1): E40-E41. doi: https://doi. org/10.1002/dc.24569
kim S, Choi J, Lee S, Choi J, Hong S, Chung H, Kang H. Imaging findings of extrapulmonary metastases of osteosarcoma. Clin Imaging. 2004; 28(4): 291-300. doi: https://doi.org/10.1016/S0899-7071(03)00206-7.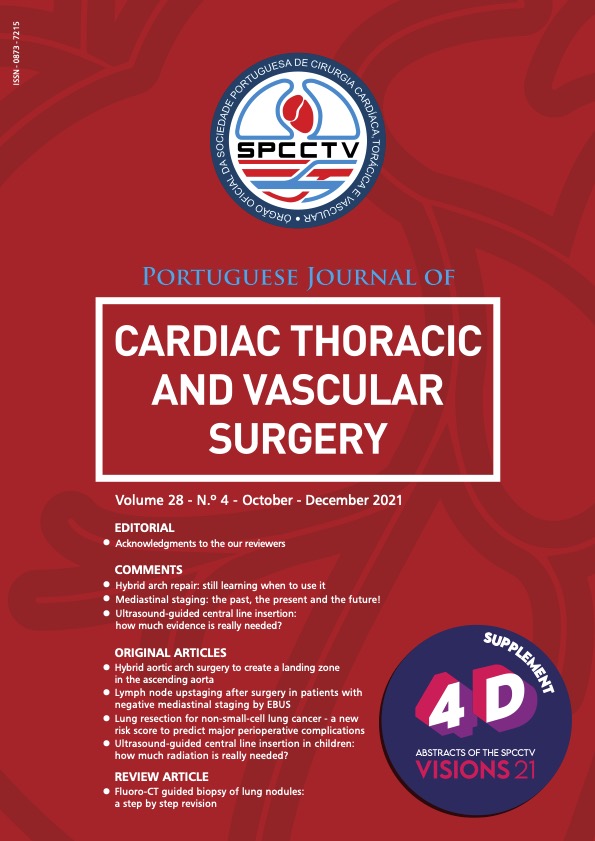 Downloads
How to Cite
1.
Marinho AS, Barbosa-Sequeira J, Carvalho C, Carvalho F, Paupério G. PLEURAL METASTASIS OF A PEDIATRIC OSTEOSARCOMA. Rev Port Cir Cardiotorac Vasc [Internet]. 2022 Jan. 4 [cited 2022 Jan. 28];28(4):55-7. Available from: https://pjctvs.com/index.php/journal/article/view/226
License
This work is licensed under a Creative Commons Attribution 4.0 International License.