CHEMOTHERAPY HAZARDS: ANTHRACYCLINE EXTRAVASATION INTO PLEURAL SPACE
Keywords:
Doxorubicin, Central Venous Catheters, Adjuvant Chemotherapy, dexrazoxane, pleural effusion
Abstract
The extravasation of doxorubicin, a cytostatic from the anthracycline group, is a rare and feared complication of intravenous chemotherapy due to tissue toxicity of these drugs. We describe a case of a 64-year-old woman with breast cancer undergoing adjuvant chemotherapy with doxorubicin and cyclophosphamide using a tunneled central catheter. After a chemotherapy cycle, the patient developed cough, dyspnoea and chest pain, due to a pleural effusion secondary to cytostatic leakage. A pleural drainage was placed and dexrazoxone was administred with resolution of the condition. The authors wish to highlight that the use of dexrazoxone should be considered after intra-pleural extravasation of anthracyclines given its effectiveness in preventing tissue damage and long-term sequelae in peripheral extravasation.
Downloads
Download data is not yet available.
References
Boschi R, Rostagno E. Extravasation of antineoplastic agents: prevention and treatments. Pediatr Rep 2012; 4:e28. https://doi.org/10.4081/pr.2012.e28
Conde-Estévez D, Mateu-de Antonio J. Treatment of anthracycline extravasations using dexrazoxane. Clin Transl Oncol 2014;16:11–7. htpps://doi.org/10.1007/s12094-013-1100-7
Pérez Fidalgo JA, García Fabregat L, Cervantes A, et al. Management of chemotherapy extravasation: ESMO–EONS Clinical Practice Guidelines. Ann Oncol. 2012; 23(suppl 7):vii167–vii73. https://doi.org/10.1093/annonc/mds294
Narducci F, Jean-Laurent M, Boulanger L, et al. Totally implantable venous access port systems and risk factors for complications: a one-year prospective study in a cancer centre. Eur J Surg Oncol 2011; 37: 913–8. htpps://doi.org/10.1016/j.ejso.2011.06.016
Kazakova V, A Moreno Vanegas Y, A Torres T, et al. Delayed presentation of doxorubicin extravasation into pleural space: Case report and review of literature. J Oncol Pharm Practice. 2020; 0:1-8 https://doi.org/10.1177/1078155220975848
Kane RC, McGuinn WD, Dagher R, et al. Dexrazoxane (Totect): FDA review and approval for the treatment of accidental extravasation following intravenous anthracycline chemotherapy. Oncologist 2008; 13:445–450. https://doi.org/10.1634/theoncologist.2007-0247
Schulmeiser L, Camp-Sorrell D. Chemotherapy extravasation from implanted ports. Oncol Nurs Forum 2000; 27:531-8.
Kurul S, Saip P, Aydin T (2002) Totally implantable venous-access ports: local problems and extravasation injury. Lancet Oncol 2002; 3:684–92. https://doi.org/10.1016/s1470-2045(02)00905-1.
Abby Mercer T, Wendy G. Successful Experience Utilizing Dexrazoxane Treatment for an Anthracycline Extravasation. Ann Pharmacother 2010; 44:922-25. https://doi.org/10.1345/aph.1M636.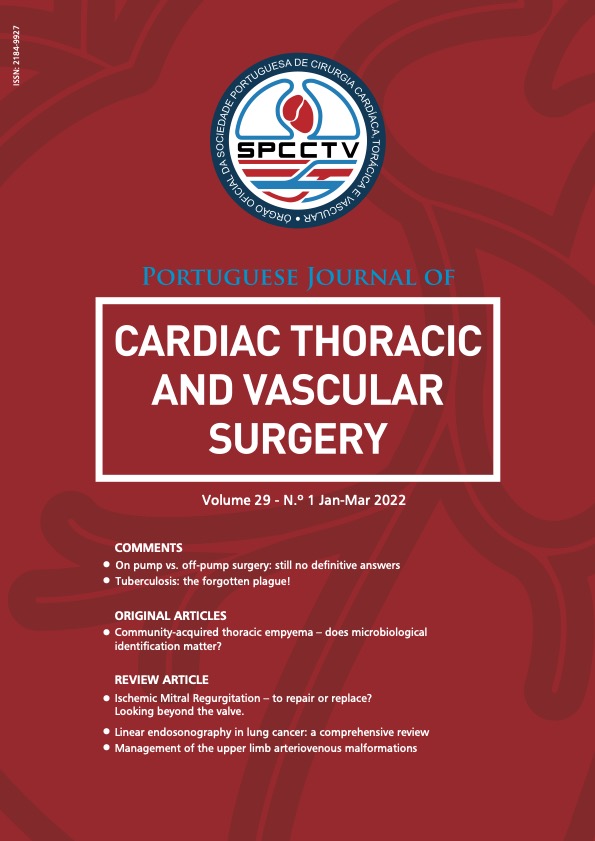 Downloads
How to Cite
1.
Almendra A, Falcão P, Moreira S, Azevedo P. CHEMOTHERAPY HAZARDS: ANTHRACYCLINE EXTRAVASATION INTO PLEURAL SPACE. Rev Port Cir Cardiotorac Vasc [Internet]. 2022 Apr. 11 [cited 2022 May 22];29(1):61-3. Available from: https://pjctvs.com/index.php/journal/article/view/254
License
This work is licensed under a Creative Commons Attribution 4.0 International License.