Encasement Of Popliteal Vascular Bundle Due Local Osteosarcoma Recurrence Treated With Wide Resection And Vascular Reconstruction
Keywords:
Osteosarcoma recurrence, Encasement of popliteal vascular bundle, Popliteal vessels reconstruction, Polytetrafluoroethylene prosthesis, Limb salvage surgery
Abstract
Osteosarcoma is the most common primary bone malignancy. The prognosis of patients after local recurrence is generally poor and management of the locally recurrent disease is not well defined, especially in patients who have undergone limb-sparing surgery.
A 20-year-old male presented a local recurrence of conventional osteosarcoma at the popliteal fossa with encasement of popliteal vascular bundle after previous tumor-wide resection and reconstruction with proximal tibia endoprosthesis. A wide resection "en bloc" of the lesion included part of the popliteal vessel. A bypass of both popliteal vessels, the vein with polytetrafluoroethylene (PTFE) prosthesis, and the artery with contralateral saphenous vein were performed to allow a limb salvage surgery.
Local management of recurrent osteosarcoma in a previously reconstructed limb is highly individualized.
This case confirms that preservation of lower limb function is possible using reconstruction techniques of bone and vessels in the sarcoma of the musculoskeletal system.
Downloads
Download data is not yet available.
References
Jaffe N, Bruland ØS, Bielack S. Pediatric and Adolescent Os- teosarcoma: Editorial summation. Cancer Treat Res 2009; 152: 573–575.
Linabery AM, Ross JA. Trends in childhood cancer incidence in the U.S. (1992-2004). Cancer 2008; 112: 416–432.
Greenspan A, Jundt G, Remagen W. Differential Diagnosis in Orthopaedic Oncology. Second Edi. 2007.
Durnali A, Alkis N, Cangur S, et al. Prognostic factors for teenage and adult patients with high-grade osteosarcoma: An analysis of 240 patients. Med Oncol; 30. Epub ahead of print 2013. DOI: 10.1007/s12032-013-0624-6.
Mario Campanacci; Gaetano Bacci Fbpp, Angel0 Minutillo; Claud10 Franceschi. The Treatment of Osteosarcoma of the Extremities: Twenty Years' Experience at the lstituto Ortopedi- co Rizzoli. Am Cancer Soc 1981; 48: 1569–81.
Mei J, Zhu XZ, Wang ZY, et al. Functional outcomes and quality of life in patients with osteosarcoma treated with amputation versus limb-salvage surgery: a systematic review and meta-analysis. Arch Orthop Trauma Surg 2014; 134: 1507– 1516.
Loh AHP, Navid F, Wang C, et al. Management of Local Recurrence of Pediatric Osteosarcoma Following Limb-Sparing Surgery. Epub ahead of print 2014. DOI: 10.1245/s10434- 014-3550-8.
Eiser C, Darlington ASE, Stride CB, et al. Quality of life implications as a consequence of surgery: Limb salvage, primary and secondary amputation. Sarcoma 2001; 5: 189–195.
Nathan SS, Gorlick R, Bukata S, et al. Treatment algorithm for locally recurrent osteosarcoma based on local disease-free interval and the presence of lung metastasis. Cancer 2006; 107: 1607–1616.
Aggerholm-Pedersen N, Maretty-Nielsen K, Keller J, et al. The importance of standardized treatment in high-grade osteosarcoma: 30 years of experience from a hospital-based database. Acta Oncol (Madr) 2015; 54: 17–24.
Kawaguchi N, Ahmed AR, Matsumoto S, et al. The Concept of Curative Margin in Surgery for Bone and Soft Tissue Sarcoma. Clin Orthop Relat Res 2004; 5: 165–172.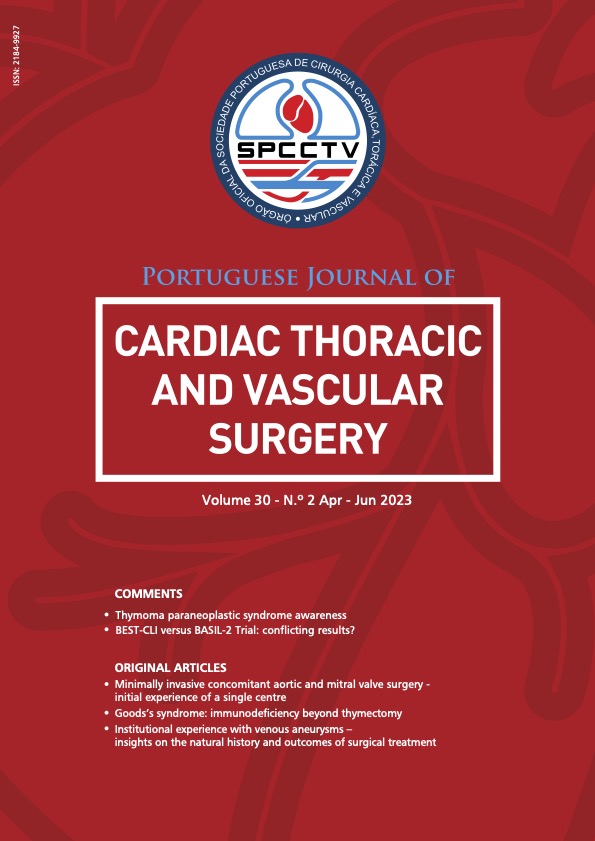 Downloads
How to Cite
1.
Vale J, Diniz S, Pereira C, Oliveira V, Cardoso P. Encasement Of Popliteal Vascular Bundle Due Local Osteosarcoma Recurrence Treated With Wide Resection And Vascular Reconstruction. Rev Port Cir Cardiotorac Vasc [Internet]. 2023 Jul. 7 [cited 2023 Oct. 3];30(2):71-5. Available from: https://pjctvs.com/index.php/journal/article/view/290
License
Copyright (c) 2023 Portuguese Journal of Cardiac Thoracic and Vascular Surgery
This work is licensed under a Creative Commons Attribution 4.0 International License.