SURGICAL APPROACH TO COLORECTAL CANCER PULMONARY METASTASIS – ONE-YEAR EXPERIENCE OF A REFERENCE CENTER
Abstract
Introduction: Colorectal cancer is the third most common malignancy, being associated with metastatic disease in 50% of cases. The lung is the second organ most affected by metastasis in colorectal cancer. In this study, we aim to review the cases submitted to resection of pulmonary colorectal metastasis at Hospital Pulido Valente, comprised in the period from the 1st of January to the 31st of December 2017.
Methods: Retrospective analysis. Data were collected from clinical records.
Results: There were 21 patients operated during this period, with a total of 22 surgeries performed, all with curative intent. Data were collected regarding age, gender, site of primary tumour, number of resected lesions, surgical approach, performed procedure, disease-free interval, presence of bilateral disease and existence of extra-pulmonary metastasis.
Conclusion: Lung metastases are frequent in colorectal cancer. Pulmonary metastasectomy is currently accepted as a potentially curative therapy as part of a multimodal approach to metastatic colorectal cancer.
Downloads
Download data is not yet available.
References
Niederhuber J E. Abeloff's Clinical Oncology, Elsevier, 2014:764-777
Yeo C J. Shackelford's Surgery of the Alimentary Tract, Elsevier, 2013: 2133-2148.
Nahler G. Disease Free Interval. Dictionary of Pharmaceutical Medicine. Vienna: Springer, 2009:53.
Kim J Y. Post-pulmonary metastasectomy prognosis after curative resection for colorectal cancer. Oncotarget, 2017: 36566-36577.
Jarabo, J. (2018). Combined Hepatic and Pulmonary Metastasectomies From Colorectal Carcinoma. Data From the Prospective Spanish Registry 2008-2010. Arch Bronconeumol, 2018, 54(4):189-197.
Lareiro S, Fernandes P, Vouga L, Miranda J, Guerra M. Surgical resection of lung metastases. RevPort Cir Cardiotorac, XXIII 2016;(3-4): 131-136.
Moorcraft S. Management of ressectable colorectal lung metastases, Clin Exp Metastasis, 2015. DOI 10.1007/s10585-015-9774-6.
Internullo E. Pulmonary Metastasectomy, A Survey of Current Practice Amongst Members of the European Society of Thoracic Surgeons. Journal of thoracic Oncology, 2008:1257-1266.
Shah SA. Surgical Resection of Hepatic and Pulmonary Metastases from Colorectal Carcinoma. J Am Coll Surg, 2006, Vol. 202(3):468-475.
Andres A. Surgical management of patients with colorectal cancer and simultaneous liver and lung metastases. British Journal of Surgery, 2015. 102: 691–699.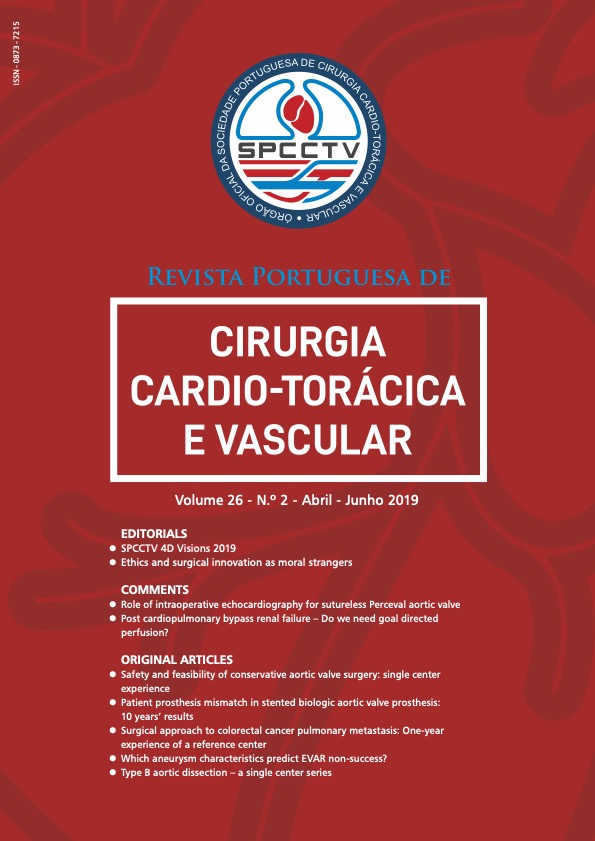 Downloads
How to Cite
1.
Jervis MJ, Rodrigues C, Cabral D, Torres C, Félix F. SURGICAL APPROACH TO COLORECTAL CANCER PULMONARY METASTASIS – ONE-YEAR EXPERIENCE OF A REFERENCE CENTER. Rev Port Cir Cardiotorac Vasc [Internet]. 2021 May 26 [cited 2023 Feb. 3];26(2):117-9. Available from: https://pjctvs.com/index.php/journal/article/view/124
Section
Original Articles
License
This work is licensed under a Creative Commons Attribution 4.0 International License.