Solitary Diaphragmatic Metastasis of a Previously Excised Chest Wall Chondrosarcoma
Keywords:
Metastasis, Diaphragm, Sarcoma
Abstract
Chest wall chondrosarcomas are relatively infrequent tumours. Diaphragmatic metastasis are rarer still, and are generally associated with disseminated disease, usually involving the liver and the lungs.
The authors present the case of a 65 year old man with a prior history of a chest wall chondrosarcoma, which on a routine chest CT was identified a single diaphragmatic metastasis. A redo thoracotomy was performed, with partial resection and reconstruction of the diaphragm. The post-resection histopathological examination revealed a conventional chondrosarcoma metastasis, centred in the diaphragmatic muscle, not reaching the pleura or the peritoneum.
Downloads
Download data is not yet available.
References
Lenze U, Angelini A, Pohlig F, Knebel C, Trovarelli G, Berizzi A, et al. Chondrosarcoma of the Chest Wall: A Review of 53 Cases from Two Institutions. Anticancer Res. 2020;40(3):1519-26.
Nazeri E, Gouran Savadkoohi M, Majidzadeh AK, Esmaeili R. Chondrosarcoma: An overview of clinical behavior, molecular mechanisms mediated drug resistance and potential therapeutic targets. Crit Rev Oncol Hematol. 2018;131:102-9.
Stevenson JD, Laitinen MK, Parry MC, Sumathi V, Grimer RJ, Jeys LM. The role of surgical margins in chondrosarcoma. Eur J Surg Oncol. 2018;44(9):1412-8.
NCCN. NCCN Clinical Practice Guidelines in Oncology - Bone Cancer. 2022 October 8, 2021.
Vuong HG, Ngo TNM, Dunn IF. Prognostic importance of IDH mutations in chondrosarcoma: An individual patient data meta-analysis. Cancer Med. 2021;10 (13):4 415 -2 3.
Chow W, Frankel P, Ruel C, Araujo DM, Milhem M, Okuno S, et al. Results of a prospective phase 2 study of pazopanib in patients with surgically unresectable or metastatic chondrosarcoma. Cancer. 2020;126(1):105- 11.
Tawbi HA, Burgess M, Bolejack V, Van Tine BA, Schuetze SM, Hu J, et al. Pembrolizumab in advanced soft-tissue sarcoma and bone sarcoma (SARC028): a multicentre, two-cohort, single-arm, open-label, phase 2 trial. The Lancet Oncology. 2017;18(11):1493-501.
Mandal AK. Review of primary tumors of the diaphragm. J Natl Med Assoc. 1988;80(2):214-6.
Brito IM, Teixeira S, Pauperio G, Choupina M, Ribeiro M. Giant chondrosarcoma of the chest wall: a rare surgical challenge. Autops Case Rep. 2020;10(3):e2020166.
Lee K. Isolated Diaphragmatic Metastasis Originated from Adenocarcinoma of the Colon. Cancer Research and Treatment. 2004;36(2):157-9.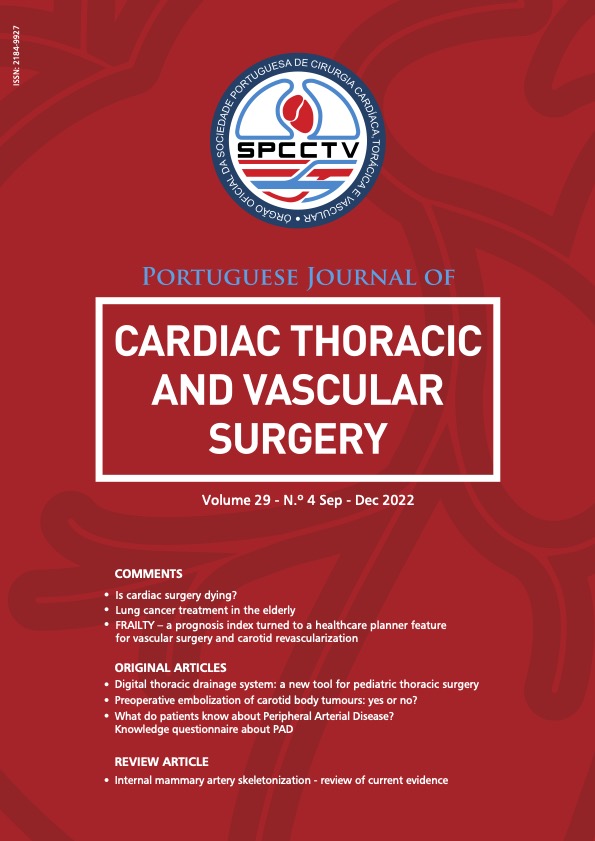 Downloads
How to Cite
1.
Leite F, Lopes S, Paupério G. Solitary Diaphragmatic Metastasis of a Previously Excised Chest Wall Chondrosarcoma. Rev Port Cir Cardiotorac Vasc [Internet]. 2023 Jan. 14 [cited 2023 Oct. 3];29(4):55-7. Available from: https://pjctvs.com/index.php/journal/article/view/209
License
Copyright (c) 2023 Portuguese Journal of Cardiac Thoracic and Vascular Surgery
This work is licensed under a Creative Commons Attribution 4.0 International License.