GIANT THORACIC MASS – THE STORY OF A SOLITARY FIBROUS TUMOUR
Abstract
 The tumours of the pleura are a vast and diverse field. One of the lesser known and less common tumour is the solitary fibrous tumour of the pleura, representing about 5% of these types of tumours. The authors present the case of a woman admitted to the emergency department with symptoms of dizziness and vomits. Imaging studies showed a giant thoracic mass on the left hemithorax, with a biopsy indicating a solitary fibrous tumour. The patient was referred for surgery, which was performed via thoracotomy. In the postoperative period she developed an acute pulmonary oedema secondary to lung reexpansion and fluid overload, with a good response to fluid restriction and intravenous diuretics. 
Downloads
Download data is not yet available.
References
Cardillo G, Lococo F, Carleo F, et al. Solitary fibrous tumours of the pleura. CurrOpinPulm Med 2012; 18: 339–346.
dePerrot M, Fischer S, Brundler MA, et al. Solitary fibrous tumours of the pleura. Ann ThoracSurg 2002; 74: 285–293.
Junqueira N, Caldeira J, Ferreira R, Costa F, Silva J, Monteiro T, Nobre Â. Giant Pleural Tumor And Severe Hypoglycemia: Doege-Potter Syndrome In A Previously Healthy Female. Rev Port Cir CardiotoracVasc. 2020 Jul-Sep;27(3):223-226. PMID: 33068515.
You, Y.-H., Liu, R.-T., & Zhang, Y. (2018). A large solitary fibrous tumour of the pleura: a case report and review of the literature. Journal of International Medical Research, 46(4), 1672–1677.
Hohenforst-Schmidt, W., Grapatsas, K., Dahm, M., Zarogoulidis, P., Leivaditis, V., Kotoulas, C., … Kosan, B. (2017). Solitary fibrous tumour: A center's experience and an overview of the symptomatology, the diagnostic and therapeutic procedures of this rare tumour. Respiratory Medicine Case Reports, 21, 99–104. doi:10.1016/j.rmcr.2017.04.007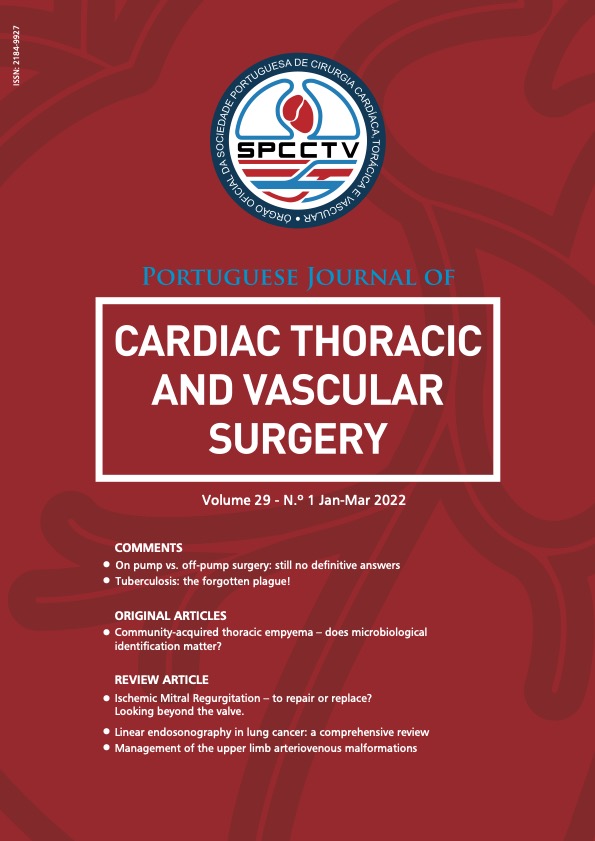 Downloads
How to Cite
1.
Lareiro S, Leite F, Paupério G. GIANT THORACIC MASS – THE STORY OF A SOLITARY FIBROUS TUMOUR. Rev Port Cir Cardiotorac Vasc [Internet]. 2022 Apr. 11 [cited 2022 May 22];29(1):65-7. Available from: https://pjctvs.com/index.php/journal/article/view/255
License
This work is licensed under a Creative Commons Attribution 4.0 International License.