DOEGE-POTTER SYNDROME BY PLEURAL SOLITARY FIBROUS TUMOR
Keywords:
Solitary Fibrous Tumor, Pleura, Hypoglycemia, Doege-Potter syndrome
Abstract
Introduction: Solitary fibrous tumor of the pleura (SFTP) is a rare neoplasm that accounts for less than 5% of all pleural tumors.
We present the case of a 73-year-old man with a history of recurrent episodes of severe hypoglycemia secondary to a large malignant SFTP. This paraneoplastic manifestation of SFTP occurs in less than 5% of cases and is referred to as Doege-Potter syndrome. Although rare, this is an important and reversible cause of hypoglycemia, which is resolved by complete surgical resection of the tumor.
We describe the pathogenesis, diagnosis, and treatment of Doege-Potter syndrome. Key imaging findings and pathologic correlation are shown.
Downloads
Download data is not yet available.
References
Cardillo G, Lococo F, Carleo F, Martelli M. Solitary fibrous tumors of the pleura. Curr Opin Pulm Med 2012;18(4):339-346.
Campbell NA, Antippa PN. Solitary fibrous tumour of the pleura. Heart Lung Circ. 2006;15(6):400-401.
England DM, Hochholzer L, McCarthy MJ. Localized benign and malignant fibrous tumors of the pleura. A clinicopathologic review of 223 cases. Am J Surg Pathol 1989;13(8):640-658.
Jang JG, Chung JH, Hong KS, Ahn JH, Lee JY, Jo JH, Lee DW, Shin KC, Lee KH, Kim MJ, Lee JC, Lee JH, Lee JK. A case of solitary fibrous pleura tumor associated with severe hypoglycemia: doege-potter syndrome. Tuberc Respir Dis (Seoul) 2015;78(2):120-124.
Kalebi A, Hale M, Wong M, Hoffman T, Murray J. Surgically cured hypoglycemia secondary to pleural solitary fibrous tumour: case report and update review on the Doege-Potter syndrome. J Cardiothorac Surg 2009;4:45.
Chick JF, Chauhan NR, Madan R. Solitary fibrous tumors of the thorax: nomenclature, epidemiology, radiologic and pathologic findings, differential diagnoses, and management. AJR Am J Roentgenol 2013;200(3):W238-W248.
de Perrot M, Fischer S, Bründler MA, Sekine Y, Keshavjee S. Solitary fibrous tumors of the pleura. Ann Thorac Surg 2002;74(1):285-293.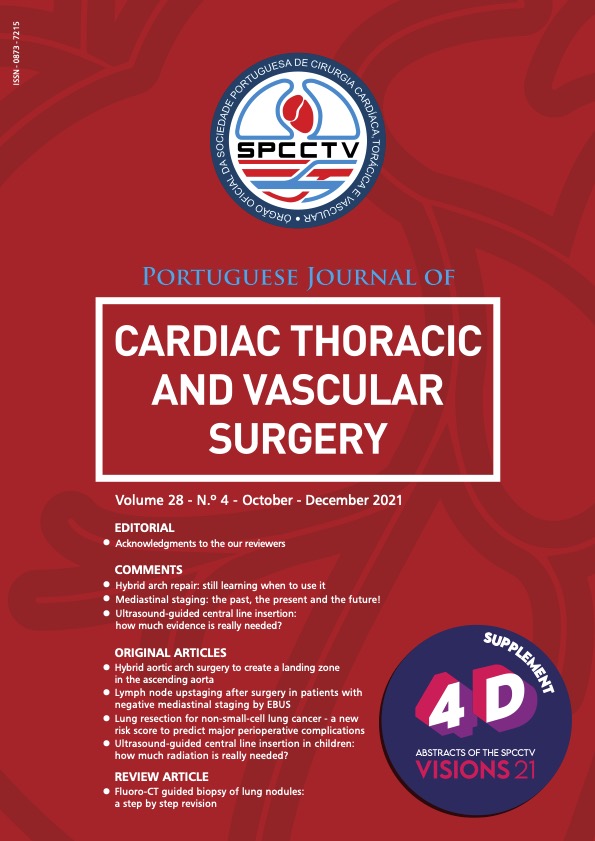 Downloads
How to Cite
1.
Alves AS, Antunes N, Santos J, Reis JE, Calvinho P. DOEGE-POTTER SYNDROME BY PLEURAL SOLITARY FIBROUS TUMOR. Rev Port Cir Cardiotorac Vasc [Internet]. 2022 Jan. 4 [cited 2022 Jun. 26];28(4):51-3. Available from: https://pjctvs.com/index.php/journal/article/view/225
License
This work is licensed under a Creative Commons Attribution 4.0 International License.