Typical Carcinoid Tumor Cases Causing Ectopic ACTH Syndrome: Dramatic Response to Surgery
Keywords:
carcinoid tumor, surgical resection, ectopic ACTH syndrome, ectopic Cushing syndrome
Abstract
Although Cushing's Syndrome (CS) is usually caused by pituitary/adrenal adenomas, in the remaining few cases, Adrenocorticotrophic hormone (ACTH) is secreted by extrapituitary neuroendocrine tumors (NET). In typical pulmonary / bronchial carcinoid tumors leading to ectopic ACTH syndrome (EAS). The main principle of treatment is the localization of the ACTH-secreting tumor and its surgical removal. In this case report, we aimed to present two typical carcinoid cases, whose ACTH and cortisol levels returned to normal after lung surgery for ectopic ACTH. One of the cases, a 32-year-old female patient with CS symptoms and signs, was referred to our department after detecting a lesion in the left lower lobe in the thorax CT, which did not show an obvious focus on cranial MRI. The other patient, a 36-year-old male, had previously undergone adrenalectomy for Cushing's syndrome and was admitted to the emergency department due to adrenal insufficiency. The lesion seen in the right lower lobe on thorax CT was evaluated as an ectopic ACTH focus. After the tumors of the patients were resected according to surgical principles, CS clinic regressed, and ACTH and cortisol values returned to normal. Pathological examinations of the surgically resected tumors were reported as typical carcinoid. With surgically removed typical carcinoids tumors, excellent longterm survival results can be achieved and hypercortisolism can be controlled.
Downloads
Download data is not yet available.
References
Ilias I, Torpy DJ, Pacak K, Mullen N, Wesley RA, Nieman LK: Cushing's syndrome due to ectopic corticotropin secretion: twenty years' experience at the National Institutes of Health. J Clin Endocrinol Metab 2005,90:4955-4962.
Newell-Price J, Bertagna X, Grossman AB, et al. Cushing's syndrome. Lancet 2006;367:1605-1617.
Bhansali A, Walia R, Rana SS, et al. Ectopic Cushing's syndrome: experience from a tertiary care centre. Indian J Med Res 2009;129:33-41.
Meador CK, Liddle GW, Island DP, et al. Cause of Cushing's syndrome in patients with tumors arising from "nonendocrine" tissue. J Clin Endocrinol Metab 1962;22:693-703.
Fazel P, Ganesa P, Mennel RG & Austin NA. The ectopic adrenocorticotropic hormone syndrome in carcinoid tumors. Proceedings 2008;21:140-143.
Cannon J, Doherty G. A case of occult ectopic adrenocorticotropic hormonesecreting tumor: diagnostic and management dilemmas. Endocr Pract 2008;14:588–591.
Yang HJ, Sung HJ, Kim JE, Lee HJ, Park JM, Park CK, et al. A case of ectopic ACTH syndrome associated with small cell lung cancer presented with hypokalemia. J Korean Endocr Soc 2007;22:359-64.
Ejaz S, Vassilopoulou-Sellin R, Busaidy NL, Hu MI, Waguespack SG, Jimenez C, et al. Cushing syndrome secondary to ectopic adrenocorticotropic hormone secretion: The University of Texas MD Anderson Cancer Center Experience. Cancer 2011;117:4381-4389.
Singer J, Werner F, Koch CA, Bartels M, Aigner T, Lincke T, Fasshauer M, Paschke R: Ectopic Cushing's syndrome caused by a well differentiated ACTH-secreting neuroendocrine carcinoma of the ileum. Exp Clin Endocrinol Diabetes 2010,118:524-529.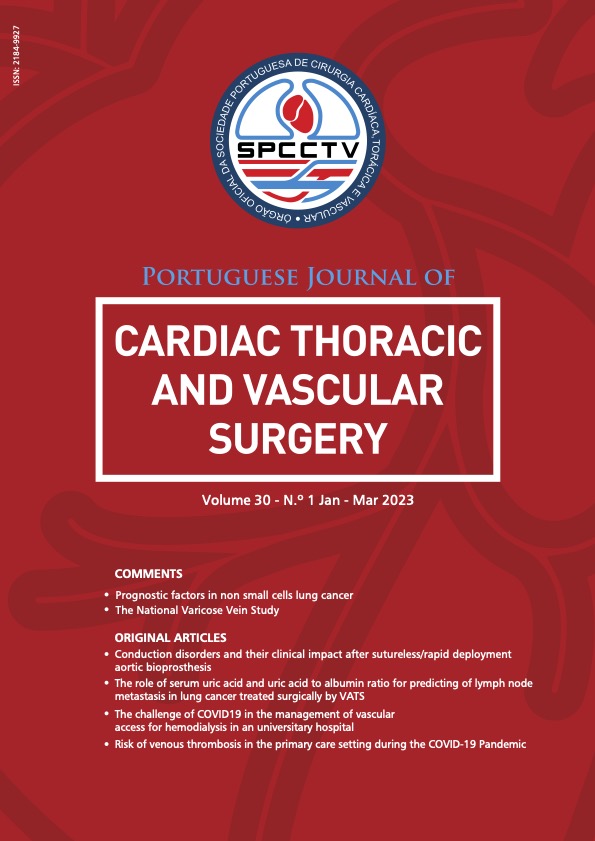 Downloads
How to Cite
1.
Kankoç A, Şatır Türk M, Özkan D, Sayan M, Çelik A. Typical Carcinoid Tumor Cases Causing Ectopic ACTH Syndrome: Dramatic Response to Surgery. Rev Port Cir Cardiotorac Vasc [Internet]. 2023 Apr. 4 [cited 2023 May 30];30(1):53-6. Available from: https://pjctvs.com/index.php/journal/article/view/258
License
Copyright (c) 2023 Portuguese Journal of Cardiac Thoracic and Vascular Surgery
This work is licensed under a Creative Commons Attribution 4.0 International License.