COMMUNITY-ACQUIRED THORACIC EMPYEMA – DOES MICROBIOLOGICAL IDENTIFICATION MATTER?
Abstract
Objectives: To describe the clinical characteristics, comorbidities and clinical outcome of hospitalized patients with the diagnosis of community acquired thoracic empyema in our hospital, with particular emphasis on the impact of identification of the causative agent.
Methods: We performed a retrospective review of the clinical files of hospitalized adult patients diagnosed with community acquired thoracic empyema between 2012 and 2016.

Results: A total of 81 patients (64 men and 17 women), with a mean age of 54.6+-17.3 years, were included in this study. It was possible to identify the microbiological agent in 59.3% (n=48) of the patients. The median length of hospital stay was 29 days (P25=20 and P75=44.5) and a tendency to longer duration was seen in patients with a microbiological isolation (32 days vs 23 days; p=0.056). No significant difference was observed between patients with and without microbiological isolation, regarding the mortality.

Conclusion: In this group of patients a positive pleural fluid culture tends to be associated with longer lengths of hospital stay, which may lead to speculation that they were more advanced infectious processes at the time of diagnosis.
Downloads
Download data is not yet available.
References
Corcoran JP, Wrightson JM, Belcher E, DeCamp MM, Feller-Kopman D, Rahman NM. Pleural infection: past, present, and future directions. Lancet Respir Med 2015 Jul; doi:10.1016/S2213-2600(15)00185-X
Mikkola R, Kelahaara J, Heikkinen J, Lahtinen J, Biancari F. Poor late survival after surgical treatment of pleural empyema. World J Surg. 2010 Feb; doi:10.1007/s00268-009-0324-8
Cargill T, Hassan, M, Corcoran J, Harriss, E, Asciak R, Mercer R, McCracken D, Bedawi E, Rahman N. A systematic review of comorbidities and outcomes of adult patients with pleural infection. European Respiratory Journal 2019,DOI:10.1183/13993003.00541-2019
Davies HE, Davies RJO, Davies CWH, Management of pleural infection in adults: British Thoracic Society pleural disease guideline 2010. Thorax2010;http://dx.doi.org/10.1136/thx.2010.137000
Jiménez D, Díaz G, García-Rull S, Vidal R, Sueiro A, Light RW. Routine use of pleural fluid cultures. Are they indicated? Limited yield, minimal impact on clinical decisions. Respir Med 2006; https://doi.org/10.1016/j.rmed.2006.02.008
Okiror L, Coltart C, Bille A, Guile L, Pilling J, Harrison-Phipps K, Routledge T, Lang-Lazdunski L, Hemsley C, King J.Thoracotomy and decortication: impact of culture-positive empyema on the outcome of surgery. Eur J Cardiothorac Surg 014; https://doi.org/10.1093/ejcts/ezu104
Marks DJ, Fisk MD, Koo CY, Pavlou M, Peck L, Lee SF, LawrenceD, Macrae MB, Wilson APR, Brown JS, Miller RF, ZumlaAI. Thoracic empyema: a 12-year study from a UK tertiary cardiothoracic referral center. PLoS ONE, 2012, doi:10.1371/journal.pone.0030074.
Davies C, Kearney S, Gleeson F., Davies R. Predictors of outcome and long-term survival in patients with pleural infection. Am J Respir Crit Care Med, 160 (1999), 1682-1687. DOI:10.1164/ajrccm.160.5.9903002
Ferrer A, Osset J, Alegre J, Suriñach JM, Crespo E, Sevilla TF, Fernández F. Prospective clinical and microbiological study of pleural effusions. Eur J Clin Microbiol Infect Dis, 18 (1999), 237-241. DOI:10.1007/s100960050270
Wait M, Sharma S, Hohn J, Nogare A. A randomized trial of empyema therapy, Chest, 111 (1997), 1548-1551. DOI:10.1378/chest.111.6.1548
Park C-K, Oh H-J, Choi H-Y, Shin H-J, Lim J-H, Oh I-J, Kim Y-I, Lim S-C, Kim Y-C, Kwon Y-S, Microbiological characteristics and predictive factors for mortality in pleural infection: a single-center cohort study in Korea. PLoSOne. 2016.https://doi.org/10.1371/journal.pone.0161280
White HD, White BAA, Song J, Fader R, Quiroga P, Arroliga AC, Pleural infections: a 9-year review of bacteriology, case characteristics and mortality. Am J Med Sci 2013; 345: 349–354. DOI:10.1097/MAJ.0b013e318259bd24
Maskell NA, Batt S, Hedley EL, Davies CW, Gillespie SH, Davies RJ. The bacteriology of pleural infection by genetic and standard methods and its mortality significance. Am J Respir Crit Care Med 2006. DOI:10.1164/rccm.200601-074OC
Lieberman D, Schlaeffer F, Boldur I, Multiple pathogens in adult patients admitted with community-acquired pneumonia: a one year prospective study of 346 consecutive patients. Thorax, 51 (1996), 179-184. DOI:10.1136/thx.51.2.179
Nielsen J, Meyer CN, Rosenlund S. Outcome and clinical characteristics n pleural empyema: a retrospective study. Scand J Infect Dis 2011.DOI:10.3109/00365548.2011.562527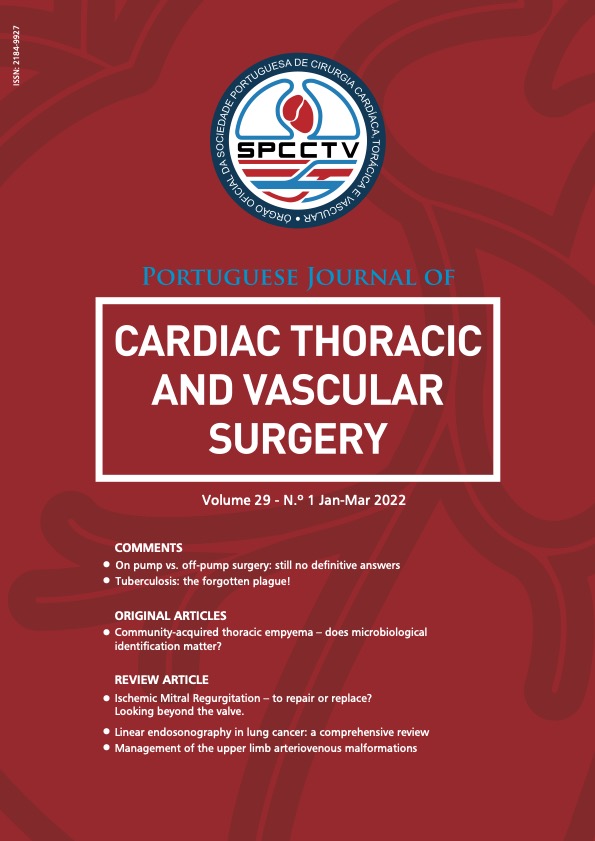 Downloads
How to Cite
1.
Silva D, Costa AR, Santos Silva J, Reis JE, Emiliano M, Calvinho P, Cardoso J. COMMUNITY-ACQUIRED THORACIC EMPYEMA – DOES MICROBIOLOGICAL IDENTIFICATION MATTER?. Rev Port Cir Cardiotorac Vasc [Internet]. 2022 Apr. 11 [cited 2022 May 22];29(1):19-23. Available from: https://pjctvs.com/index.php/journal/article/view/252
Section
Original Articles
License
This work is licensed under a Creative Commons Attribution 4.0 International License.