3000 Kidney Transplants: How We Did It
Downloads
Download data is not yet available.
References
Jaboulay M. Greffe de reins au pli du coude par soudures artérielles et veineuses. Lyon Med. 1906;107:575–577.
Matevossian E, Kern H, Hüser N, Doll D, Snopok Y, Nährig J, Altomonte J, Sinicina I, Friess H, Thorban S. "Surgeon Yurii Voronoy (1895–1961) – a pioneer in the history of clinical transplantation: in Memoriam at the 75th Anniversary of the First Human Kidney Transplantation". Transplant International 2009;22(12):1132–1139.
Murray JE, Merill JP, Harrison JH. Renal homotransplantation in identical twins. Surg Forum. 1995;88:379–411.
Mota A. Vinte anos de transplantação renal nos Hospitais da Universidade de Coimbra. Acta Urológica Portuguesa. 2000;17(4):15-30.
Munda R, Alexander J, Miller S, Roy M, Fidler J. Renal allograft artery stenosis. 1977;134(3), 0–403.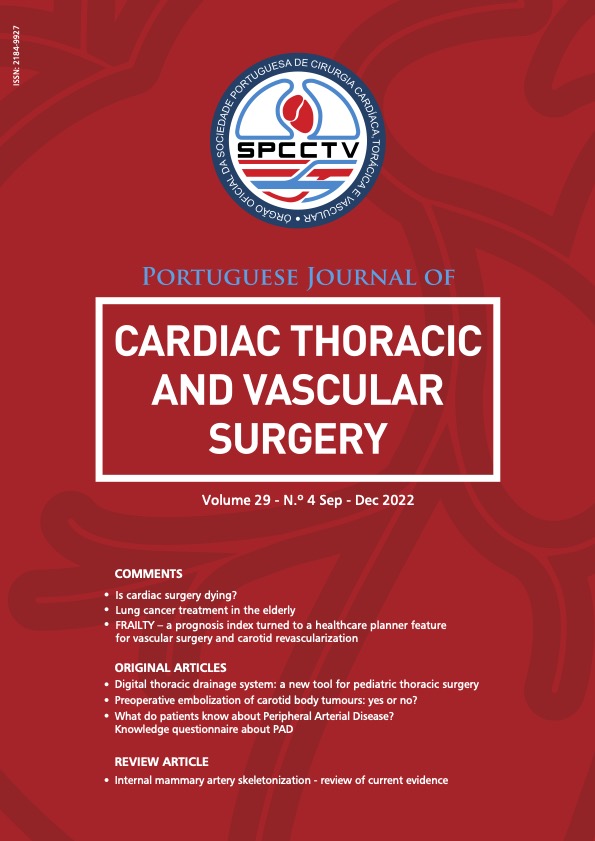 Downloads
How to Cite
1.
Loureiro L, Almeida P, Cabral J, Almeida R. 3000 Kidney Transplants: How We Did It. Rev Port Cir Cardiotorac Vasc [Internet]. 2023 Jan. 14 [cited 2023 Feb. 3];29(4):17-9. Available from: https://pjctvs.com/index.php/journal/article/view/294
Section
This is how I do it
License
Copyright (c) 2023 Portuguese Journal of Cardiac Thoracic and Vascular Surgery
This work is licensed under a Creative Commons Attribution 4.0 International License.