The Vascular Patient - Chronic Mesenteric Ischemia, AAA and Iliac Occlusion
Keywords:
abdominal aortic aneurysm, visceral ischemia, peripheral revascularization
Abstract
Peripheral arterial disease (PAD), abdominal aortic aneurysm (AAA) and chronic mesenteric ischaemia (CMI) are vascular diseases uncommonly observed in the same patient, especially when treatment is required. This case report illustrates a patient requiring mesenteric revascularization due to CMI. A long flush occlusion of the superior mesenteric artery (SMA) precluded endovascular revascularization. Therefore, we performed a retrograde bypass from the right common iliac artery (CIA) to the SMA. On the 6-month follow-up, the patient developed right limb ischemia despite the absence of intestinal angina. CT angiography revealed CIA occlusion, bypass patency through hypogastric retrograde filling and modest growth of a AAA. Due to the presence of contralateral CIA lesions and to achieve durable revascularization, we opted to perform a AAA repair with an aorto-uni-iliac endograft followed by a femorofemoral crossover bypass. This achieved AAA's repair, lower limb revascularization, and a suitable and durable inflow to the mesenteric bypass.
Downloads
Download data is not yet available.
References
Brady AR, Thompson SG, Fowkes FGR, Greenhalgh RM, Powell JT. Abdominal aortic aneurysm expansion: Risk factors and time intervals for surveillance. Circulation. 2004 Jul 6;110(1):16–21.
Takagi H, Umemoto T. Association of peripheral artery disease with abdominal aortic aneurysm growth. Vol. 64, Journal of Vascular Surgery. Mosby Inc.; 2016. p. 506–13.
Björck M, Koelemay M, Acosta S, Bastos Goncalves F, Kölbel T, Kolkman JJ, et al. Editor's Choice – Management of the Diseases of Mesenteric Arteries and Veins: Clinical Practice Guidelines of the European Society of Vascular Surgery (ESVS). European Journal of Vascular and Endovascular Surgery. 2017 Apr 1;53(4):460–510.
van Noord D, Kuipers EJ, Mensink PBF. Single vessel abdominal arterial disease. Best Pract Res Clin Gastroenterol. 2009 Feb;23(1):49–60.
Oderich GS, Gloviczki P, Bower TC. Open surgical treatment for chronic mesenteric ischemia in the endovascular era: When it is necessary and what is the preferred technique? Semin Vasc Surg. 2010 Mar;23(1):36–46.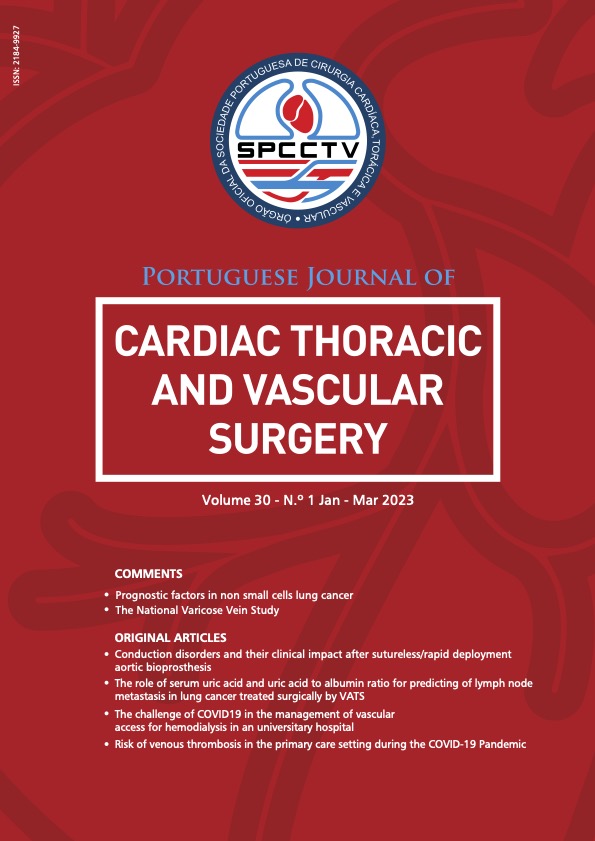 Downloads
How to Cite
1.
Veterano C, Rocha H, Veiga C, Almeida R, Sá Pinto P. The Vascular Patient - Chronic Mesenteric Ischemia, AAA and Iliac Occlusion. Rev Port Cir Cardiotorac Vasc [Internet]. 2023 Apr. 4 [cited 2023 May 30];30(1):65-8. Available from: https://pjctvs.com/index.php/journal/article/view/235
License
Copyright (c) 2023 Portuguese Journal of Cardiac Thoracic and Vascular Surgery
This work is licensed under a Creative Commons Attribution 4.0 International License.