HEMODIALYSIS ACESS – A CREATIVE ATTITUDE IS NECESSARY
Abstract
Creating and maintaining a functional vascular access (VA) is a critical factor in the survival of a dialysis patient. It implies a creative attitude either to maintain its functionality or to build a new one wherever possible, being it autologous or synthetic. We describe the VA history of a 59 years-old male patient, with extreme obesity, which started in 2012 with failed attempts of VA construction in both forearms until a functional brachiocephalic arteriovenous fistula (AVF) in the right upper limb was achieved. However, it required ligation due to severe venous hypertension secondary to central venous disease related to previous CVC use. As he had no good superficial conduit in the left arm we decided to harvest the arterialized right cephalic vein and implant it in the left arm, creating an autologous arteriovenous shunt between the brachial artery and axillary vein (AV). Despite initial patency, it failed irreversibly approximately one year after creation. As no more superficial veins were available in the upper limbs, a prosthetic access was the next step. We decided for a hybrid graft (HG) between the left brachial artery and the AV because of the patient's biotype and scarred axilla that impeded a safe re-intervention on the AV. This graft was used between 2015 and 2017 with multiple interventions to maintain patency. In 2017 a significant diffuse prosthesis deterioration and reduced AVF flow were noticed with no possible segmental reconstruction. We were then forced to proceed with subtotal graft substitution preserving the outflow stented segment of the HG, using an early cannulation graft to prevent CVC use. After this successful reconstruction, the patient started hemodialysis on the following day with no intercurrences registered.
Downloads
Download data is not yet available.
References
Clinical practice guidelines for vascular access. Am J Kidney Dis 2006;48:S176e247.
Beathard GA. Physical examination: The forgotten tool. In: Gray RJ, Sands JJ, editors. Dialysis access: a multidisciplinary approach. Philadelphia, PA: Lippincott Williams & Wilkins;
p. 111e8. 381;
Centers for Medicare & Medicaid Services. 2004 Annual Report: ESRD clinical performance measures project. Baltimore, MD, Department of Health and Human Services,
Centres for Medicare and Medicaid Services, Center for Beneficiary Choices, 2004. Am J Kidney Dis. 2005;46 (Suppl 2):1. Available from: http://www.ajkd.org/article/S0272-
(05)00922-4/pdf. Accessed Sep 12, 2017. 8.
Silva MB Jr, Hobson RW 2nd, Pappas PJ, et al: A strategy for increasing use of autogenous hemodialysis access procedures: Impact of preoperative noninvasive evaluation. J Vasc
Surg 27:302-307, 1998
Trerotola SO, Scheel Jr PJ, Powe NR, Prescott C, Feeley N, He J, et al. Screening for dialysis access graft malfunction: comparison of physical examination with US. J Vasc Intervent Radiol JVIR 1996;7:15e20. 382 Schuman E, Ronfeld A, Barcl;
Robbin ML, Chamberlain NE, Lockhart ME, Gallichio MH, Young CJ, Deierhoi MH, et al. Hemodialysis arteriovenous fistula maturity: US evaluation. Radiology 2002;225:59e64
Mihmanli I, Besirli K, Kurugoglu S, Atakir K, Haider S, Ogut G, et al. Cephalic vein and hemodialysis fistula: surgeon's observation versus color Doppler ultrasonographic findings. J
Ultrasound Med 2001;20:217e22; 8. Beathard GA. The treatment of vascular access graft dysfunction: a nephrologist's view and experience. Adv Ren Replace Ther 1994;1:131e47. 380;
Vascular Access 2006Work Group. Clinical practice guidelines for vascular access. Am J Kidney Dis 2006;48(Suppl 1):S248-73
Chan MR, Young HN, Becker YT, Yevzlin AS; Obesity as a predictor of vascular access outcomes: analysis of the USRDS DMMS Wave II study; Semin Dial. 2008 May-Jun;21(3):274-9.
Kats M, Hawxby AM, Barker J, Allon M; Impact of obesity on arteriovenous fistula outcomes in dialysis patients; Kidney Int. 2007 Jan;71(1):39-43. Epub 2006 Sep 27
Yang HT et al; A prospective randomized study of stent graft placement after balloon angioplasty versus balloon angioplasty alone for the treatment of hemodialysis patients
with prosthetic graft outflow stenosis; J Vasc Surg 2018 Aug;68(2):546-553.
Rangel LE; Primary Stenting Is Not Necessary in Benign Central Venous Stenosis; Ann Vasc Surg 2018 Jan; 46:322-330.
Teruya TH, Schaeffer D, Abou-Zamzam AM, Bianchi C. Arteriovenous graft with outflow in the proximal axillary vein. Ann Vasc Surg 2009;23:95e8;
Rivers SP, Scher LA, Sheehan E, et al: Basilic vein transposition: An underutilized autologous alternative to prosthetic dialysis angioaccess. J Vasc Surg 18:391-396, 1993
Scott JD, Cull DL, Kalbaugh CA: The mid-thigh loop arteriovenous graft: Patient selection, technique and results. Am Surg 72:825-828, 2006 33.
Brownie ER, Kensinger CD, Feurer ID, Moore DE, Shaffer D: A comparison of patency and interventions in thigh versus Hemodialysis Reliable Outflow grafts for chronic hemodialysis vascular access. J Vasc Surg 64:1392-1399, 2016
Takuya Hatakeyama et al; Introduction of arteriovenous grafts with graft insertion anastomosis for hemodialysis access; J Vasc Surg 2017 Sep;66(3):952-957.
Rajan DK, Clark TWI, Patel NK, Stavropoulos SW, Simons ME. Prevalence and treatment of cephalic arch stenosis in dysfunctional autogenous hemodialysis fistulas. J Vasc Intervent
Radiol JVIR 2003;14:567e73 (12761309);
Patanè D, Giuffrida S, Morale W, L'Anfusa G, Pulliatti D, Bisceglie P, et al. Drug-eluting balloon for the treatment of failing hemodialytic radiocephalic arteriovenous fistulas: our
experience in the treatment of juxta-anastomotic stenoses. J Vasc Access 2014;15:338e43;
Portugaller RH, Kalmar PI, Deutschmann H. The eternal tale of dialysis access vessels and restenosis: are drug-eluting balloons the solution? J Vasc Access 2014;15:439e47;
Liu YH, Hung YN, Hsieh HC, Ko PJ. Surgical thrombectomy for thrombosed dialysis grafts: comparison of adjunctive treatments. World J Surg 2008;32:241-5.
Scher LA, Katzman HE: Alternative graft materials for hemodialysis access. Semin Vasc Surg 17:19-24, 2004 27;
Tordoir J, Canaud B, Haage P, Konner K, Basci A, Fouque D, et al. EBPG on vascular access. Nephrol Dial Transplant 2007;22:ii88e117;
Hazinedaroglu SM, Tuzuner A, Ayli D, Demirer S, Duman N, Yerdel MA. Femoral vein transposition versus femoral loop grafts for hemodialysis: a prospective evaluation. Transplant
Proc 2004;36:65e7;
Huber TS, Hirneise CM, Lee WA, Flynn TC, Seeger JM. Outcome after autogenous brachial-axillary translocated superficial femoropopliteal vein hemodialysis access. J Vasc Surg
;40:311e8;
Kitrou PM, Katsanos K, Spiliopoulos S, Karnabatidis D, Siablis D. Drug-eluting versus plain balloon angioplasty for the treatment of failing dialysis access: final results and costeffectiveness analysis from a prospective randomized controlled trial (NCT01174472). Eur J Radiol 2015;84:418e23;
Glickman M; Drug eluting grafts for hemodialysis access; J Vasc Access. 2017 Mar 6;18(Suppl. 1):53-55.
Berard X, Ottaviani N, Brizzi V, et al: Use of the Flixene vascular access graft as an early cannulation solution. J Vasc Surg 62:128-134, 2015 28;
Glickman MH, Burgess J, Cull D, et al: Prospective multicenter study with a 1-year analysis of a new vascular graft used for early cannulation in patients undergoing hemodialysis. J
Vasc Surg 62:434-441, 2015;
Glickman MH, Burgess J, Cull D, Roy-Chaudhury P, Schanzer H; Prospective multicenter study with a 1-year analysis of a new vascular graft used for early cannulation in patients undergoing hemodialysis; J Vasc Surg. 2015 Aug;62(2):434-41.
Al Shakarchi J, Houston G, Inston N; Early cannulation grafts for haemodialysis: a systematic review; J Vasc Access. 2015 Nov-Dec;16(6):493-7.
Maytham GG, Sran HK, Chemla ES; The use of the early cannulation prosthetic graft (Acuseal™) for angioaccess for haemodialysis; J Vasc Access. 2015 Nov-Dec;16(6):467-71.
Windus DW, Jendrisak MD, Delmez JA. Prosthetic fistula survival and complications in hemodialysis patients: effects of diabetes and age. Am J Kidney Dis. 1992;19(5):448-452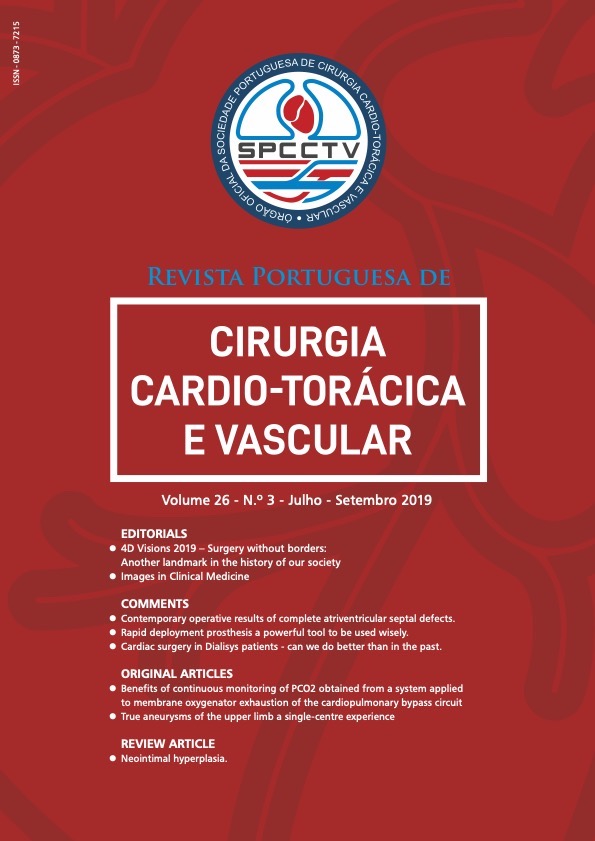 Downloads
How to Cite
1.
Sousa P, Almeida P, Almeida R, Sá Pinto P. HEMODIALYSIS ACESS – A CREATIVE ATTITUDE IS NECESSARY. Rev Port Cir Cardiotorac Vasc [Internet]. 2021 Apr. 30 [cited 2023 Oct. 3];26(3):229-33. Available from: https://pjctvs.com/index.php/journal/article/view/110
License
This work is licensed under a Creative Commons Attribution 4.0 International License.