The national varicose vein study
Downloads
Download data is not yet available.
References
Doença Venosa Crónica afeta 35% da população portuguesa | Netfarma [Internet]. [cited 2023 Jan 8]. Available from: https://www.netfarma.pt/doenca-veno- sa-cronica-afeta-35-da-populacao-portuguesa/
Doença venosa crónica – varizes [Internet]. [cited 2023 Jan 8]. Available from: https://justnews.pt/artigos/doenca-venosa-cronica-varizes#.Y7r1Pi8qJpQ
Mark D. Iafrati. Chapter 154 Varicose Veins Surgical Treatment. In: Rutherford's Vascular Surgery and Endovascular Therapy, 2-Volume Set. 10th ed. 2023. p. 2031–48.
de Maeseneer MG, Kakkos SK, Aherne T, Baekgaard N, Black S, Blomgren L, et al. Editor's Choice – European Society for Vascular Surgery (ESVS) 2022 Clinical Practice Guidelines on the Management of Chronic Venous Disease of the Lower Limbs. European Journal of Vascular and Endovascular Surgery [Internet]. 2022 Feb 1 [cited 2023 Jan 8];63(2):184–267. Available from: http:// www.ejves.com/article/S1078588421009795/fulltext
Chen JQ, Xie H, Deng HY, Yuan K, Zhang JW, Zhang H, et al. Endovenous laser ablation of great saphenous vein with ultrasound-guided perivenous tumescence: Early and midterm results. Chin Med J (Engl) [Internet]. 2013 [cited 2023 Jan 8];126(3):421–5. Available from: https:// journals.lww.com/cmj/Fulltext/2013/02010/Endovenous_laser_ablation_of_great_saphenous_vein.5.aspx
Nordon IM, Hinchliffe RJ, Brar R, Moxey P, Black SA, Thompson MM, et al. A prospective double-blind randomized controlled trial of radiofrequency versus laser treatment of the great saphenous vein in patients with varicose veins. Ann Surg [Internet]. 2011 Dec [cited 2023 Jan 8];254(6):876–81. Available from: https://journals. lww.com/annalsofsurgery/Fulltext/2011/12000/A_Prospective_Double_Blind_Randomized_Controlled.8.aspx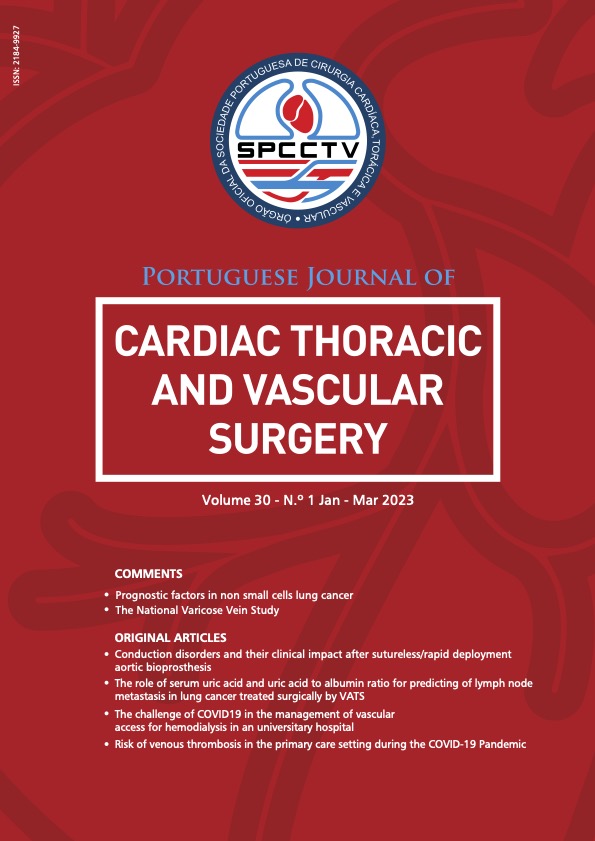 Downloads
How to Cite
1.
Guedes da Rocha H, Loureiro L. The national varicose vein study. Rev Port Cir Cardiotorac Vasc [Internet]. 2023 Apr. 4 [cited 2023 May 29];30(1):11-2. Available from: https://pjctvs.com/index.php/journal/article/view/334
License
Copyright (c) 2023 Portuguese Journal of Cardiac Thoracic and Vascular Surgery
This work is licensed under a Creative Commons Attribution 4.0 International License.