ENDOANCHOR IMPLANTATION FOR TREATMENT OF ENDOLEAK
Abstract
The authors describe a clinical case of correction of a type 1A endoleak after EVAR using endo-anchors. An 85-year old female was referred due to an abdominal aortic aneurysm. The patient´s previous medical history included hypertension, dyslipidemia, renal insufficiency and multiple abdominal surgeries (appendicectomy, classic cholecystectomy and hysterectomy). The aneurysm had 7.5 cm diameter with an angulated short 14 mm neck extension. She underwent an uneventful EVAR with placement of a Medtronic® Endurant II stentgraft. One month after the procedure the abdominal computed tomographic angiography (CTA) revealed a type 1A endoleak. Correction of endoleak consisted of left renal artery stenting (the lowest one), placement of a proximal aortic cuff and 9 endo-anchors (APTUS® System) with satisfactory end result. The control CTA after re-intervention showed patency of the renal arteries and the stentgraft, aneurysm exclusion and absence of endoleaks.
Downloads
Download data is not yet available.
References
Rubin B, Sicard A. Chapter 128 Abdominal Aortic Aneurysms: Evaluation and decision making. In Rutherford, R.B., et al. Vascular Surgery - 7th Edition. Saunders. Philadelphia. 2010;1928-48.
Moll F, Powell J, Verzini F, Haulon S, Waltham M, Herwaarden J, et al. Management of abdominal aortic aneurysms – Clinical Practice Guidelines of the European Society for Vascular Surgery. European Journal of Vascular and Endovascular Surgery 2011;41:S1-S58.
Kloster B, Lund L, Lindholt J. Laparo- and thoracoscopic aortic aneurysm neck optimization and treatment of potential endoleaks type IA and II in a porcine model. Annals of Medicine and Surgery (5) 2016; 5-10.
Vries J, Ouriel K, Mehta M, Varnagy D, Moore W, Arko F, et al. Analysis of EndoAnchors for endovascular aneurysm repair by indications for use. J Vasc Surg 2014;60:1460-7.
Jackson R, Chang D, Freischlag J, Comparison of long-termsurvival after open vs. endovascular repair of intact abdominal
aortic aneurysm among Medicare beneficiaries, JAMA 2012; 307 (15):1621-8.
Schuurmann R, Ouriel K, Muhs B, Jordan W, Ouriel R, Boersen J, et al. Aortic curvature as a predictor of intraoperative type Ia endoleak. J Vasc Surg 2015; 1-7.
Gonçalves F, Verhagen H, Vasanthananthan K, Zandvoort H, Moll F, Herwaarden J. Spontaneous Delayed Sealing in Selected Patients with a Primary Type-Ia Endoleak After Endovascular Aneurysm Repair. Eur J Vasc Endovasc Surg 2014; 48
(1):53-9.
Millen A, Osman K, Antoniou G, McWilliams R, Brennam J, Fisher R Outcomes of persistent intraoperative type Ia endoleak after standard endovascular aneurysm repair. J Vasc Surg 2015;61:1185-91.
Choke E, Thompson M. Endoleak after endovascular aneurysm repair: current concepts. J Cardiovasc Surg (Torino)
;45(4):349-66.
Jordan W, Mehta M, Varnagy D, Moore W, Arko F, Joye J, et al.Results of the ANCHOR prospective, multicenter registry
of EndoAnchors for type Ia endoleaks and endograft migration in patients with challenging anatomy. J Vasc Surg 2014;60:885-92.
Mehta M, Henretta J, Glickman M, Deaton D, Naslund T, Gray B, et al. Outcome of the pivotal study of the Aptus endovascular abdominal aortic aneurysms repair system. J Vasc Surg 2014;60:275-85.
Melas N, Perdikides T, Saratzis A, Saratzis N, Kiskinis D, Deaton DH. Helical EndoStaples enhance endograft fixation in
an experimental model using human cadaveric aortas. J Vasc Surg 2012;55:1726-33.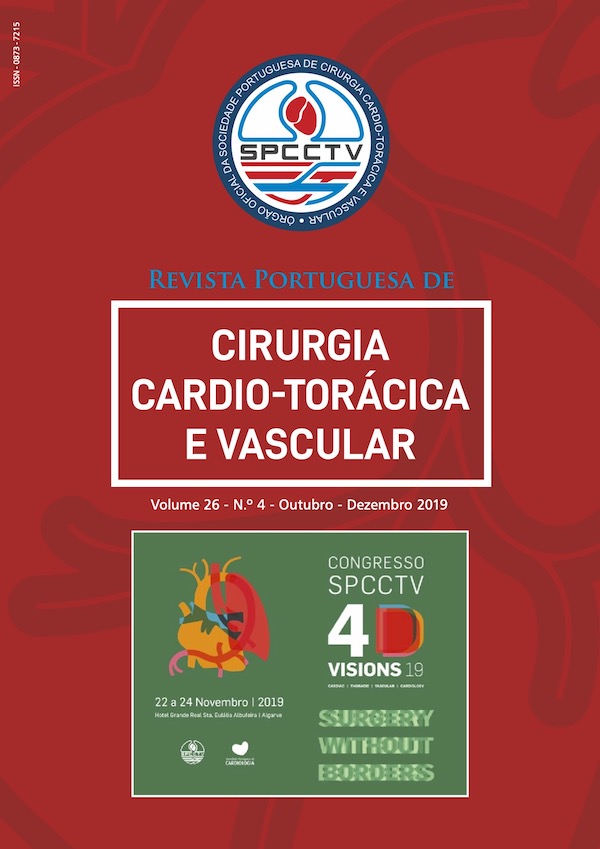 Downloads
How to Cite
1.
Figueiredo Braga S, Correia Simões J, Carrilho C, Ferreira J, Mesquita A. ENDOANCHOR IMPLANTATION FOR TREATMENT OF ENDOLEAK. Rev Port Cir Cardiotorac Vasc [Internet]. 2021 Apr. 25 [cited 2023 Dec. 9];26(4):279-83. Available from: https://pjctvs.com/index.php/journal/article/view/91
Section
Original Articles
License
This work is licensed under a Creative Commons Attribution 4.0 International License.