SURGICAL TREATMENT OF AN ADVANCED STAGE THYMOMA IN A GOOD'S SYNDROME PATIENT – CASE REPORT
Abstract
We report a rare case of an advanced stage thymoma with right superior pulmonary lobe, superior vena cava, innominate vein and pericardium invasion in a patient with Good's syndrome. In a multidisciplinary discussion, surgical resection was deemed the best initial approach, since invaded structures could be safely managed. The tumor was fully resected and included partial resection of the superior pulmonary lobe, superior vena cava and innominate vein. The encircled right phrenic nerve was dissected from the tumor and preserved. The superior vena cava and innominate vein were reconstructed using autologous pericardium patch. Immunoglobulin replacement and radiotherapy were initiated afterwards. No signs of relapse at 6 months follow-up. In such advanced cases, aggressive surgical intervention should be considered as first line of treatment, as long as full resection can be anticipated, since complete resection is the leading factor for long-term prognosis.
Downloads
Download data is not yet available.
References
Kelleher P, Misbah SA. What is Good's syndrome? Immunological abnormalities in patients with thymoma. J Clin Pathol.
;56:12-6.
Venuta F, Anile M, Diso D, Vitolo D, Rendina EA, De Giacomo T, et al. Thymoma and thymic carcinoma. Eur J Cardiothorac
Surg. 2010;37(1):13-25.
Nakamura S, Kawaguchi K, Fukui T, Hakiri S, Ozeki N, Mori S, et al. Multimodality therapy for thymoma patients
with pleural dissemination. Gen Thorac Cardiovasc Surg. 2019;67(6):524-529.
Venuta F, Rendina EA, Coloni GF. Multimodality treatment of thymic tumors. Thorac Surg Clin. 2009;19(1):71-81.
Grassin F, Paleiron N, André M, Caliandro R, Bretel JJ, Terrier P, et al. Combined etoposide, ifosfamide, and cisplatin
in the treatment of patients with advanced thymoma and thymic carcinoma. A French experience. J Thorac Oncol. 2010
Jun;5(6):893-7.
Wright, CD. Pleuropneumonectomy for the treatment of Masaoka stage IVA thymoma. Ann Thorac Surg. 2006;82(4):
-9.
Shudo Y, Takahashi T, Ohta M, Ikeda N, Matsue H, Taniguchi K. Radical operation for invasive thymoma with intracaval, intracardiac, and lung invasion. J Card Surg 2007;22(4):330-2.
Ranucci M, Baryshnikova E. Inflammation and coagulation following minimally invasive extracorporeal circulation technologies. J Thorac Dis. 2019;11(Suppl 10):S1480-S1488.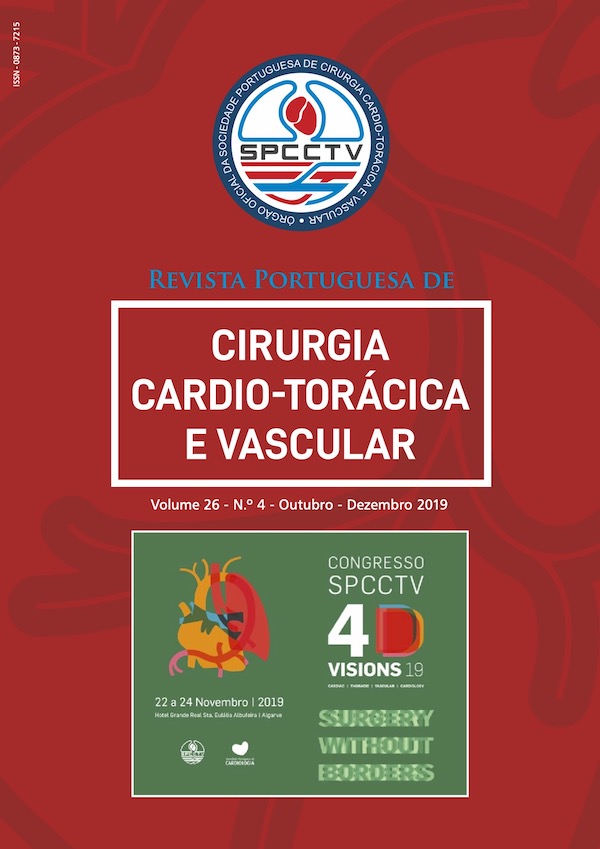 Downloads
How to Cite
1.
Sena A, Ferreira R, Gonçalves J, Nobre Ângelo. SURGICAL TREATMENT OF AN ADVANCED STAGE THYMOMA IN A GOOD'S SYNDROME PATIENT – CASE REPORT. Rev Port Cir Cardiotorac Vasc [Internet]. 2021 Apr. 25 [cited 2023 Feb. 3];26(4):269-71. Available from: https://pjctvs.com/index.php/journal/article/view/89
Section
Original Articles
License
This work is licensed under a Creative Commons Attribution 4.0 International License.