PERSISTENT LEFT SUPERIOR VENA CAVA WITH AGENESIS OF THE RIGHT SUPERIOR VENA CAVA IN A PATIENT WITH COMPLETE ATRIOVENTRICULAR BLOCK
Abstract
Persistant left superior vena cava is a rare systemic venous anomaly that can be associated with agenesis of the right superior vena cava. It is usually assymptomatic and discovered incidentally during surgery or other procedures. The authors present the case of a 72-year-old male submitted to an aortic valve replacement surgery. After sternotomy, persistant left superior vena cava and absence of the right superior vena cava were identified. The patient developed complete atrioventricular block after surgery, requiring the implantation of a definitive cardiac pacemaker through the brachiocephalic vein and coronary sinus. This case highlights and ilustrates the clinical implications of the described systemic venous anomalies, discussing the necessary management both in the perioperative and intraoperative periods.
Downloads
Download data is not yet available.
References
T. Tak, E. Crouch, and G. B. Drake, "Persistent left superior vena cava : incidence, significance and clinical correlates," Int. J. Cardiol., vol. 82, pp. 91–93, 2002.
C. Lalenis, A. Pittaro, F. Geraldini, G. Barbiero, and A. Boscolo, "A Persistent Left-Sided Superior Vena Cava With Agenesis of the Right Superior Vena Cava in a Patient Who Underwent Liver Transplantation : A Case Report," J Med Cases, vol. 7, no. 7, pp. 253–257, 2016.
S. Bisoyi, U. Jagannathan, and D. Nayak, "Isolated Persistent Left Superior Vena Cava: A Case Report and its Clinical Implications," Ann. Card. Anaesth., vol. 20, no. 1, pp. 104–107, 2017.
N. S. Clarke, R. A. Murthy, and K. J. Guleserian, "Persistent Left Superior Vena Cava : Incidence and Management in Patients Undergoing Repair of Partial Anomalous Pulmonary Venous Connection," World J. Pediatr. Congenit. Hear. Surg., vol. 8, no. 4, pp. 440–444, 2017.
B. G. Drinkwater DC Jr, Cushen CK, Laks H, "The use of combined antegraderetrograde infusion of blood cardioplegic solution in pediatric patients undergoing heart operations," J Thorac Cardiovasc Surg, vol. 104, no. 5, pp. 1349–55, 1992.
O. D. Morgan, DR, Hanratty CG, Dixon LJ, Trimble M, "Anomalies of cardiac venous drainage associated with abnormalities of cardiac condution system," Europace, vol. 4, no. 3, pp. 281–7, 2002.
S. P. Couto GJ, Saraiva RS, Deslandes Ade O, "Agenesis of the right superior vena cava associated with total heart block," Rev Bras Cir Cardiovasc, vol. 23, no. 1, pp. 135–8, 2008.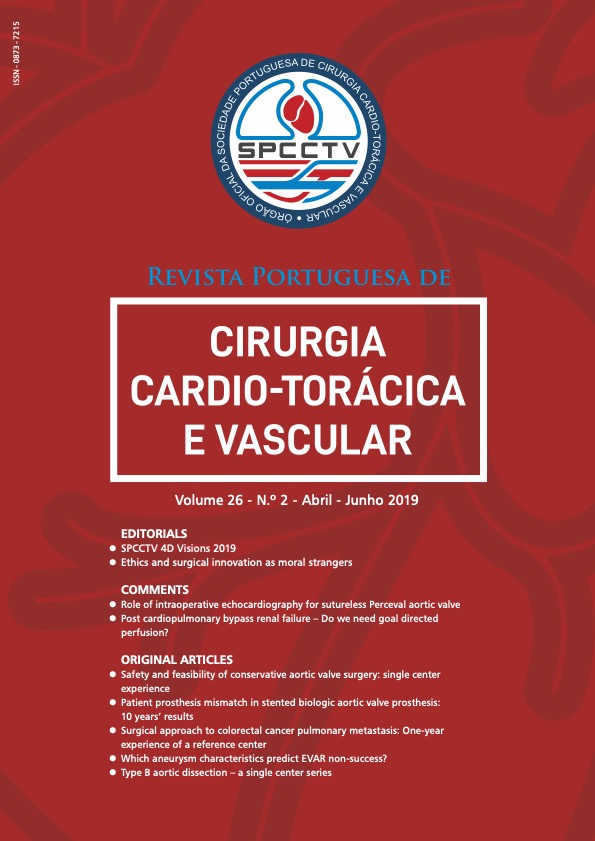 Downloads
How to Cite
1.
Velho TR, Ferreira H, Guerra N, Gallego J, Nobre Ângelo. PERSISTENT LEFT SUPERIOR VENA CAVA WITH AGENESIS OF THE RIGHT SUPERIOR VENA CAVA IN A PATIENT WITH COMPLETE ATRIOVENTRICULAR BLOCK. Rev Port Cir Cardiotorac Vasc [Internet]. 2021 May 26 [cited 2023 Oct. 3];26(2):139-41. Available from: https://pjctvs.com/index.php/journal/article/view/128
License
This work is licensed under a Creative Commons Attribution 4.0 International License.