Repair of a Pulmonary Hernia after Thoracotomy with an Intrapleural Mesh: a Case Report
Keywords:
lung, hernia, thoracotomy, surgical mesh, muscle flap
Abstract
Pulmonary hernias are rare. They can be congenital, but mostly are acquired. Usually asymptomatic, they are diagnosed on physical examination or, incidentally, on imaging exams. Surgical treatment is required for large, increasing, or symptomatic hernias, and incarcerated or strangulated ones.
This is a clinical case of a symptomatic postoperative pulmonary hernia. It occurred two years after a posterolateral thoracotomy for the resection of an intercostal myxolipoma. The tumor was resected en bloc with a partial segment of the 10th left rib and immediate reconstruction was made with an onlay polypropylene mesh. The postoperative hernia was successfully treated with a double-faced mesh of polypropylene and ePTFE.
This surgery provided a functional and aesthetic enhancement for the patient, greatly improving his quality of life. This approach is, therefore, considered safe and effective.
Downloads
Download data is not yet available.
References
Scelfo C, Longo C, Aiello M, Bertorelli G, Crisafulli E, Chetta A. Pulmonary hernia: Case report and review of the literature. Respirol Case Reports. 2018;6(8):1–4.
Shameem M, Saad T, Bhargava R, Ahmed Z, Pandey DK, Fatima N. Hernia of lung through the anterior chest wall. Respir Med CME. 2008;1(2):137–9.
Mhamdi S, Aouini I, Daboussi S, Mahfoudhi H, Lassoued M Ben, Kallel M, et al. Intercostal lung herniation secondary to thoracotomy: A case report. Pan Afr Med J. 2020;36:1–5.
van den Brink WA, Meek JCE, Boelhouwer RU. Herniation of the lung following video-assisted minithoracotomy. Surg Endosc. 1995 Jun;9(6):706–8.
Varona Porres D, Pallisa E, Sánchez AL, Persiva O. Usefulness of Thoracic Ultrasound in the Diagnosis of Intercostal Pulmonary Hernias. Arch Bronconeumol. 2019;55(4):225–6.
Zia Z, Bashir O, Ramjas GE, Kumaran M, Pollock JG, Pointon K. Intercostal lung hernia: Radiographic and MDCT findings. Clin Radiol. 2013;68(7):e412–7.
Ishida A, Oki M, Saka H, Seki Y. Postoperative intercostal lung hernia. Respirol Case Reports. 2018;6(5):e00323.
Corten BJGA, Van Dijk WA, Bilderbeek-Beckers M, Janzing HMJ. Traumatic herniation of the lung. Acta Chir Belg. 2016;116(5):322–4.
Lehmann CJ, Daftary AS, Machogu EM. Apical Lung Herniation Associated with Continuous Positive Airway Pressure in a 4-Year-Old Girl. J Clin Sleep Med. 2016;12(11):1565 – 6.
Porrero JL, Cano-Valderrama O, Castillo MJ, Marcos A, Tejerina G, Cendrero M, et al. Importance of mesh overlap on hernia recurrence after open umbilical hernia repair with bilayer prosthesis. Am J Surg. 2018;216(5):919–22.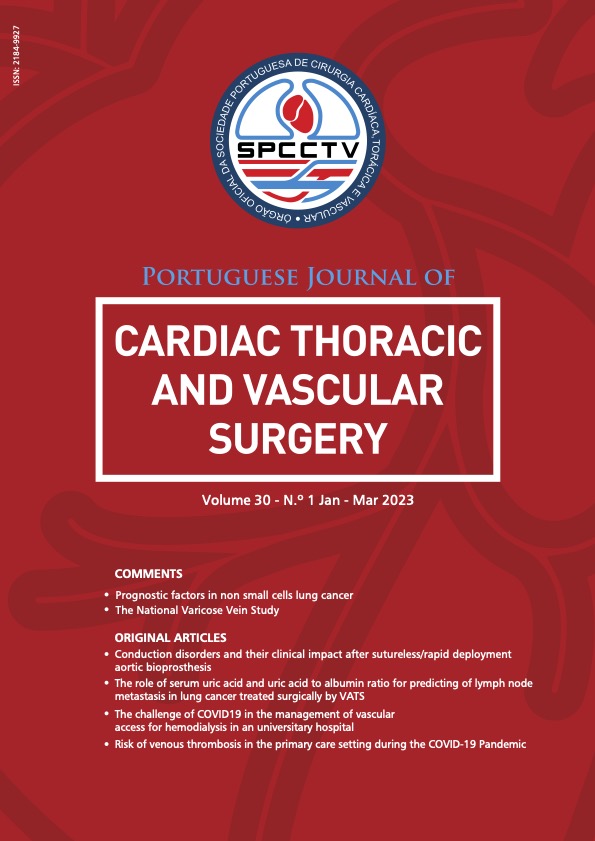 Downloads
How to Cite
1.
Gonçalves JP, Costa R, Paiva A, Fernandes P, Pinto C. Repair of a Pulmonary Hernia after Thoracotomy with an Intrapleural Mesh: a Case Report. Rev Port Cir Cardiotorac Vasc [Internet]. 2023 Apr. 4 [cited 2023 May 30];30(1):57-9. Available from: https://pjctvs.com/index.php/journal/article/view/318
License
Copyright (c) 2023 Portuguese Journal of Cardiac Thoracic and Vascular Surgery
This work is licensed under a Creative Commons Attribution 4.0 International License.