ULTRASOUND-GUIDED CENTRAL LINE INSERTION IN CHILDREN: HOW MUCH IMAGING IS REALLY NEEDED?
Keywords:
pediatrics, central line, ultrasound, chest radiography
Abstract
Introduction: A recent survey revealed that most pediatric surgeons use intraoperative fluoroscopy and routine postoperative chest radiography for catheter tip location in central line placement. The aim of this study is to review all cases of ultrasound-guided central line placements and to evaluate the role of postoperative chest radiography.
Methods: Retrospective data analysis of children submitted to percutaneous central line insertion under ultrasound control over a 2-year period in a pediatric surgery department. Data collected included: age, indication for central venous access, catheter type, usage of intraoperative fluoroscopy and postoperative chest radiography, complications, and whether chest radiography dictated any catheter-related intervention.
Results: Fifty-five long-term central lines were successfully established in children aged between 1 month and 17 years. All patients had the catheter tip position confirmed either by intraoperative fluoroscopy (96%), chest radiography (85%) or both (82%). Catheter tip overlying the cardiac silhouette (right atrium) on chest radiography was reported in 4 cases; these findings led to no change in catheter positioning or other catheter-related intervention. There were no catheter-related complications.
Conclusions: Percutaneous central line insertion under US-control is safe and effective even in small children. Post- operative chest radiography did not dictate any modification of catheter tip positioning after central line placement with ultrasound and fluoroscopic control or identified any other complication, thus should not be used routinely.
Downloads
Download data is not yet available.
References
Sousa B, Furlanetto J, Hutka M, et al.: Central venous access in oncology: ESMO Clinical Practice Guidelines. Annals of oncology : official journal of the European Society for Medical Oncology. 2015;26 Suppl 5:v152-168.
Cunningham AJ, Krishnaswami S, Radu S, Hamilton NA: Contemporary postoperative imaging practices among pediatric surgeons for image-guided central venous line placement: A survey of the American Pediatric Surgical Association. Journal of pediatric surgery. 2020;55(6):1123- 1126.
Bowen ME, Mone MC, Nelson EW, Scaife CL: Image-guided placement of long-term central venous catheters reduces complications and cost. American journal of surgery. 2014;208(6):937-941; discussion 941.
Cunningham AJ, Haag MB, McClellan KV, Krishnaswami S, Hamilton NA: Routine Chest Radiographs in Children After Image-Guided Central Lines Offer Little Diagnostic Value. The Journal of surgical research. 2020;247:234-240.
Dalton BG, Gonzalez KW, Keirsy MC, Rivard DC, St Peter SD: Chest radiograph after fluoroscopic guided line placement: No longer necessary. Journal of pediatric surgery. 2016;51(9):1490-1491.
Amer A, Broadbent RS, Edmonds L, Wheeler BJ: Central Venous Catheter-Related Tachycardia in the Newborn: Case Report and Literature Review. Case reports in medi- cine. 2016;2016:6206358.
Pittiruti M, Lamperti M: Late cardiac tamponade in adults secondary to tip position in the right atrium: an urban legend? A systematic review of the literature. Journal of cardiothoracic and vascular anesthesia. 2015;29(2):491-495.
Janik JE, Cothren CC, Janik JS, et al.: Is a routine chest x-ray necessary for children after fluoroscopically assisted central venous access? Journal of pediatric surgery. 2003;38(8):1199- 1202.
Criss CN, Gadepalli SK, Matusko N, Jarboe MD: Ultrasound guidance improves safety and efficiency of central line placements. Journal of pediatric surgery. 2019;54(8):1675-1679.
Kolaček S, Puntis JWL, Hojsak I: ESPGHAN/ESPEN/ESPR/ CSPEN guidelines on pediatric parenteral nutrition: Ve-
nous access. Clinical nutrition (Edinburgh, Scotland). 2018;37(6 Pt B):2379-2391.
Uzumcugil F, Yilbas AA, Akca B: Ultrasound-guided anatomical evaluation and percutaneous cannulation of the right internal jugular vein in infants <4000 g. The journal of vascular access. 2020;21(1):92-97.
Vierboom L, Darani A, Langusch C, Soundappan S, Karpelowsky J: Tunnelled central venous access devices in small children: A comparison of open vs. ultrasound-guided percutaneous insertion in children weighing ten kilograms or less. Journal of pediatric surgery. 2018;53(9):1832-1838.
Oliveira L, Pilz L, Tognolo CM, et al.: Comparison between ultrasonography and X-ray as evaluation methods of central venous catheter positioning and their complications in pediatrics. Pediatric surgery international. 2020;36(5):563-568.
Smit JM, Raadsen R, Blans MJ, Petjak M, Van de Ven PM, Tuinman PR: Bedside ultrasound to detect central venous catheter misplacement and associated iatrogenic complications: a systematic review and meta-analysis. Critical care (London, England). 2018;22(1):65.
Zaghloul N, Watkins L, Choi-Rosen J, Perveen S, Kurepa D: The superiority of point of care ultrasound in localizing central venous line tip position over time. European journal of pediatrics. 2019;178(2):173-179.
Jamshidi R: Central venous catheters: Indications, techniques, and complications. Seminars in pediatric surgery. 2019;28(1):26-32.
Roldan CJ, Paniagua L: Central Venous Catheter Intravascular Malpositioning: Causes, Prevention, Diagnosis, and Correction. The western journal of emergency medicine. 2015;16(5):658-664.
Perin G, Scarpa MG: Defining central venous line position in children: tips for the tip. The journal of vascular access. 2015;16(2):77-86.
Linet MS, Kim KP, Rajaraman P: Children's exposure to diagnostic medical radiation and cancer risk: epidemiologic and dosimetric considerations. Pediatric radiology. 2009;39 Suppl 1(Suppl 1):S4-26.
Royal HD: Effects of low level radiation-what's new? Seminars in nuclear medicine. 2008;38(5):392-402.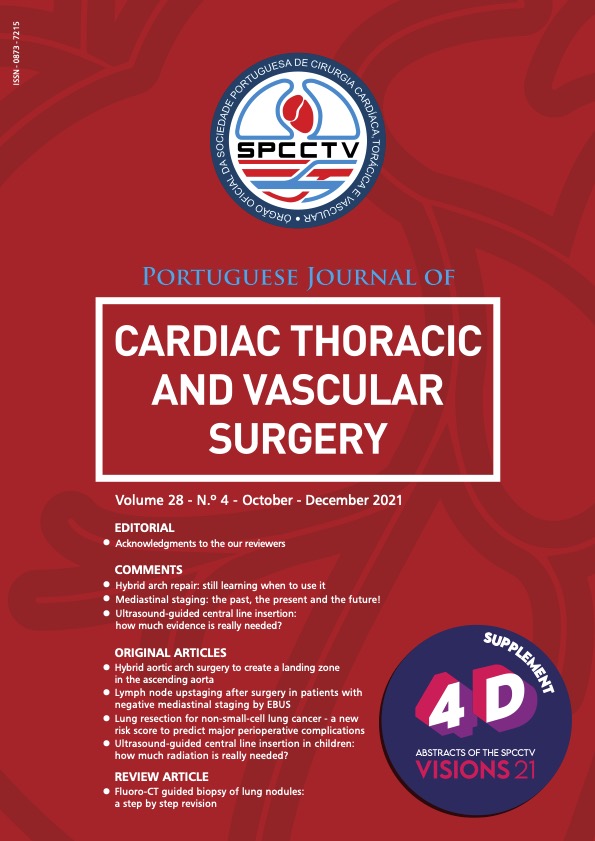 Downloads
How to Cite
1.
Vasconcelos-Castro S, Flor-de-Lima B, Soares-Oliveira M. ULTRASOUND-GUIDED CENTRAL LINE INSERTION IN CHILDREN: HOW MUCH IMAGING IS REALLY NEEDED?. Rev Port Cir Cardiotorac Vasc [Internet]. 2022 Jan. 4 [cited 2022 Jan. 28];28(4):37-41. Available from: https://pjctvs.com/index.php/journal/article/view/222
Section
Original Articles
License
This work is licensed under a Creative Commons Attribution 4.0 International License.