Mediastinal Staging: the past, the present and the future!
Downloads
Download data is not yet available.
References
A Cirurgia Torácica no Século XXI. C, Rodrigues. 2020, Re- vista GECP, Vol. XVII (1), pp. 21-29. https://www.gecp.pt/revista-gecp-vol-xvii-n-1-2020/.
Test Performance of Positron Emission Tomography and Computed Tomography for Mediastinal Staging in Patients with Non–Small-Cell Lung Cancer - A Meta-Analysis. Michael K. Gould, Ware G. Kuschner, et al. 2003, Ann Int Med, Vol. 139 (11), pp. 879-892. doi: 10.7326/0003- 4819-139-11-200311180-00013.
Revised ESTS guidelines for preoperative mediastinal lymph node staging for non-small-cell lung cancer. De Leyn P, Dooms C et all. 2014, Europ J Card Thorac Surg, pp. 1-12. doi: 10.1093/ejcts/ezu028.
The IASLC Lung Cancer Staging Project: Proposals for Revision of the TNM Stage Groupings in the Forthcoming (Eight) Edition of the TNM Classification for Lung Cancer. Goldstraw P, on behalf of the IASLC Staging Commitee. 2016, J Thorac Oncol, Vol. 11(1), pp. 39-51. doi: 10.1016/j.jtho.2015.09.009.
Long-term outcomes of upfront surgery in patients with resectable pathological N2 non-small-cell lung cancer. Jae Kwang Yun, Jin San Bok, Geun Dong Lee, et al. 2020, European Journal of Cardio-Thoracic Surgery, Vol. 58, pp. 59–69. doi:10.1093/ejcts/ezaa042.
Is there a role for upfront surgery in patients with N2 disease and good prognostic features? Candice Lee, David A. Guel, Benny Weksler. 2018, Journal of Thoracic Disease , Vol. 11(9), pp. 6828-37. doi: 10.21037/jtd.2019.03.68.
Overall Survival with Durvalumab after Chemoradiothera- py in Stage III NSCLC. Scott J. Antonia, Augusto Villegas, Davey Daniel, David Vicente, Shuji Murakami, et al. 2018, N Engl J Med, Vol. 379, pp. 2342-2350. DOI: 10.1056/ NEJMoa1809697.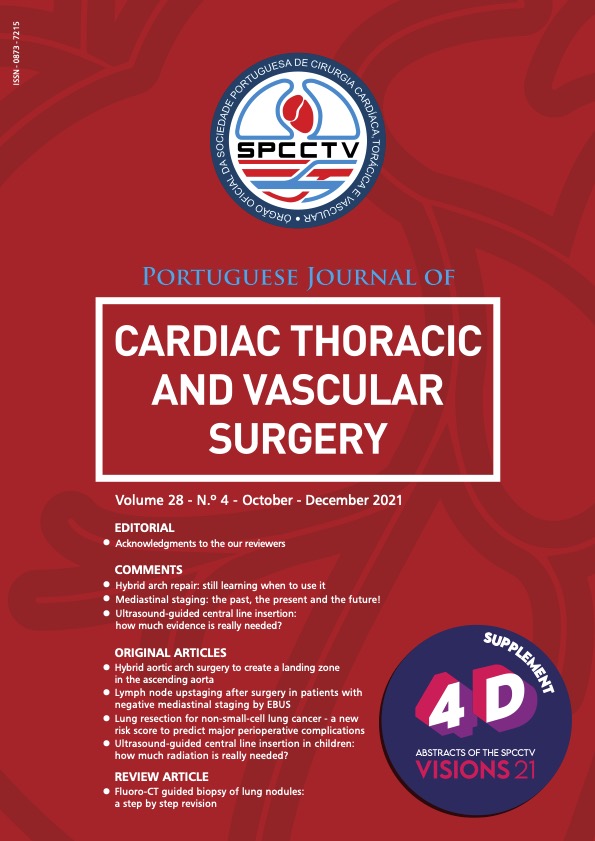 Downloads
How to Cite
1.
Rodrigues C. Mediastinal Staging: the past, the present and the future!. Rev Port Cir Cardiotorac Vasc [Internet]. 2022 Jan. 4 [cited 2023 Oct. 3];28(4):13-4. Available from: https://pjctvs.com/index.php/journal/article/view/216
Section
Editorial Comment
License
This work is licensed under a Creative Commons Attribution 4.0 International License.