THORACIC ONCOLOGY AND SEVERE HEART DISEASE: PUSHING THE LIMITS!
Downloads
Download data is not yet available.
References
Adrega T, Monteiro JP, Lareiro S , Guerra M, Vouga L. Tratamento cirúrgico de doença cardíaca severa e cancro do pulmão concomitantes. Rev Port Cir Cardiotorac Vasc. 2019;26(1):27-30.
Freddie Bray, Jacques Ferlay, Isabelle Soerjomataram, Rebecca L. Siegel, Lindsey A. Torre, Ahmedin Jemal. Global Cancer Statistics 2018: GLOBOCAN Estimates of Incidence and Mortality Worldwide for 36 Cancers in 185 Countries. CA CANCER J CLIN 2018;68:394 – 424. doi: 10.3322/caac.21492
Hannah H. Vestergaard, Marcus R. Christensen & Ulrik N. Lassen (2018) A systematic review of targeted agents for non-small cell lung cancer, Acta Oncologica, 57:2, 176-186, doi: 10.1080/0284186X.2017.1404634
Haifeng Qin, Fang Wang, Hui Liu, Zhen Zeng, Shasha Wang, Xin Pan, Hongjun Gao. New advances in immunotherapy for non-small cell lung cancer. Am J Transl Res 2018; 10(8):2234-2245. http://www.ajtr.org/files/ajtr0075629.pdf
G.Videtic, J Donington et all. Stereotactic body radiation therapy for early-stage non-small cell lung cancer: Executive Summary of an ASTRO Evidence-Based Guideline. Practical Radiation Oncology (2017) 7,295-301. http://dx.doi. org/10.1016/j.prro.2017.04.014
P. E. Postmus, K. M. Kerr et all. Early-Stage and Locally Advanced (non-metastatic) Non-Small-Cell Lung Cancer: ESMO Clinical Practice Guidelines. Annals of Oncology 28 (Supplement 4): iv1–iv21, 2017. doi:10.1093/annonc/mdx222
Chen-Yang Huang, Bo-Huan Chen, Wen-Chi Chou, Cheng-Ta Yang, John Wen-Cheng Chang. Factors associated with the prognosis and long-term survival of patients with metastatic lung adenocarcinoma: a retrospective analysis. J Thorac Dis 2018;10(4):2070-2078. doi: 10.21037/jtd.2018.03.143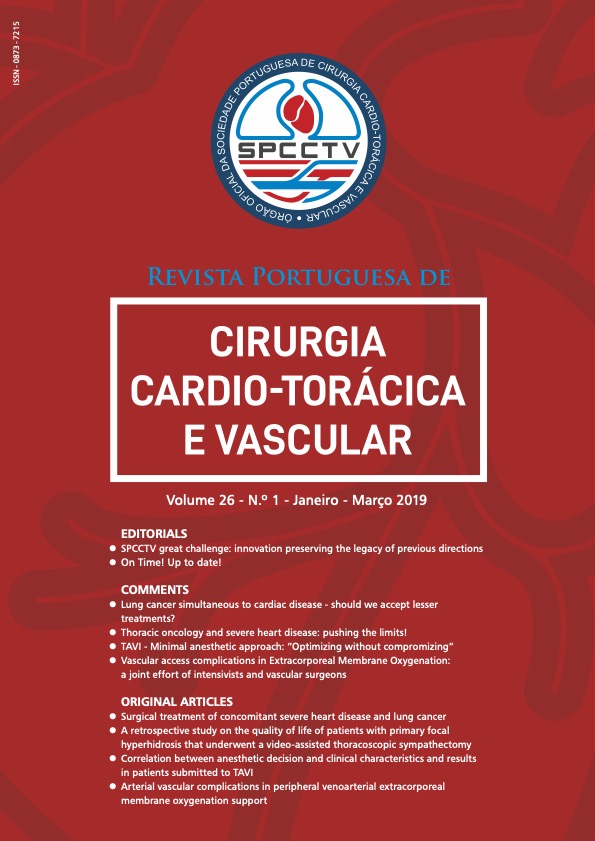 Downloads
How to Cite
1.
Rodrigues C. THORACIC ONCOLOGY AND SEVERE HEART DISEASE: PUSHING THE LIMITS!. Rev Port Cir Cardiotorac Vasc [Internet]. 2021 May 27 [cited 2022 Aug. 11];26(1):13-4. Available from: https://pjctvs.com/index.php/journal/article/view/141
Section
Editorial Comment
License
This work is licensed under a Creative Commons Attribution 4.0 International License.