CARDIAC PAPILLARY FIBROELASTOMA: A CASE WITH UNPRECEDENTED SPREAD
Keywords:
cardiac masses, cardiac magnetic resonance, multiple papillary fibroelastomas, echocardiography, imaging
Abstract
Introduction: Papillary fibroelastomas (PFE) are a rare primary cardiac neoplasm, out of which multifocal PFE constitute a small minority of cases. These benign masses are commonly found on valvular surfaces, particularly the aortic valve.
Clinical case: We present a patient with a history of embolic stroke and intra-cardiac masses. Multimodal imaging revealed multiple nodules with extensive intra-cardiac distribution. All nodules were successfully removed without valve dysfunction.
Conclusion: This is a unique case of multiple PFE involving intracardiac cavities as well as all valvular structures.
Downloads
Download data is not yet available.
References
Butany J, Nair V, Naseemuddin A, Nair GM, Catton C, Yau T. Cardiac tumours: Diagnosis and management. The Lancet Oncology. 2005;6(4):219–28.
Tsugu T, Nagatomo Y, Endo J, Kawakami T, Murata M, Yamazaki M, et al. Multiple papillary fibroelastomas attached to left ventricular side and aortic side of the aortic valve: A report of new case and literature review. Echocardiography. 2019;36(6):1194–9.
Ngaage DL, Mullany CJ, Daly RC, Dearani JA, Edwards WD, Tazelaar HD, et al. Surgical treatment of cardiac papillary fibroelastoma: A single center experience with eighty-eight patients. The Annals of Thoracic Surgery. 2005;80(5):1712–8.
Ando M, Kise Y, Maeda T, Inafuku H, Yamashiro S, Kuniyoshi Y. Multiple Papillary Fibroelastomas Involving All Four Heart Valves. Japanese J Cardiovasc Surg. 2019;48(4):245–9.
Sato M, Nagaya K, Hatakeyama M, Komatsu T. Multiple papillary fibroelastoma: Report of a case and implications for management. General Thoracic and Cardiovascular Surgery. 2013;62(2):122–4.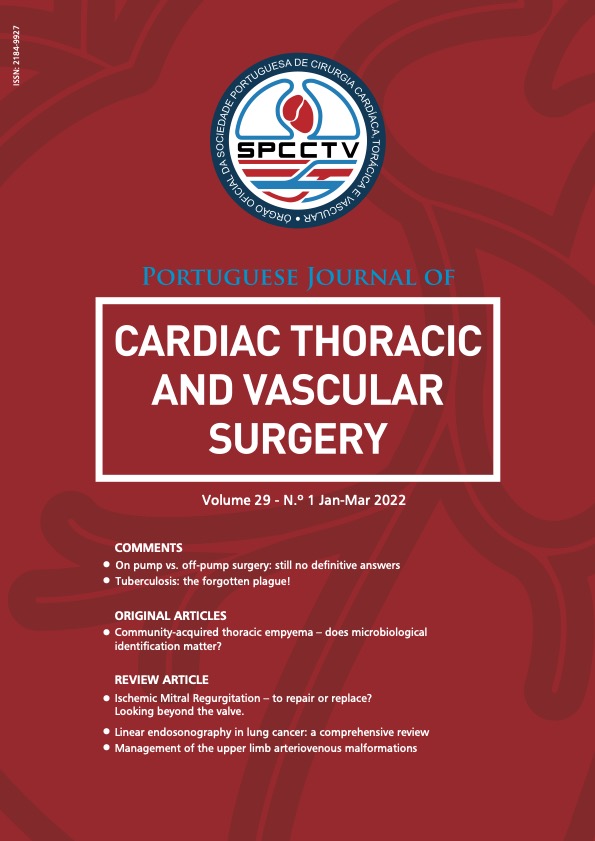 Downloads
How to Cite
1.
Lopes Cardoso J, Saleiro C, Botelho A, E. Antunes P, Gonçalves L. CARDIAC PAPILLARY FIBROELASTOMA: A CASE WITH UNPRECEDENTED SPREAD. Rev Port Cir Cardiotorac Vasc [Internet]. 2022 Apr. 11 [cited 2022 May 22];29(1):53-6. Available from: https://pjctvs.com/index.php/journal/article/view/181
License
Copyright (c) 2022 Portuguese Journal of Cardiac Thoracic and Vascular Surgery
This work is licensed under a Creative Commons Attribution 4.0 International License.