Left Ventricular Papillary Fibroelastoma
Keywords:
papillary fibroelastoma, heart neoplasms, echocardiography, cardiac magnetic resonance imaging
Abstract
Introduction: Cardiac papillary fibroelastoma is a rare benign primary cardiac tumor typically found on the valvular structures of the heart. Nonvalvular papillary fibroelastomas are exceedingly rare. We report the case of a 66-year-old male who presented with cerebellar infarctions and was found to have a mobile mass attached to the endocardial surface of the anteroseptal wall of the left ventricle. Cardiac magnetic resonance imaging demonstrated late gadolinium enhancement. Surgical excision of the cardiac mass was performed via the transaortic approach without intra-operative complications. Histopathologic examination confirmed the diagnosis of a papillary fibroelastoma. Some aspects related to the etiology, diagnosis and management of this entity are discussed.
Downloads
Download data is not yet available.
References
Gowda RM, Khan IA, Nair CK, Mehta NJ, Vasavada BC, Sacchi TJ. Cardiac papillary fibroelastoma: a comprehensive analysis of 725 cases. Am Heart J 2003; 146: 404-410.
Maleszewski JJ, Bois MC, Bois JP, Young PM, Sutulak JM, Klarich KW. Neoplasia and the heart. J Am Coll Cardiol 2018; 72: 202-237.
Tamin SS, Maleszewski JJ, Scott CG, Khan SK, Edwards WD, Bruce CJ, Oh JK, Pellikka PA, Klarich KW. Prognostic and bioepidemiologic implications of papillary fibroelastoma. J Am Coll Cardiol 2015; 65: 2420-2429.
Sorour AA, Kurmann RD, El-Am EA, Bois MC, Scott CG, Lee AT, Dearani JA, Maleszewski JJ, Klarich KW. Recurrence of pathologically proven papillary fibroelastoma. Ann Thorac Surg 2022; 113: 1208-1214.
Cianciulli TF, Saccheri MC, Cozzarin A, Lax JA, Simonetti ME. Papillary fibroelastoma of the left ventricle in a radiation-treated cancer patient. Heart Views 2018; 19: 137-140.
Anastacio MM, Moon MR, Damiano RJ, Pasque MK, Maniar HS, Lawton JS. Surgical experience with cardiac papillary fibroelastoma over a 15-year period. Ann Thorac Surg 2012; 94; 537-541.
Sharma R, Golian M, Shah S, Jassal DS, Shaikh N. Multimodality cardiac imaging of a left ventricular papillary fibroelastoma: a case report. BMC Res Notes 2017; 10: 25.
Tsugu T, Nagatomo Y, Endo J, Kawakami T, Murata M, Yamazaki M, Shimizu H, Fukuda K, Mitamura H, Lancellotti P. Multiple papillary fibroelastomas attached to left ventricular side and aortic side of the aortic valve. A report of a new case and literature review. Echocardiography 2019; 36: 1194-1199.
9. Sovic WR, Arunthamakun J, Lemieux A, Guileyardo JM. Papillary fibroelastoma in the left ventricle. Proc Bayl Univ Med Cent 2021; 34: 623-624.
Kammerer I, Besser R, Al-Azani M, Frank C, Bohrer MH, Sack FU. Fibroelastoma recurrence in left ventricle. Rarity of primary cardiac tumor. Surg J 2015; 1: e35-e37.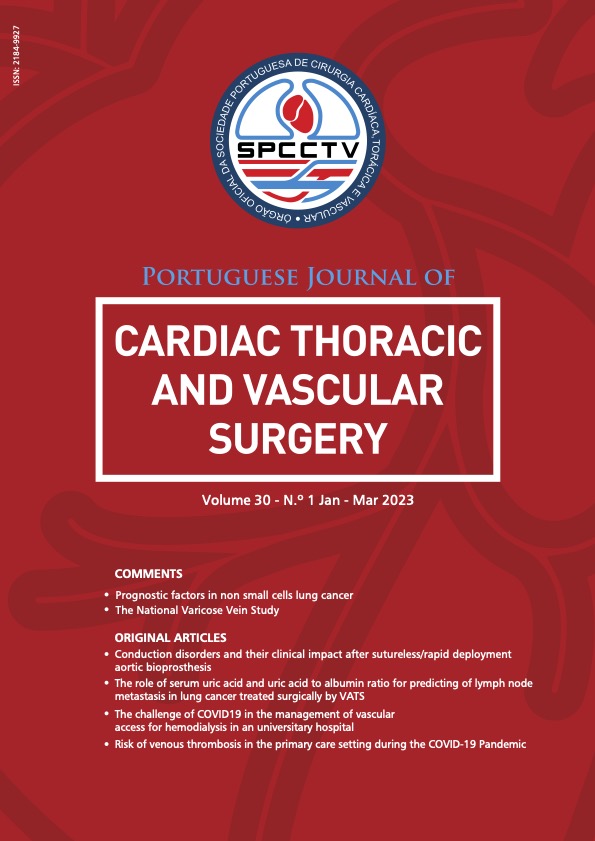 Downloads
How to Cite
1.
Balboa C, Souaf S, Suárez JM, El-Diasty MM, Fernandez AL. Left Ventricular Papillary Fibroelastoma. Rev Port Cir Cardiotorac Vasc [Internet]. 2023 Apr. 4 [cited 2023 May 30];30(1):49-52. Available from: https://pjctvs.com/index.php/journal/article/view/332
License
Copyright (c) 2023 Portuguese Journal of Cardiac Thoracic and Vascular Surgery
This work is licensed under a Creative Commons Attribution 4.0 International License.