UNUSUAL PRESENTATION OF RUPTURED ABDOMINAL AORTIC ANEURYSM
Abstract
Abdominal aortic aneurysm affects 5-9% of the population over the age of 65 years; is more common in male smokers and in patients with a positive family history of aortic aneurysms. Most patients are asymptomatic; rupture is the most common and dreaded complication. The classical triad of back pain, hypotension and pulsatile mass is the most common presentation but is present in only 25–50% of patients. Clinical presentation seems dependent on rupture site. Our report illustrate a rare clinical presentation for a serious clinical condition. Knowledge of different presentations can lead to timely diagnosis and management and decrease in rupture related morbidity and mortality.
Downloads
Download data is not yet available.
References
Chaikof EL, Dalman RL, Eskandari MK, Jackson BM, Lee WA, Mansour MA et al. The Society for Vascular Surgery practice guidelines on the care of patients with an abdominal aortic aneurysm. J Vasc Surg 2018;67(1):2–77.e2.
Kristmundsson T, Dias N, Resch T, Sonesson B. Morphology of small abdominal aortic aneurysms should be considered before continued ultrasound surveillance. Ann Vasc Surg 2016;31:18–22.
Assar AN, Zarins CK. Ruptured abdominal aortic aneurysm: a surgical emergency with many clinical presentations. Postgrad Med J 2009;85:268–273.
Talbot R, Andrews J, Munns J. Ruptured abdominal aortic aneurysm presenting as acute unilateral leg swelling – not all swelling below the knee is DVT. BMJ Case Rep 2012.
Azhar B, Patel SR, Holt PJ, Hinchliffe RJ, Thompson MM, Karthikesalingam A. Misdiagnosis of ruptured abdominal aortic aneurysm: systematic review and meta-analysis. J Endovasc Ther. 2014;21(4):568-75.
Shrikhande G, Khan S, Hussain H, Menezes A, McKinsey J, Bush H. Significance of initial aortic aneurysm pressure sensor readings varies with aortic endograft design. World J Surg. 2010 Dec;34(12):2969-72.
Esposito A, Menna D, Mansour W, Sirignano P, Capoccia L, Speziale F. Endovascular treatment of a small infrarenal abdominal aortic aneurysm causing duodenal obstruction: case report and literature review. Vascular 2015;23:281e4.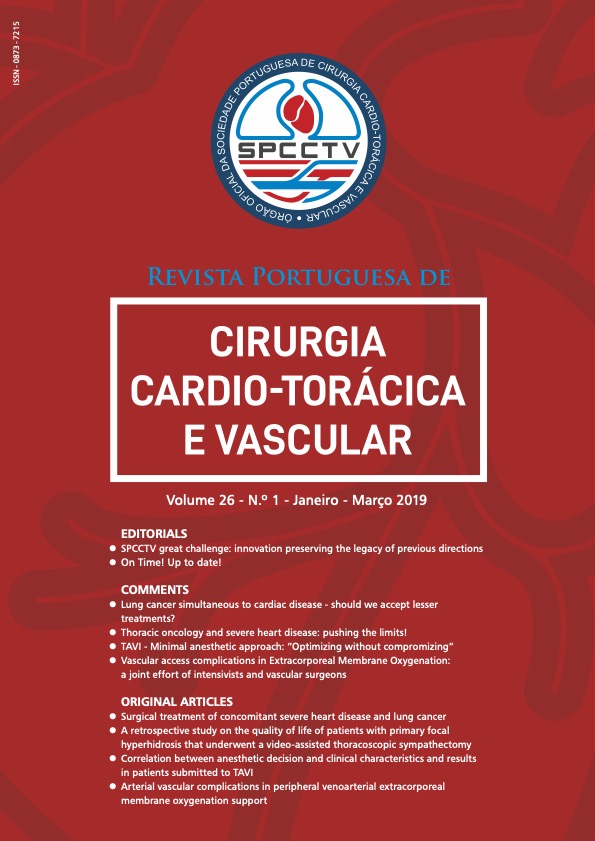 Downloads
How to Cite
1.
Moreira M, Antunes L, Moreira J, Gonçalves Óscar. UNUSUAL PRESENTATION OF RUPTURED ABDOMINAL AORTIC ANEURYSM. Rev Port Cir Cardiotorac Vasc [Internet]. 2021 May 27 [cited 2023 Oct. 3];26(1):71-3. Available from: https://pjctvs.com/index.php/journal/article/view/157
License
This work is licensed under a Creative Commons Attribution 4.0 International License.