AORTIC MURAL THROMBUS
Abstract
Aortic mural thrombus is a rare clinical finding in the absence of aneurysm or atherosclerosis but an important source of noncardiogenic emboli with a difficult diagnosis and a high rate of complications, including high mortality. It appears to occur more frequently in young adults usually with underlying pro-thrombotic disorder. With the increasing use of high resolution imaging, the asymptomatic mural thrombus became an increasingly frequent finding, but its potential for embolization or the best treatment are still a matter of debate. The management of mural thrombus in non-atherosclerotic aorta represents a challenge because no guidelines are available, and should be individualized. The therapeutic approach should include the triple aspects of aortic mural thrombus: primary disease anticoagulation treatment, surgical thrombectomy to solve embolic complications and endovascular/classical surgery to exclude the thrombus from the aorta. Historically therapeutic anticoagulation was proposed as first-line therapy and surgical intervention was reserved for mobile thrombus, recurrent embolism and contraindication for anticoagulation. However, it is associated with a 25-50% embolic recurrence rate, thrombus persistence in 35% and secondary aortic surgery in up to 31% of the cases. Recent data suggest that endovascular coverage of the aortic thrombus, when feasible, appears to be an effective and safe procedure with a low recurrence and re-embolization rates. In this article we review the published literature concerning this topic.
Downloads
Download data is not yet available.
References
Machleder H1, Takiff H, Lois JF et al. Aortic mural thrombus: an occult source of arterial thromboembolism. J Vasc Surg. 1986;4:473-8.
Piffaretti G, Tozzi M, Caronno R, et al. Endovascular treatment for mobile thrombus of the thoracic aorta. Eur J Cardiothorac Surg 2007;32:664e6.
Bowdish ME, Weaver FA, Liebman HA, et al. Anticoagulation is an effective treatment for aortic mural thrombi. J Vasc Surg 2002;36:713e9.
Turley RS, Unger J, Cox MW, et al. Atypical Aortic Thrombus: Should Nonoperative Management Be First Line? Ann Vasc Surg 2014;28:1610-1617.
Noel, Antoine, et al. Recurrent systemic embolism caused by descending thoracic aortic mural thrombus in a young cannabis abuser. Journal of Cardiology Cases 13.3 (2016): 93-95.
Roche-Nagle G, Wooster D, & Oreopoulos G. Symptomatic Thoracic Aorta Mural Thrombus. Vascular. 2010;18(1), 41–44.
Williams GM, Harrington D, Burdick J. Mural thrombus of the aorta: an importante, frequently negleteed cause of large peripheral emboli. Ann Surg 1981; 194:737-44.
Moris D, Karaolanis G, Schizas D. eComment. Mural thrombus in normal appearing aorta: Unfinished saga in uncharted waters. Interact Cardiovasc Thorac Surg. 2016 Mar;22(3):373-4.
Onwuanyi A, Sachdeva R, Hamirani K, et al. Multiple aortic thrombi associated with protein C and S deficiency. Mayo Clin Proc 2001;76:319e22.
Cogert G, Siegel RJ. Giant floating aortic thrombus: a rare finding on transesophageal echocardiography. Am J Cardiol 2007;99:739e40.
Kloppenburg GT, Sonker U, Schepens MA. Intra-aortic balloon pump related thrombus in the proximal descending thoracic aorta with peripheral emboli. J Invasive Cardiol 2009;21: e110e2.
Ryu YG, Chung CH, Choo SJ, et al. A case of anti- phospholipid syndrome presenting with a floating thrombus in the ascending aorta. J Thorac Cardiovasc Surg 2009;137:500e2.
Rafiq MU, Jajja MM, Qadri SS, et al. An unusual presentation of pedunculated thrombus in the distal arch of the aorta after splenectomy for B-cell lymphoma. J Vasc Surg 2008;
Hazirolan T, Perler BA, Bluemke DA. Floating thoracic aortic thrombus in "protein S" deficient patient. J Vasc Surg
;40: 381.
Tsiliparis N, Hanack U, Pisimisis G. Thrombus in the Non-aneurysmal, Non-atherosclerotic Descending Thoracic Aorta e An Unusual Source of Arterial Embolism. Eur J Vasc Endovasc Surg (2011) 41, 450-457.
Beldi G, Bissat A, Eugster T, et al. Mural thrombus of the aorta in association with homozygous plas- minogen activator
inhibitor type 1 (PAI-1)-675(4G) and hetero- zygous GP Ia 807C/T genotypes. J Vasc Surg 2002;36:632-4.
Schattner A. Meital A. Mobile Menace: Floating aortic arch thrombus. American Journal of Medicine; 2016;129;e24.
Yagyu T, Naito M, Kumada M, et al. Aortic Mural Thrombus in the Non-Atherosclerotic Aorta of Patients with Multiple Hypercoagulable Factors. Intern Med Advance Publication 2018 Sep; DOI: 10.2169/internalmedicine.0691-17
Aparci M, Uz O, Atalay M. eComment. An unusual cause of aortic mural thrombus in non-atherosclerotic vessel. Interact CardioVasc Thorac Surg 2016;22:371–4.
Laperche T, Laurian C, Roudaut R. Mobile thromboses of the aortic arch without aortic debris. A transesophageal echocardiographic
finding associated with unexplained arterial embolism. Teh Filiale Echocardiographie de la Societe Fancaise de Cardiologie. Circulation 1997; 96:288-94.
Weiss S, Buhlmann R, von Allmen RS, et al. Management of floating thrombus in the aortic arch. J Thorac Cardiovasc Surg 2016; 152:810-7.
Meyermann K., Trani J., Caputo F.J. et al. Descending thoracic aortic mural thrombus presentation and treatment strategies. J Vasc Surg. 2017;66:931-6
Verma H, Meda N, Vora S, et al. Contemporary management of symptomatic primary aortic mural thrombus. J Vasc Surg 2014; 60:1524-34.
Fayad ZY, Semaan E, Fahoum B, et al. Aortic Mural Thrombus in the normal or minimally Atherosclerotic Aorta. Ann Vasc Surg 2013;27:282-290.
Boufi M, Mameli A. Compes P. Elective Stent-graft Treatment for the Management of Thoracic Aorta Mural Thrombus. 2014; 47(4): 335–341
Oyewole-Eletu S, Mursleen A, Chung CJ, Page JP. Seven centimeter aortic mural thrombus in a 40-year-old female: Review and management. J Case Rep Images Med 2017;3:42–45.
Maloberti A, Oliva F, De Chiara B, et al. Asymptomatic aortic mural thrombus in a minimally atherosclerotic vessel. Interact
CardioVasc Thorac Surg 2016;22:371–4.
Karalis DG. Chandrasekaran K. Victor MF. Recognition amd embolic potential of intraaortic atherosclerotic debris. J Am Coll Cardiol. 1991;17:73-8.
Ungprasert P, Ratanapo S, Cheungpasitporn W. Management in thoracic aorta mural thrombi: Evidence based medicine
and controversy. Emergency Medicine 1 (2011): e104.
Aldaher MK, El-Fayed HM, Malouka SA, et al. Large aortic arc mural thrombus in non-atherosclerotic thoracic aorta – a rare cause of stroke in the young. BMJ Case Rep 2015.
Choukroun EM, Labrousse LM, Madonna FP, et al. Mobile thrombus of the thoracic aorta: diagnosis and treatment in
cases. Ann Vasc Surg 2002; 16:714-22.
Hanh TL, Dalsing MC. Sawchuk AP, et al. Primary aortic mural thrombus: presentation and treatment. Ann Vasc Surg 1999; 13:52-9.
Iyer AP, Sadasivan D, Kamal U, et al Resolution of large intra-aortic thrombus following anticoagulation therapy. Heart Lung Circ 2009;18:49e50.
Valdivia AR, Duque Santos A, Urena MG, et al. Anticoagulation Alone for Aortic Segment Treatment in Symptomatic Primary Aortic Mural Thrombus Patients; Ann Vasc Surg. 2018;43:121–26.
Lau LS, Blanchard DG, Hye RJ. Diagnosis and management of patients with peripheral macroemboli from thoracic aortic pathology. Ann Vasc Surg. 1997;11:348-53.
Pasierski T, Jasek S, Firek B, et al. Resolution of an aortic mobile mass with anticoagulation without evidence of arterial embolism. Clin Cardiol 1996;19:151–2.
Kruger T, Liske B, Ziemer S, et al. Thrombolysis to treat thrombi of the aortic arch. Clin Appl Thromb Hemost. 2011;17:340–345 ([Case Reports]).
Hausmann D, Gulba D, Bargheer K, et al, Successful thrombolysis of an aortic-arch thrombus in a patient after mesenteric embolism. N Engl J 25 Med. 1992;327:500–501 ([Case Reports Letter]).
Tsilimparis N, Spanos K, Sebastian Debus E, et al. Technical Aspects of Using the AngioVac System for Thrombus Aspiration From the Ascending Aorta. Journal of Endovascular Therapy. 2018;25(5), 550–553.
Dougherty MJ, Calligaro KD, Rua I, et al, Idiopathic pedunculated mural thrombus of the nonaneurysmal infrarenal aorta presenting with popliteal embolization: two cases treated with thrombolytic therapy. J Vasc Surg. 2000;32:383–387 ([Case Reports]).
Luebke T, Aleksic M, Brunkwall J. Endovascular therapy of a symptomatic mobile thrombus of the thoracic aorta. Eur J Vasc Endovasc Surg. 2008; 36:550e2.
Zhang WW, Abou-Zamzam AM, Hashisho M, et al. Staged endovascular stent grafts for concurrent mobile/ulcerated thrombi of thoracic and abdominal aorta causing recurrent spontaneous distal embolization. J Vasc Surg 2008;47:193e6.
Altenbernd J, Schurmann K, Walterbusch G. Stent-graft therapy in a mobile thrombus in the thoracic aorta. Rofo 2008;180:158e9.
Fueglistaler P, Wolff T, Guerke L, et al. Endovascular stent graft for symptomatic mobile thrombus of the thoracic aorta. J Vasc Surg 2005;42:781e3.
Rancic Z, Pfammatter T, Lachat M, et al. Floating aortic arch thrombus involving the supraaortic trunks: successful treatment with supra-aortic debranching and antegrade endograft implantation. J Vasc Surg 2009;50: 1177-80.
Jeyabalan G, Wallace JR, Chaer RA, et al. Endovascular strategies for treatment of embolizing thoracoabdominal aortic lesions. J Vasc Surg. 2014;59(5):1256-64.
Sabetai, MM, Conway, .M, Hallward, G, Bapat, V. Ascending aorta thrombus adjacent to a cholesterol-rich plaque as the source of multiple emboli. Interact Cardiovasc Thorac Surg. 2013;16:389–390.
Kalangos A, Baldovinos A, Vuille C, et al. Floating thrombus in the ascending aorta: a rare cause of peripheral emboli. J Vasc Surg. 1997;27:150–154.
Choi JB, Choi SH, Kim NH, et al. Floating thrombus in the proximal aortic arch. Tex Heart Inst J. 2004;31:432–434.
Sawada T, Shimokawa T. Giant thrombus in the ascending aorta that caused systemic embolism. Interact Cardiovasc Thorac Surg. 2011;12:1048–1050.
Pang, Philip YK, and Viswa B. Nathan. Successful Thrombectomy for an Idiopathic Floating Ascending Aortic Thrombus. The Annals of Thoracic Surgery 102.3 (2016): e245-e247.
Calderon, P., Heredero, A., Pastor, A. et al. Successful removal of a floating thrombus in ascending aorta. Ann Thorac Surg. 2011;91:e67–e69.
De Rango, P. Mural thrombus of thoracic aorta: few solutions and more queries. European Journal of Vascular and Endovascular Surgery 41.4 (2011): 458-459.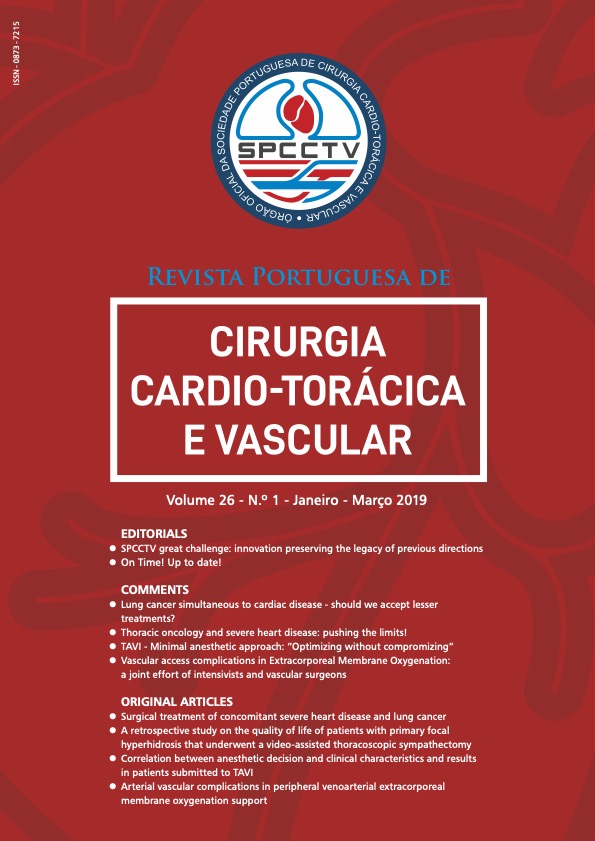 Downloads
How to Cite
1.
Varino J, Rodrigues R, Pereira B, Moreira M, Gonçalves Óscar. AORTIC MURAL THROMBUS. Rev Port Cir Cardiotorac Vasc [Internet]. 2019 Mar. 31 [cited 2022 Aug. 11];26(1):19-26. Available from: https://pjctvs.com/index.php/journal/article/view/145
License
Copyright (c) 2021 Portuguese Journal of Cardiac Thoracic and Vascular Surgery
This work is licensed under a Creative Commons Attribution 4.0 International License.