COVID-19: CRISIS MANAGEMENT IN LUNG CANCER SURGERY
Downloads
Download data is not yet available.
References
Kamboj M, Sepkowitz KA. Nosocomial infections in patients with cancer. Lancet Oncol 2009; 10: 589–97.
Li JY, Duan XF, Wang LP, et al. Selective depletion of regulatory T cell subsets by docetaxel treatment in patients with nonsmall cell lung cancer. J Immunol Res 2014; 2014: 286170.
Longbottom ER, Torrance HD, Owen HC, et al. Features of postoperative immune suppression are reversible with interferon gamma and independent of interleukin-6 pathways. Ann Surg 2016; 264: 370–77.
Sica A, Massarotti M. Myeloid suppressor cells in cancer and autoimmunity. J Autoimmun 2017; 85: 117–25.
Liang W, Guan W, Chen R, Wang W, Li J, Xu K, et al. Cancer patients in SARS-CoV-2 infection: a nationwide analysis in China. Lancet Oncol 2020; 21(3): 335-337. https://doi.org/10.1016/S1470-2045(20)30096-6
COVID 19: Elective Case Triage Guidelines for Surgical Care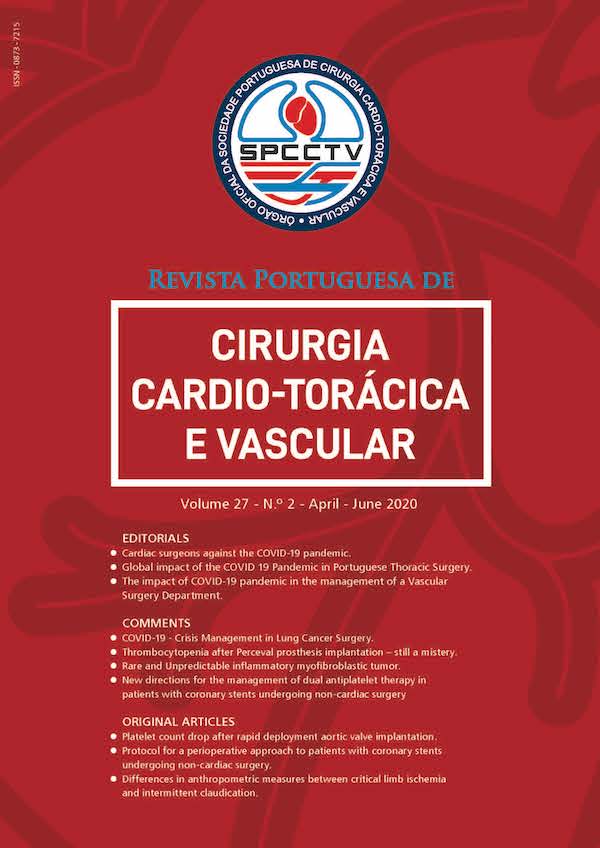 Downloads
How to Cite
1.
Lareiro S, Guerra M. COVID-19: CRISIS MANAGEMENT IN LUNG CANCER SURGERY. Rev Port Cir Cardiotorac Vasc [Internet]. 2020 Jun. 30 [cited 2023 Mar. 21];27(2):75. Available from: https://pjctvs.com/index.php/journal/article/view/49
Section
Editorial Comment
License
This work is licensed under a Creative Commons Attribution 4.0 International License.