João Rafael Bello de Moraes, Thoracic Surgery Professor (1907-1975)
Downloads
Download data is not yet available.
References
A Escola Médica do Campo Santana. Botelho, Luis da Sil- veira. 1995, Acta médica Portuguesa, Vol. 8, pp. 259-264. 2. Moraes, João Rafael Casqueiro Bello de. Curriculum Vitae
- 1950. Lisboa : s.n., 1950. Faculdade de Medicina da
Universidade de Lisboa Library.
Pneumonectomy for lung cancer. Shi Yan, Andrei I. Grit-
siuta, Guillermo Medrano del Rosal, Guillermo Medrano del Rosal, et al. 2020, Shanghai Chest, Vol. 4, p. 25. doi: 10.21037/shc.2019.12.05.
Lisboa, Faculdade de Medicina Universidade de. Arquivo biográfico de João Rafael Casqueiro Bello de Moraes. Pro- fessores Catedráticos da Faculdade de Medicina da Univer- sidade de Lisboa. [Online] [Citação: 18 de Agosto de 2022.] http://www.biblioteca.fm.ul.pt/Noticias.aspx?ItemID=137.
Araújo, A Teles de, Freitas, Maria da Graça e Pina, Jaime. História da Pneumologia Portuguesa. s.l. : Sociedade Por- tuguesa de Pneumologia, 1994, p. 173.
Pneumectomia - Considerações sobre alguns casos recen- temente operados. Moraes, Rafael Bello. Lisboa : Sociedade de Ciências Médicas, II de Maio de 1948, Jornal da Socie- dade de Ciencias Médicas, Vol. CXII (5).
Moraes, João Rafael Casqueiro Bello de. Curriculum Vitae. Biblioteca da Faculdade de Medicina de Lisboa. 1961.
Costa, M. Freitas e. Algumas Notas para a História do
serviço de Pneumologia do Hospital de Santa Maria. Jaime Pina, Maria da Graça Freitas A. Teles de Araújo. [ed.] Socie- dade Portuguesa de Pneumologia. História da Pneumolo- gia Portuguesa. Lisboa : s.n., 1994, 8.1.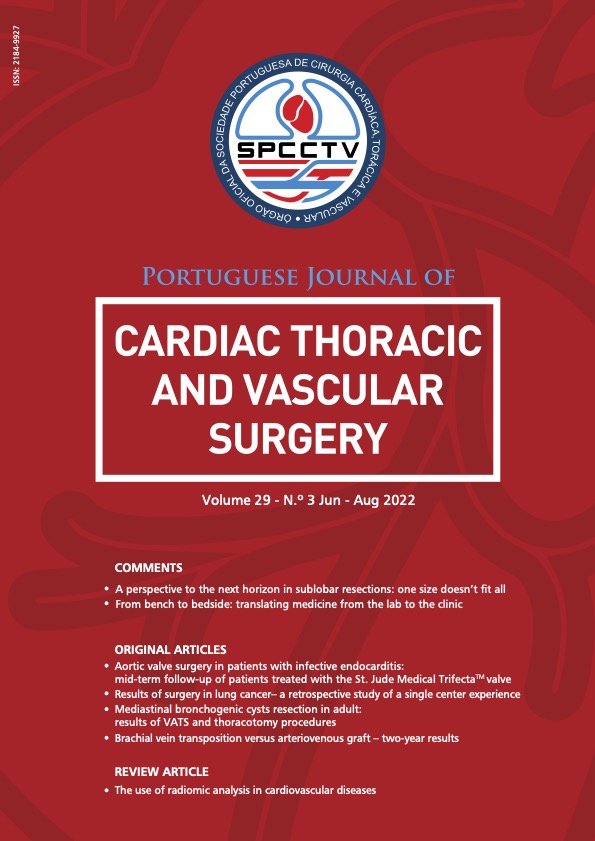 Downloads
How to Cite
1.
Rodrigues C. João Rafael Bello de Moraes, Thoracic Surgery Professor (1907-1975). Rev Port Cir Cardiotorac Vasc [Internet]. 2022 Oct. 5 [cited 2023 Oct. 3];29(3):17-20. Available from: https://pjctvs.com/index.php/journal/article/view/296
License
Copyright (c) 2022 Portuguese Journal of Cardiac Thoracic and Vascular Surgery
This work is licensed under a Creative Commons Attribution 4.0 International License.