LYMPH NODE UPSTAGING AFTER SURGERY IN PATIENTS WITH NEGATIVE MEDIASTINAL STAGING BY EBUS
Keywords:
EBUS, Mediastinal Staging
Abstract
Introduction: Mediastinal staging is a hot topic in thoracic oncology. According to the guidelines, and besides other criteria, in the presence of a primary lung cancer with increased mediastinal lymph node uptake on PET-CT, a negative result after lymph node sampling by Endobronchial Ultrasound (EBUS) is not enough to rule out mediastinal lymph node involve- ment, demanding a cervical mediastinoscopy to vouch for the results.
Methods and Objectives: In order to study the percentage of lymph node surgical upstaging in patients with neg- ative mediastinal node staging by EBUS and evaluate the role of mediastinoscopy in these patients, we conducted a search in our department's database using the key-word EBUS in the period concerned between January 2014 and August 2020. A total of 302 patients were found. After applying defined criteria, we obtained 42 cases.
Results: Lymph node surgical upstaging occurred in 11 (26%) patients, of which 8 were upstaged to N2 and 3 to N1. Most of the cases were single station. Only in 5 (12% of the total) of the 11 patients, the upstaging was related to lymph node stations previously sampled by EBUS. Upstaging was more frequent among males and lower lobe tumours.
Discussion and Conclusions: Regarding the 8 upstage cases for N2, 5 were single station. Of these 8 cases, only 5 would be approachable by cervical mediastinoscopy. Furthermore, 2 of them were single station, eligible for upfront surgery. Then, only in 3 (7%) of the 42 cases cervical mediastinoscopy would be of foremost importance.
Downloads
Download data is not yet available.
References
De Groot PM, Wu CC, Carter BW, Munden RF. The epidemiology of lung cancer. Transl Lung Cancer Res. 2018;7:220–233.
De Leyn P, Dooms C, Kuzdzal J, Lardinois D, Passlick B, Rami-Porta R et al. Revised ESTS guidelines for preoperative mediastinal lymph node staging for non-small-cell lung cancer. Eur J Cardiothorac Surg. 2014 May;45(5):787-98.
Ettinger DS, Wood DE, Aggarwal C, Aisner DL, Akerley W, Bauman JRet al. NCCN guidelines insights: non-small cell lung cancer, Version 1.2020. J Natl ComprCancNetw. 2019 Dec;17(12):1464-1472.
Postmus PE, Kerr KM, Oudkerk M, Senan S, Waller DA, Vansteenkiste J et al. Early and locally advanced non-smallcell lung cancer (NSCLC): ESMO clinical practice guidelines for diagnosis, treatment and follow-up. Ann Oncol. 2017Jul;28(4):iv1-iv21.
Vilmann P, Clementsen PF, Colella S, Siemsen M, de Leyn P, Dumonceau J, et al. Combined endobronchial and esophageal endosonography for the diagnosis and staging of lung cancer: European Society of Gastrointestinal Endoscopy (ESGE) Guideline, in cooperation with the European Respiratory So- ciety (ERS) and the European Society of Thoracic Surgeons (ESTS). Endoscopy. 2015;47(6):546 –60.
Nardecchia E, Cattoni M, Dominioni L. Endobronchial ultrasound-transbronchial needle aspiration for mediastinal staging of non-small cell lung cancer: variability of results and perspectives. J Thorac Dis. 2017 May;9(5):S418-S424.
Du Rand IA, Barber PV, Goldring J, Lewis RA, Mandal S, Munavvar M et al. BTS Interventional Bronchoscopy Guideline Group. Summary of the British Thoracic Society guidelines for advanced diagnostic and therapeutic flexible bronchoscopy in adults. Thorax. 2011 Nov;66(11):1014-5.
Silvestri GA, Gonzalez AV, Jantz MA, Margolis ML, Gould MK, Tanoue LT et al. Methods for staging non-small cell lung cancer: diagnosis and management of lung cancer, 3rd ed: American College of Chest Physicians evidence-based clinical practice guidelines. Chest. 2013 May;143(5):e211S-e250S.
Yasufuku K, Pierre A, Darling G, de Perrot M, Waddell T, Johnston M et al. A prospective controlled trial of endobronchial ultrasound-guided transbronchial needle aspiration compared with mediastinoscopy for mediastinal lymph node staging of lung cancer. J Thorac Cardiovasc Surg. 2011 Dec;142(6):1393-400.
Rusch VW. Mediastinoscopy: an obsolete procedure? J Thorac Cardiovasc Surg. 2011 Dec;142(6):1400-2.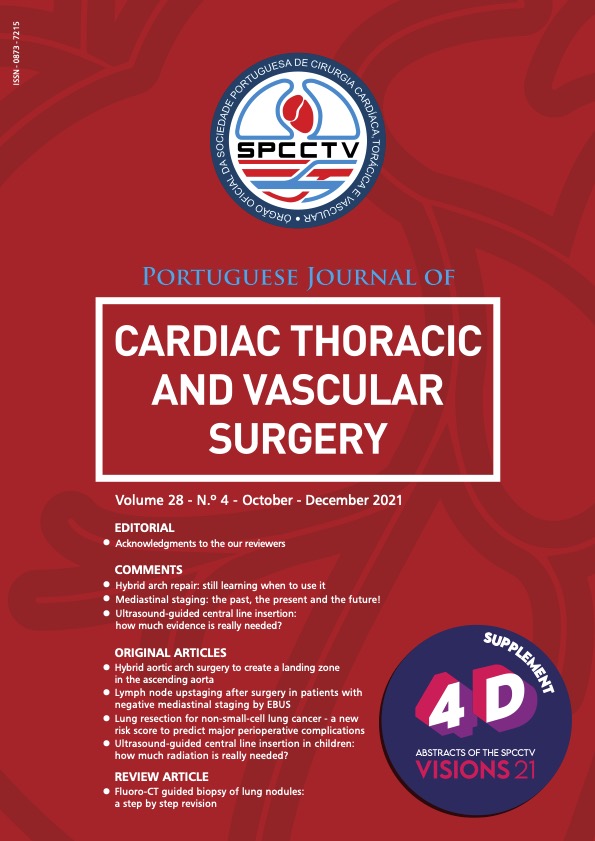 Downloads
How to Cite
1.
Cabral D, Rodrigues C, Antunes M, Nawojowska A, Calado T, Torres C, Alvoeiro M, Mendes S, Félix F. LYMPH NODE UPSTAGING AFTER SURGERY IN PATIENTS WITH NEGATIVE MEDIASTINAL STAGING BY EBUS. Rev Port Cir Cardiotorac Vasc [Internet]. 2022 Jan. 4 [cited 2023 Oct. 3];28(4):25-30. Available from: https://pjctvs.com/index.php/journal/article/view/220
Section
Original Articles
License
This work is licensed under a Creative Commons Attribution 4.0 International License.