Buerger's Disease – A Clinical Case
Keywords:
Buerger`s disease, thromboangiitis obliterans, limb ischemia, peripheral artery disease
Abstract
Buerger's disease is a distal segmental nonatherosclerotic vasculopathy that involves the inferior and superior limbs of smoker males younger than 45 years old.
This article aims to describe a clinical case and revise the literature about Buerger's disease.
A 45-year-old smoker male repeatedly visited the emergency department for refractory pain and inflammatory signs in the right hallux. After developing ulcers in the right foot, Doppler ultrasonography revealed segmental occlusion of distal arteries of that limb. It was also observed in arteriography "corkscrew" collaterals. Autoimmune, thrombophilic and cardiovascular diseases were excluded.
Analgesia, antibiotics and alprostadil were implemented. As a result, the patient stopped smoking and was submitted to minor amputation with complete healing, after which he remained asymptomatic.
Buerger's disease is a diagnosis of exclusion. Therefore, smoking cessation is the most effective treatment and is crucial to prevent disease progression.
Downloads
Download data is not yet available.
References
Buerger L. Landmark publication from the American Journal of the Medical Sciences, 'Thromboangiitis obliterans: a study of the vascular lesions leading to presenile spontaneous gan- grene'. 1908. Am J Med Sci 2009; 337:274.
Piazza G, Creager MA. Thromboangiitis obliterans. Circulation 2010; 121:1858.
Dargon PT, Landry GJ. Buerger's disease. Ann Vasc Surg 2012; 26:871.
Olin JW. Thromboangiitis obliterans (Buerger's disease). N Engl J Med 2000; 343:864.
Mills JL, Porter JM. Buerger's disease: a review and update. Semin Vasc Surg 1993; 6:14.
Arkkila PE. Thromboangiitis obliterans (Buerger's disease). Or- phanet J Rare Dis 2006; 1:14.
Rutherford's Vascular Surgery and Endovascular Therapy, 9th edition, chapter 138 - Thromboangiitis Obliterans (Buerger Disease); Sidawy, A. et al; Elsevier 2019
Ohta T, Ishioashi H, Hosaka M, Sugimoto I. Clinical and social consequences of Buerger disease. J Vasc Surg 2004; 39:176.
Cooper LT, Tse TS, Mikhail MA, et al. Long-term survival and amputation risk in thromboangiitis obliterans (Buerger's disease). J Am Coll Cardiol 2004; 44:2410.
Modaghegh MS, Hafezi S. Endovascular Treatment of Thromboangiitis Obliterans (Buerger's Disease). Vasc Endovascular Surg. 2018 Feb;52(2):124-130. doi: 10.1177/1538574417744085. Epub 2017 Dec 13. PMID: 29237360.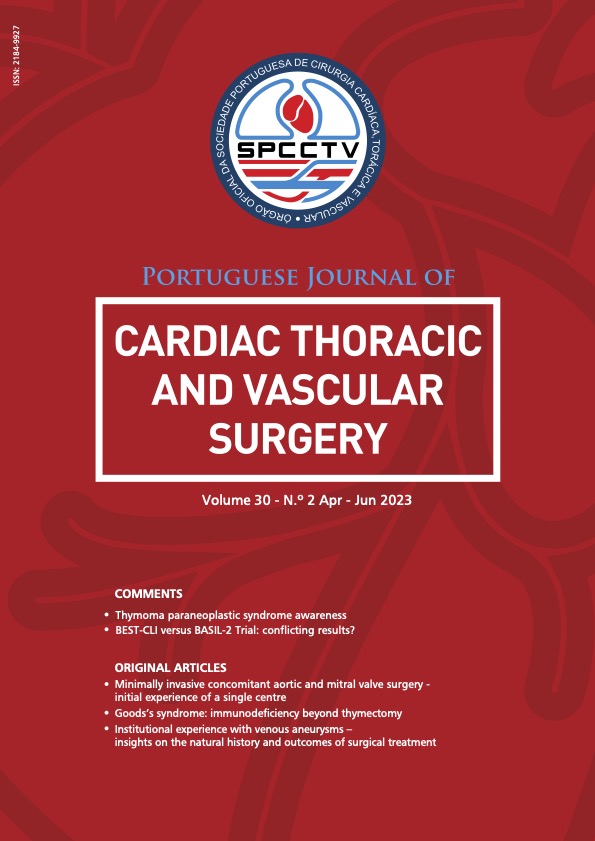 Downloads
How to Cite
1.
Fernandes U, Vasconcelos J, Marques R, Pinto-de-Sousa J, Almeida Pinto J. Buerger's Disease – A Clinical Case. Rev Port Cir Cardiotorac Vasc [Internet]. 2023 Jul. 7 [cited 2023 Oct. 3];30(2):59-61. Available from: https://pjctvs.com/index.php/journal/article/view/259
License
Copyright (c) 2023 Portuguese Journal of Cardiac Thoracic and Vascular Surgery
This work is licensed under a Creative Commons Attribution 4.0 International License.