It is not always "essential" - regarding a hypertensive urgency
Keywords:
Fibromuscular dysplasia, Secondary hypertension, Hypertension
Abstract
Hypertension is, in a minority of cases, secondary to an identifiable cause. In this context, the aetiology of the blood pressure elevation is essential since it may be treatable. We present a case of a young woman with hypertension secondary to fibromuscular dysplasia (FMD) of the renal artery in which the endovascular treatment was crucial for its management.
Downloads
Download data is not yet available.
References
Williams B, Mancia G, Spiering W, et al. 2018 ESC/ESH Guidelines for the management of arterial hypertension [published correction appears in Eur Heart J. 2019 Feb 1;40(5):475]. Eur Heart J. 2018;39(33):3021-3104. doi:10.1093/eurheartj/ehy339
Persu A, Giavarini A, Touzé E, et al. European consensus on the diagnosis and management of fibromuscular dysplasia. J Hypertens. 2014;32(7):1367-1378. doi:10.1097/HJH.0000000000000213
Sanidas EA, Seferou M, Papadopoulos DP, et al. Renal Fibromuscular Dysplasia: A Not So Common Entity of Secondary Hypertension. J Clin Hypertens (Greenwich). 2016;18(3):240-246. doi:10.1111/jch.12650.
Khoury MH, Gornik HL. Fibromuscular dysplasia (FMD). Vascular Medicine. 2017;22(3):248-252. doi:10.1177/1358863X17700716.
Plouin PF, Perdu J, La Batide-Alanore A, Boutouyrie P, Gimenez-Roqueplo AP, Jeunemaitre X. Fibromuscular dysplasia. Orphanet J Rare Dis. 2007;2:28. Published 2007 Jun 7. doi:10.1186/1750-1172-2-28
Olin JW, Gornik HL, Bacharach JM, et al. Fibromuscular dysplasia: state of the science and critical unanswered questions: a scientific statement from the American Heart Association. Circulation. 2014;129(9):1048-1078. doi:10.1161/01.cir.0000442577.96802.8c
O'Connor SC, Gornik HL. Recent developments in the un- derstanding and management of fibromuscular dysplasia. J Am Heart Assoc. 2014;3(6):e001259. doi:10.1161/ JAHA.114.001259
Brinza EK, Gornik HL. Fibromuscular dysplasia: Advances in understanding and management. Cleve Clin J Med. 2016;83(11 Suppl 2):S45-S51. doi:10.3949/ccjm.83. s2.06
Narula N, Kadian-Dodov D, Olin JW. Fibromuscular Dysplasia: Contemporary Concepts and Future Directions. Prog Cardiovasc Dis. 2018;60(6):580-585. doi:10.1016/j. pcad.2018.03.001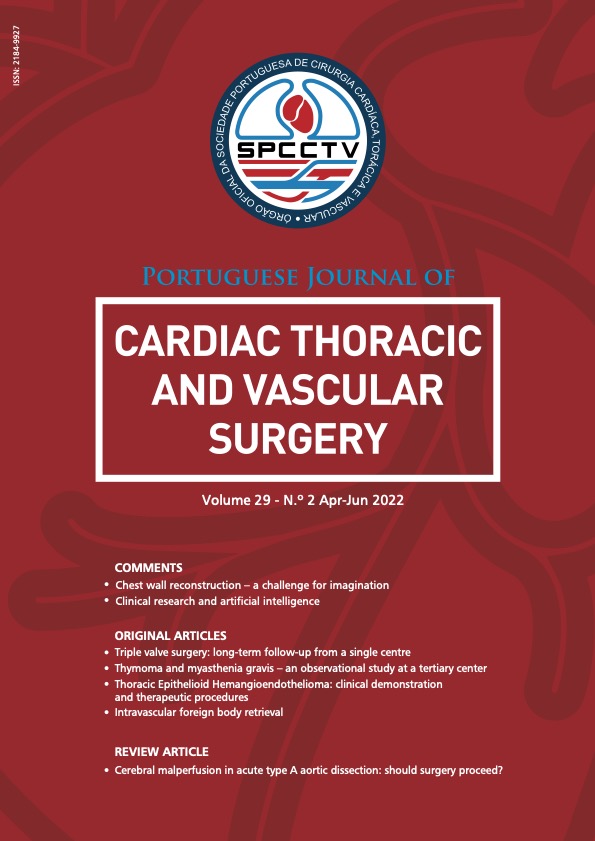 Downloads
How to Cite
1.
Leal F, Nogueira L, Almeida Pinto J, Martins Mendes T, Silva Rocha A. It is not always "essential" - regarding a hypertensive urgency. Rev Port Cir Cardiotorac Vasc [Internet]. 2022 Jul. 3 [cited 2022 Sep. 27];29(2):79-81. Available from: https://pjctvs.com/index.php/journal/article/view/201
License
Copyright (c) 2022 Portuguese Journal of Cardiac Thoracic and Vascular Surgery
This work is licensed under a Creative Commons Attribution 4.0 International License.