Nickel Allergy After a Negative Test Result Following Nuss Procedure for Pectus Excavatum: a Case Report
Downloads
Download data is not yet available.
References
Nuss D, Kelly RE, Jr., Croitoru DP, Katz ME. A 10-year review of a minimally invasive technique for the correction of pectus excavatum. J Pediatr Surg. 1998;33(4):545-52.
Kelly RE, Goretsky MJ, Obermeyer R, Kuhn MA, Redlinger R, Haney TS, Moskowitz A, Nuss D. Twenty-one years of experience with minimally invasive repair of pectus excavatum by the Nuss procedure in 1215 patients. Ann Surg. 2010 Dec;252(6):1072-81.
Shah B, Cohee A, Deyerle A, Kelly CS, Frantz F, Kelly RE, et al. High rates of metal allergy amongst Nuss procedure patients dictate broader pre-operative testing. J Pediatr Surg. 2014;49(3):451-4.
Obermeyer RJ, Gaffar S, Kelly RE Jr, Kuhn MA, Frantz FW, et al. Selective versus routine patch metal allergy testing to select bar material for the Nuss procedure in 932 patients over 10years. J Pediatr Surg. 2018 Feb;53(2):260-264.
Ahlström MG, Thyssen JP, Wennervaldt M, Menné T, Johansen JD. Nickel allergy and allergic contact dermatitis: A clinical review of immunology, epidemiology, exposure, and treatment. Contact Dermatitis. 2019;81(4):227-41.
P, Leis K, Kroczek K, Baska A, Kazik J, Czajkowski R. Metal allergy after the Nuss procedure for pectus excavatum: a review. Postepy Dermatol Alergol. 2020 Dec;37(6):848- 852. doi: 10.5114/ada.2020.102094.
Wang YB, Han YJ, Uchida K, Zhao BC, Chen KB, Ma WY, Xie FJ, Liu TL, Zhang LX. Pneumothorax as the initial manifestation of idiopathic hypereosinophilic syndrome. Ann Thorac Surg. 2014 Nov;98(5):1838-41.
Kwon BI, Hong S, Shin K, Choi EH, Hwang JJ, Lee SH. Innate type 2 immunity is associated with eosinophilic pleural effusion in primary spontaneous pneumothorax. Am J Respir Crit Care Med. 2013 Sep 1;188(5):577-85.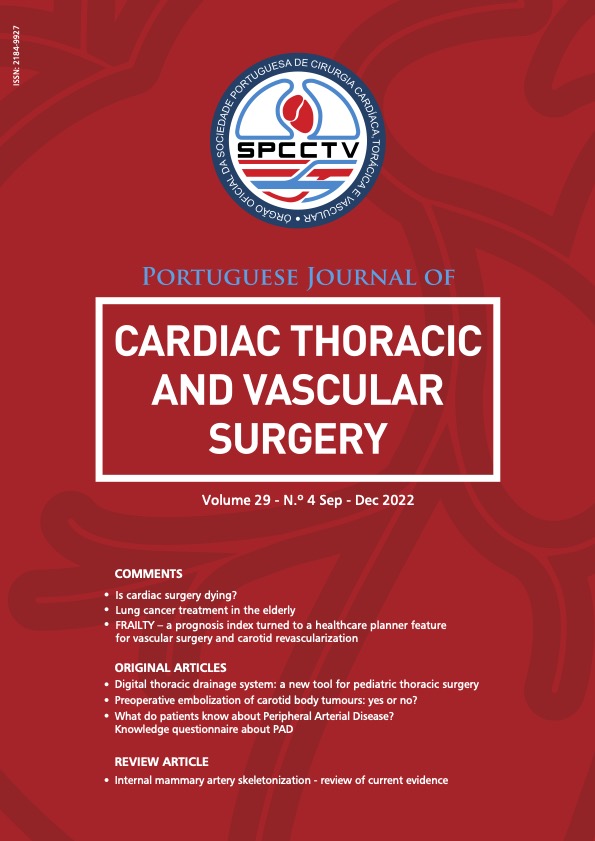 Downloads
How to Cite
1.
Fontoura-Matias J, Pereira-Nunes J, Vasconcelos-Castro S, Gomes N, Cunha AP, Soares-Oliveira M. Nickel Allergy After a Negative Test Result Following Nuss Procedure for Pectus Excavatum: a Case Report. Rev Port Cir Cardiotorac Vasc [Internet]. 2023 Jan. 14 [cited 2023 Oct. 3];29(4):59-60. Available from: https://pjctvs.com/index.php/journal/article/view/257
License
Copyright (c) 2023 Portuguese Journal of Cardiac Thoracic and Vascular Surgery
This work is licensed under a Creative Commons Attribution 4.0 International License.