DEEP VENOUS THROMBOSIS AS THE FIRST MANIFESTATION OF HIBERNOMA - CLINICAL CASE
Abstract
We present a 36 year-old female patient with a popliteo-femoral deep vein thrombosis whose further workup revealed a thigh tumor later diagnosed as hibernoma. Hibernoma is a very rare benign tumor stemming from vestigial remnants of fetal brown adipose cells, usually disclosed as a slow and painless growing, mass. It is impossible to distinguish it on clinical grounds from the more aggressive and ominous liposarcoma.
Downloads
Download data is not yet available.
References
Klevos G, Jose J, Pretell-Mazzini J, Conway S., Hibernoma, Am J Orthop, 2015 ;44: 284-7.
DeRosa D, Lim, Lim-Hurtubise K, Johnson E, Symptomatic Hibernoma: A rare soft tissue tumor, Hawaii J Med Public Health. 2012; 71(12): 342–345.
Merkel H. On a pseudolipoma of the breast. Beitr Pathol Ana. 1906;39:152–157.
Gery L. Discussions. Bull Mem Soc Anat (Paris) 1914;89:111.
Lee JC, Gupta A, Saifuddin A, Flanagan A, Skinner JA, Briggs TW, Cannon SR. Hibernoma: MRI features in eight consecutive cases. Clin Radiol. 2006;61(12):1029–1034.
Dursun M, Agayev A, Bakir B, Ozger H, Eralp L, Sirvanci M, Guven K, Tunaci M. CT and MR characteristics of hibernoma: six cases. Clin Imaging. 2008;32(1):42–47.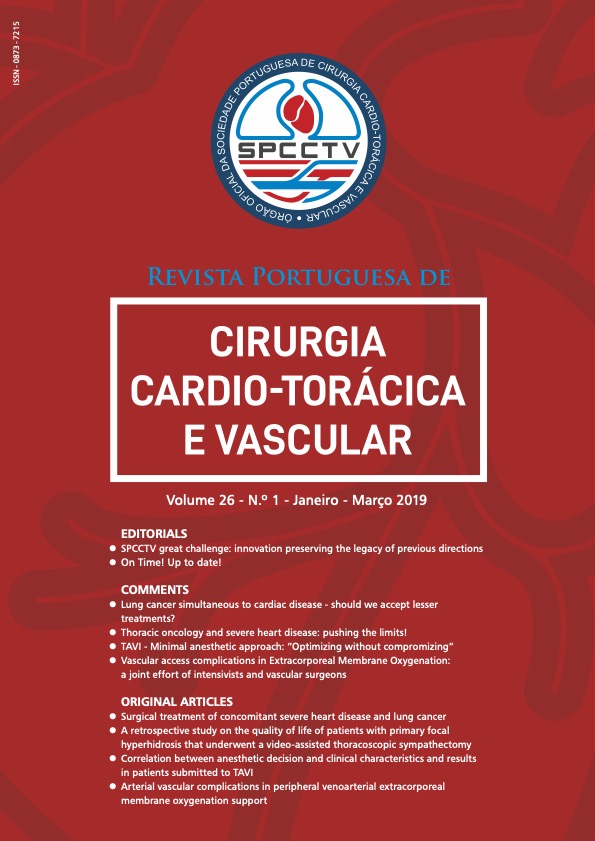 Downloads
How to Cite
1.
Mesquita A, Vidoedo J, Maia M, Canotilho R, Afonso M. DEEP VENOUS THROMBOSIS AS THE FIRST MANIFESTATION OF HIBERNOMA - CLINICAL CASE. Rev Port Cir Cardiotorac Vasc [Internet]. 2021 May 27 [cited 2022 Aug. 11];26(1):63-5. Available from: https://pjctvs.com/index.php/journal/article/view/155
License
This work is licensed under a Creative Commons Attribution 4.0 International License.