Ventricular Pseudoaneurysm After Myocardial Infarction: A Case Report
Abstract
A 66-year-old female patient was admitted to hospital care in March 2021 due to aggravating fatigue and dyspnoea. Her past medical history was relevant for chronic anaemia, smoking, dyslipidaemia, antiphospholipid syndrome and lupus-like mixed connective tissue disease, for which she was taking corticosteroids. She had suffered an acute coronary syndrome in August 2020, complicated with postinfarction pericarditis; at the time, coronariography diagnosed moderate disease of the anterior descending artery and occlusion of the circumflex artery. Echocardiography showed a discontinuity in the lateral and posterior walls of the left ventricle to a thin walled, loculated cavity, with doppler blood flow (Figure 1). A diagnosis of pseudoaneurysm was assumed, and the patient was transferred to our centre for surgical treatment.
Downloads
Download data is not yet available.
References
Bekkers S, Borghans R, Cheriex E. Ventricular pseudoaneurysm after subacute myocardial infarction. Int J Cardiovasc Imaging. 2006; 22:791–795
Oliveira S, Dias P, Pinho T, Gavina C, Almeida PB, Madureira AJ et al. Giant left ventricular pseudoaneurysm: The diagnostic contribution of different non-invasive imaging modalities. Rev Port Cardiol. 2012; 31(6):439-444.
March K, Sawada S, Tarver R, Kesler K, Armstrong W. Current concepts of left ventricular pseudoaneurysm: Pathophysiology, therapy, and diagnostic imaging methods. Clin Cardiol. 1989; 12:531–540.
Sheikh W, Sehgal P, Verma A, Haldar M, Jaiswal S. Left ventricular pseudoaneurysm post myocardial infarction. Int J Crit Illn Inj Sci. 2019; 9(1): 43–45.
Yeo T, Malouf J, Oh J, Seward J. Clinical profile and outcome in 52 patients with cardiac pseudoaneurysm. Ann Intern Med. 1998; 15; 128(4):299-305.
Madan T, Juneja J, Raval A, Thakkar B. Transcatheter device closure of pseudoaneurysms of the left ventricular wall: An emerging therapeutic option. Rev Port Cardiol. 2016; 35(2):115.e1-5.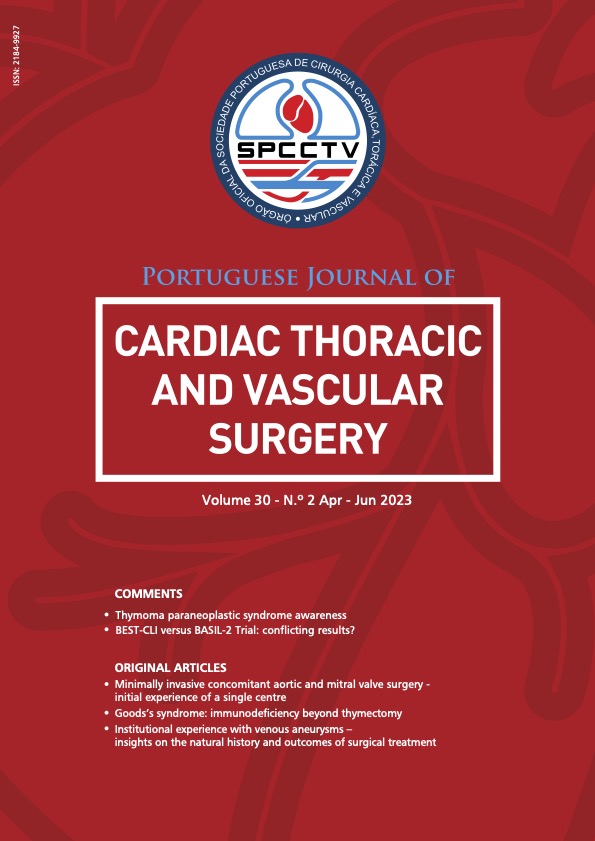 Downloads
How to Cite
1.
Máximo J, Pissarra D, Pinheiro Torres J, Almeida J, Pinho P. Ventricular Pseudoaneurysm After Myocardial Infarction: A Case Report. Rev Port Cir Cardiotorac Vasc [Internet]. 2023 Jul. 7 [cited 2023 Oct. 3];30(2):49-50. Available from: https://pjctvs.com/index.php/journal/article/view/374
License
Copyright (c) 2023 Portuguese Journal of Cardiac Thoracic and Vascular Surgery
This work is licensed under a Creative Commons Attribution 4.0 International License.