TRICUSPID CHORDAL RUPTURE FOLLOWING STAB INJURY: SUCCESSFUL REPAIR WITH THE CLOVER TECHNIQUE
Abstract
We report a case of a 32-year-old male patient who sustained an isolated stab injury to the left chest wall. He was initially treated with emergency surgery for right ventricular free wall rupture, with an uneventful postoperative course. During follow-up, the patient complained of exercise intolerance and dyspnea on effort. Transthoracic echocardiography (TTE) demonstrated a previously undiagnosed severe tricuspid regurgitation due to flail of the anterior leaflet and a ruptured chorda. A redo operation was scheduled, and the valve was successfully repaired, with different techniques employed. This case highlights the importance of careful clinical evaluation of victims of chest penetrating trauma and how early diagnosis of hidden valvular lesions might increase the odds of valve repair. It also demonstrates the clover technique as a valuable technique in the correction of traumatic tricuspid regurgitation.
Downloads
Download data is not yet available.
References
Leite L, Gonçalves L, Nuno D. Journal of Forensic and Legal Medicine Cardiac injuries caused by trauma : Review and case reports. J Forensic Leg Med. 2017;52:30-34. doi:10.1016/j.jflm.2017.08.013
Skoularigis J, Essop MR, Sareli P. Usefulness of Transesophageal Echocardiography in the Early. Am J Cardiol. 1994;73(5):407-409.
van Son JAM, Danielson GK, Schaff H V., Miller FA. Traumatic tricuspid valve insufficiency: Experience in thirteen patients. J Thorac Cardiovasc Surg. 1994;108(5):893-898. doi:10.1016/S0022-5223(94)70188-1
DOUNIS G, MATSAKAS E, POULARAS J, PAPAKONSTANTINOU K, KALOGEROMITROS A, KARABINIS A. Traumatic tricuspid insufficiency: a case report with a review of the literature. Eur J Emerg Med. 2002;9(3):258-261. doi:10.1097/00063110-200209000-00010
Doty JR, Cameron DE, Elmaci T, Salomon NW. Penetrating trauma to the tricuspid valve and ventricular septum: Delayed repair. Ann Thorac Surg. 1999;67(1):252-253. doi:10.1016/S0003-4975(98)01154-0
Alfieri O, De Bonis M, Lapenna E, Agricola E, Quarti A, Maisano F. The "clover technique" as a novel approach for correction of post-traumatic tricuspid regurgitation. J Thorac Cardiovasc Surg. 2003;126(1):75-79.
doi:10.1016/S0022-5223(03)00204-6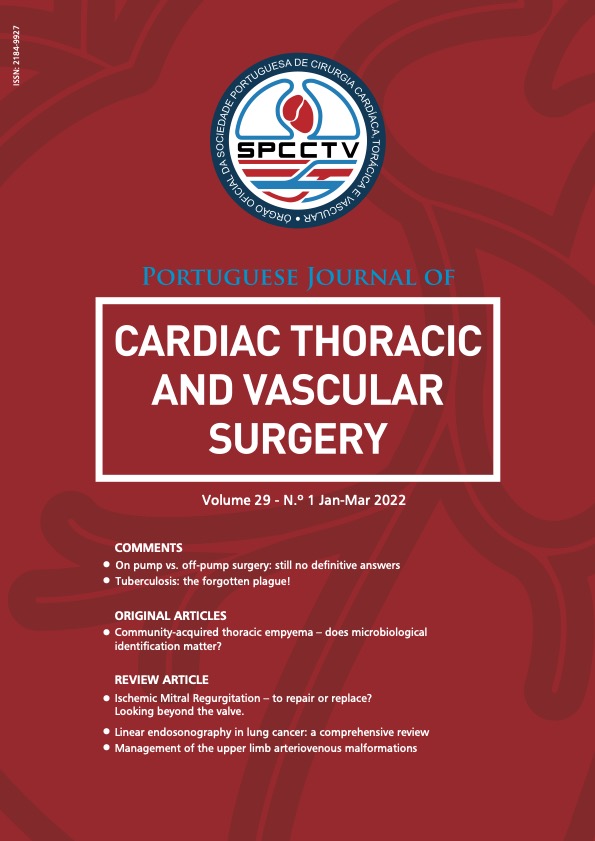 Downloads
How to Cite
1.
Mil-Homens AF, Gouveia D, Almeida J, Pinho P. TRICUSPID CHORDAL RUPTURE FOLLOWING STAB INJURY: SUCCESSFUL REPAIR WITH THE CLOVER TECHNIQUE. Rev Port Cir Cardiotorac Vasc [Internet]. 2022 Apr. 11 [cited 2023 May 30];29(1):57-9. Available from: https://pjctvs.com/index.php/journal/article/view/180
License
Copyright (c) 2022 Portuguese Journal of Cardiac Thoracic and Vascular Surgery
This work is licensed under a Creative Commons Attribution 4.0 International License.