Prognostic factors in non small cells lung cancer
Downloads
Download data is not yet available.
References
Krishna T., Adam Barsouk, Kalyan Saginala, John Sukumar Aluru, Alexander Barsouk, Epidemiology of lung câncer. Contemporary Oncology 1/2021; Doi: 10.5114/ wo.2021.103829
Łochowski M, Łochowska B, Chałubi ska-Fendler J, Zawadzka I, R bowski M, Kozak J. Prognostic factors deter- mining survival of patients operated for non-small cell lung cancer with consideration given to morphological parameters of blood. Cancer Manag Res 2021;13:479-487.
Clark GM. Prognostic factors versus predictive factors: examples from a clinical trial of erlotynib. Mol Onc. 2008, 1 (4) : 406-412. Doi: 10.1016/j.molonc.2007.001
Peng, M.; Huang, Q.; Yin, W.; Tan, S.; Chen, C.; Liu, W.; Tang, J.; Wang, X.; Zhang, B.; Zou, M.; et al. Circulating Tumor DNA as a Prognostic Biomarker in Localized Non-Small Cell Lung Cancer. Front. Oncol. 2020, 10, 561598.
Song X, Chen D, Yuan M, et al. Total lymphocyte count, neutrophil-lymphocyte ratio, and platelet-lymphocyte ratio as prognostic factors in advanced non-small cell lung cancer with chemoradiotherapy. Cancer Manag Res. 2018;10:6677–6683. doi: 10.2147/CMAR.S188578
Qiang G, Liang C, Xiao F, et al. Prognostic significance platelet-to-lymphocyte ratio in non-small-cell lung cancer: a meta-analysis. Onco Targets Ther. 2016;9:869–876. doi: 10.2147/OT T.S96804
Sayan M, Satir Turk M, Ozkan D, Kankoc A, Tombul I, Celik A. The role of serum uric acid and uric acid to albumin ratio for predicting of lymph node metastasis in lung cancer treated surgically by VATS.: Correlation between uric acid level and lymph node metastasis. Portuguese Journal of Cardiac Thoracic and Vascular Surgery,2023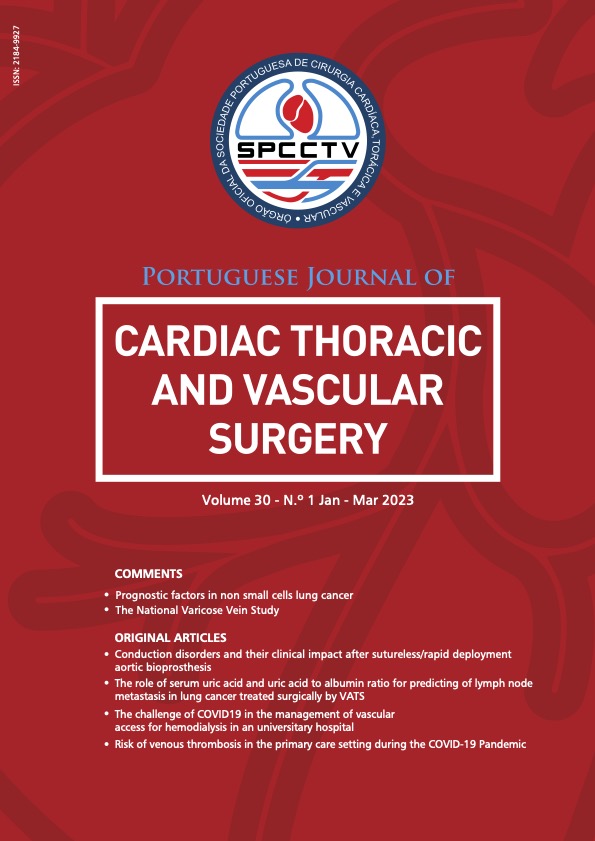 Downloads
How to Cite
1.
Garcia AL. Prognostic factors in non small cells lung cancer. Rev Port Cir Cardiotorac Vasc [Internet]. 2023 Apr. 4 [cited 2023 May 30];30(1):9-10. Available from: https://pjctvs.com/index.php/journal/article/view/356
License
Copyright (c) 2023 Portuguese Journal of Cardiac Thoracic and Vascular Surgery
This work is licensed under a Creative Commons Attribution 4.0 International License.