Chest wall reconstruction – a challenge for the imagination
Downloads
Download data is not yet available.
References
Daniel L. Miller, Frederick L. Durden. Chest Wall Reconstruction Utilizing Ovine-derived Reinforced Tissue Matrix, An- nals of Thoracic Surgery Jan 2022. Doi:10.1016/j.athorac- sur.2021.12.062
Sanna S., Brandolini J., Pardolesi A., Argnani D., Mengozzi M., Dell'Amore A., Solli P., Materials and techniques in chest Wall reconstructIon: a review, Journal of Visualized Surgery, 2017, Doi: 10.21037/jovs.2017.06.10
Wang, Ming-Jin; Gultawatvichai, Patan. Primary Chest Wall Tumors, Elsevier, Jan 2022.
Gaetano Roccco. Anterior Chest Wall Ressection and Reconstruction, General Thoracic Surgery, Mar 2013. Doi:10.1053/j.optechstcvs.2013.02.002
Isaac, Kathryn V., M.P.H., Elzinga, Kate, Buchel, Edward.W., The Best of Chest Wall Reconstruction: Principles and Clinical Application for Complex Oncologic and Sternal Defects, Journal of the American Society of Plastic Surgeons, Mar 2022, Doi: 10.1097/PRS.0000000000008882
Novoa N. M., Alcaide J. L.A., Hernandez M.T.G., Fuentes M.G., Goni E., Lopez M. F. J., Chest wall- reconstruction: yesterday, today and the future, Shanghai Chest, Feb. 2019, Doi: 10.21037/shc.2019.02.02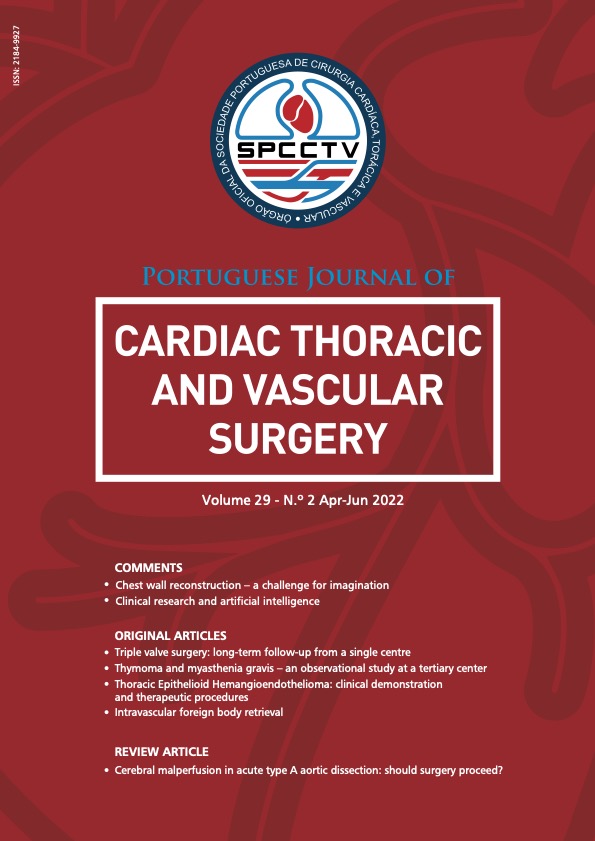 Downloads
How to Cite
1.
Garcia AL. Chest wall reconstruction – a challenge for the imagination. Rev Port Cir Cardiotorac Vasc [Internet]. 2022 Jul. 3 [cited 2022 Sep. 27];29(2):11-2. Available from: https://pjctvs.com/index.php/journal/article/view/272
Section
Editorial Comment
License
This work is licensed under a Creative Commons Attribution 4.0 International License.