INFECTIVE ENDOCARDITIS DUE TO BARTONELLA QUINTANA IN A PATIENT WITH BIOLOGICAL AORTIC PROSTHESIS
Abstract
Background: Bartonella quintana is a facultative intracellular bacterium and the causative agent of trench fever. The disease was reported during the World Wars in pre-antibiotic era and is associated with louse infestation and poor hygiene conditions. Bartonella bacteraemia may result in endocarditis mostly in people with existing heart valve abnormalities.
Case Report: We report a case of endocarditis caused by B. quintana in a 77-year-old woman with previous valvulopathy. This active endocarditis case was characterized by aortic root involvement 5 years after surgical aortic valve replacement. Although the initial serological tests had induced to a presumptive diagnosis of Q fever, B. quintana infection was confirmed by PCR and sequencing. Detection of Bartonella DNA in valvular and abscess specimens was determinant to confirm Bartonella infection in the absence of other associated risk factors.
Conclusions: Bartonella infection should be considered in patients with pre-existing valvular disease and with a blood culture-negative endocarditis.
Downloads
Download data is not yet available.
References
Foucault C, Brouqui P, Raoult D. Bartonella Quintana Characteristics and Clinical Management. Emerging Infectious diseases. 2006 Fev; 12(2):217-22.
Ghidey FY, Igbinosa O, Mills K, Lai L, Woods C, Ruiz ME et al. Case series of Bartonella Quintana blood culture-negative endocarditis in Washington, DC. JMM Case Reports. 2016. 1-4.
Habib G, Lancellotti P, Antunes MJ, Bongiorni MG, Casalta JP, Del Zotti F et al. 2015 ESC Guidelines for the management of infective endocarditis. European Heart Journal, 2015; 36(44):3075–3128, https://doi.org/10.1093/eurheartj/ehv319
Lamas CC, Eykyn SJ. Blood culture negative endocarditis: analysis of 63 cases presenting over 25 years. Heart. 2002, 89:258-62
M Maurin, F Eb, J Etienne and D Raoult Serological cross-reactions between Bartonella and Chlamydia species: implications for diagnosis. J. Clin. Microbiol. September 1997 vol. 35 no. 9 2283-2287
Edouard S, Nabet C, Lepidi H, Fournier PE, and Raoult D. Bartonella, a Common Cause of Endocarditis: a Report on 106 Cases and Review J Clin Microbiol. 2015 Mar; 53(3): 824–829.
Raoult D, Fournier PE, Vandenesch F, Mainardi JL, Eykyn SJ, Nash J, et al. Outcome and treatment of Bartonella endocarditis. Arch Intern Med.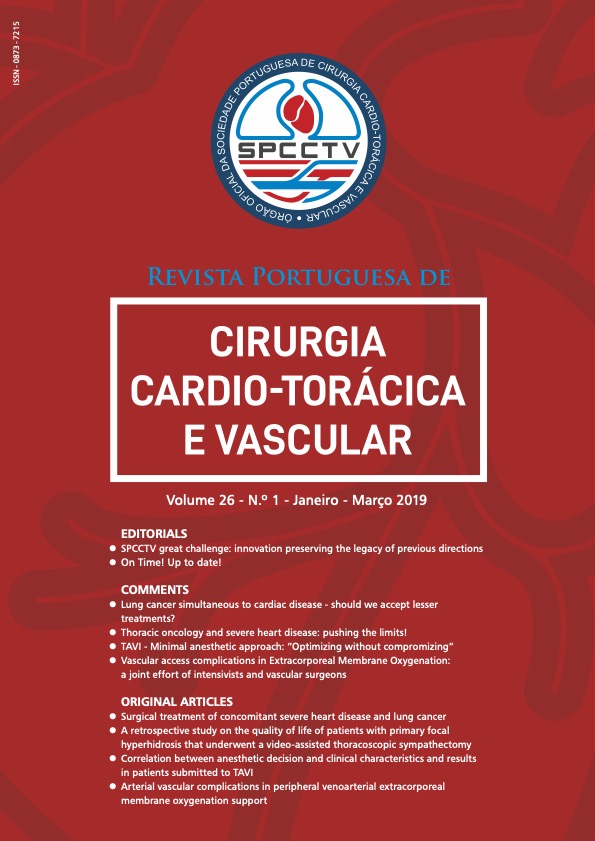 Downloads
How to Cite
1.
Pinheiro Santos J, Sousa R, Santos A, Laranjeira Santos Álvaro, Fragata J. INFECTIVE ENDOCARDITIS DUE TO BARTONELLA QUINTANA IN A PATIENT WITH BIOLOGICAL AORTIC PROSTHESIS. Rev Port Cir Cardiotorac Vasc [Internet]. 2021 May 27 [cited 2022 Aug. 11];26(1):59-61. Available from: https://pjctvs.com/index.php/journal/article/view/154
License
This work is licensed under a Creative Commons Attribution 4.0 International License.