Surgical, anesthesical and perfusion strategies for open thoracoabdominal aneurysm repair
Downloads
Download data is not yet available.
References
Etheredge SN, Yee J, Smith JV, Schonberger S, Goldman MJ. Successful resection of a large aneurysm of the upper abdominal aorta and replacement with homograft. Surgery. 1955;38(6):1071–1081.
Rob C.The surgery of the abdominal aorta and its major branches. Ann R Coll Surgeons, England 1955;17:307-18.
DeBakey ME, Crawford ES, Garrett HE, et al.Surgical considerations in the treatment of aneurysms of the thoraco-abdominal aorta. Ann Surg 1965;162:650-62.
Crawford ES. Thoraco-abdominal and abdominal aortic aneurysms involving renal, superior mesenteric, celiac arteries. Ann Surg. 1974;179:763-72.
Jacobs MJ, Mommertz G, Koeppel TA, et al. Surgical repair of thoracoabdominal aortic aneurysms. J Cardiovasc Surg (Torino) 2007;48:49-58.
Kahlberg A, Tshomba Y, Baccellieri D, Bertoglio L, Rinaldi E, Ardita V, Colombo E, Moscato U, Melissano G, Chie- sa R; CURITIBA Investigators. Renal perfusion with histidine-tryptophan-ketoglutarate compared with Ringer's solution in patients undergoing thoracoabdominal aortic open repair. J Thorac Cardiovasc Surg. 2021 Mar 4:S0022- 5223(21)00408-6. doi: 10.1016/j.jtcvs.2021.02.090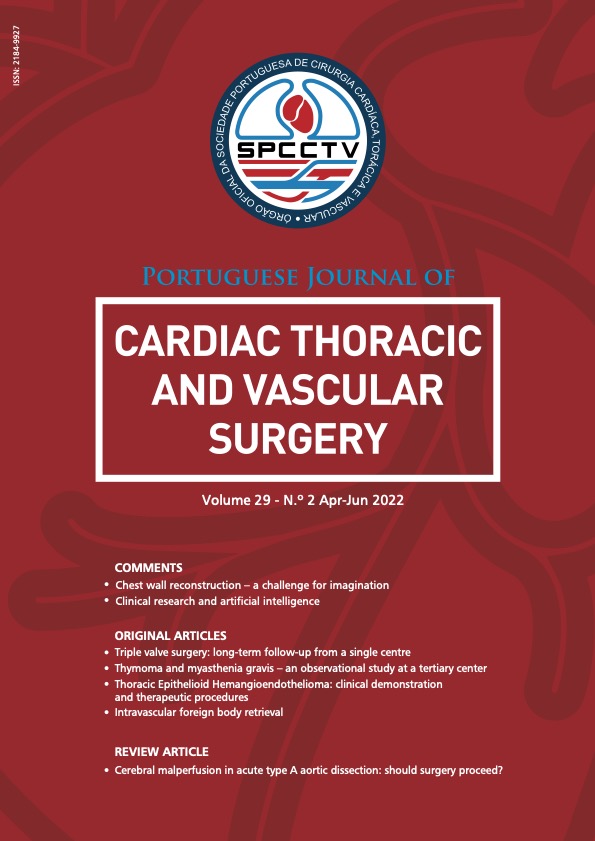 Downloads
How to Cite
1.
Pereira F, Carvalho Guerra N, Viana I, Mendes Pedro L, Nobre Ângelo. Surgical, anesthesical and perfusion strategies for open thoracoabdominal aneurysm repair. Rev Port Cir Cardiotorac Vasc [Internet]. 2022 Jul. 3 [cited 2023 Feb. 3];29(2):17-21. Available from: https://pjctvs.com/index.php/journal/article/view/274
Section
This is how I do it
License
This work is licensed under a Creative Commons Attribution 4.0 International License.