Goods's Syndrome: Immunodeficiency Beyond Thymectomy
Keywords:
Good's syndrome, thymoma, immunodeficiency, autoimmunity, infections
Downloads
Download data is not yet available.
References
Hsu CH, Chan JK, Yin CH, Lee CC, Chern CU, Liao CI. Trends in the incidence of thymoma, thymic carcinoma, and thymic neuroendocrine tumor in the United States. PLoS One. 2019;14(12):e0227197.doi:10.1371/journal.pone.0227197.
Jansen A, van Deuren M, Miller J, Litzman J, de Gracia J. Prognosis of Good syndrome: mortality and morbidity of thymoma associated immunodeficiency in perspective. Clin Immunol. 2016;171:12-17. doi: 10.1016/j.clim.2016.07.025.
Nabavi, M, Rezaeifar, A, Fallahpour, M, Arshi S, Bemanian MH et al. Good's syndrome (immunodeficiency with thymoma): A separate entity with a broad classification: Report of six cases and review of the literature. Clin Case Rep. 2021; 9:e04136. doi: 10.1002/ccr3.4136.
Shi Y, Wang C. When the Good Syndrome Goes Bad: A Systematic Literature Review. Front Immunol. 2021;12:679556. doi:10.3389/ fimmu.2021.679556.
Detterbeck FC, Stratton K, Giroux D, Asamura H, Crowley J et al. The IASLC/ITMIG Thymic Epithelial Tumors Staging Project: proposal for an evidence-based stage classification system for the forthcoming (8th) edition of the TNM classification of malignant tumors. J Thorac Oncol. 2014;9(S2):S65-72. doi:10.1097/ JTO.0000000000000290. PMID: 25396314.
Marom EM, Moreira AL, Mukai K, Orazi A, Ströbel P. The 2015 World Health Organization Classification of Tumors of the Thymus: Continuity and Changes. J ThoracOncol. 2015;10(10):1383-95. doi: 10.1097/JTO.0000000000000654.
Kabir A, Alizadehfar R, Tsoukas CM. Good's Syndrome: Time to Move on From Reviewing the Past. Front Immunol. 2022;12:815710. doi: 10.3389/fimmu.2021.815710.
Zaman M, Huissoon A, Buckland M, Patel S, Alachkar H et al. Clinical and laboratory features of seventy-eight UK patients with Good's syndrome (thymoma and hypogammaglobulinaemia). Clin Exp Immunol. 2019;195(1):132-138. doi: 10.1111/ cei.13216.
Dong JP, Gao W, Teng GG, Tian Y, Wang HH. Characteristics of Good's Syndrome in China: A Systematic Review. Chin Med J (Engl). 2017;130(13):1604-1609. doi:10.4103/0366-6999.208234.
Malphettes M, Gérard L, Galicier L, Boutboul D, Asli B et al. Good Syndrome: An Adult-Onset Immunodeficiency Remarkable for Its High Incidence of Invasive Infections and Autoimmune Complications. Clin Infect Dis. 2015;61(2):13–19. doi: 10.1093/ cid/civ269.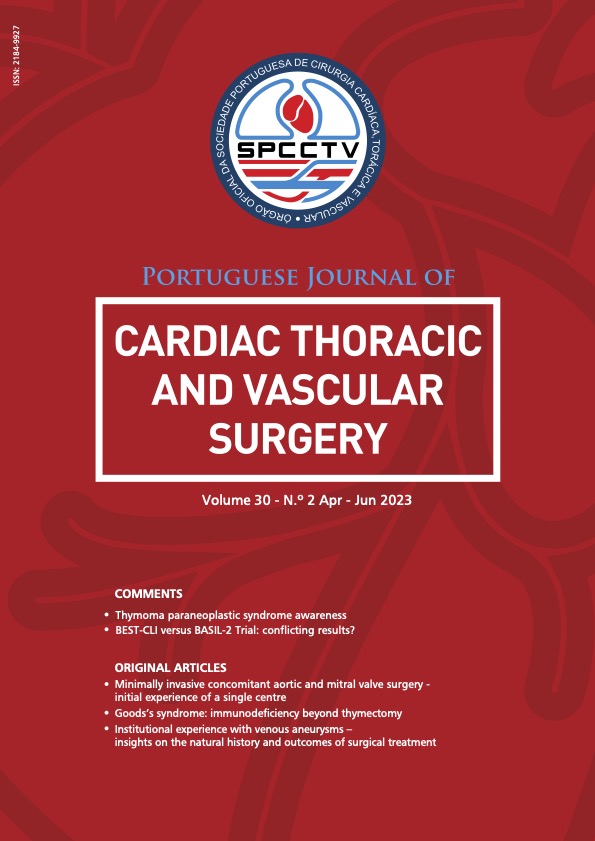 Downloads
How to Cite
1.
Queirós Gomes J, Silva S, Marques T, Lopes da Silva S. Goods's Syndrome: Immunodeficiency Beyond Thymectomy. Rev Port Cir Cardiotorac Vasc [Internet]. 2023 Jul. 7 [cited 2023 Oct. 3];30(2):19-21. Available from: https://pjctvs.com/index.php/journal/article/view/313
Section
Original Articles
License
Copyright (c) 2023 Portuguese Journal of Cardiac Thoracic and Vascular Surgery
This work is licensed under a Creative Commons Attribution 4.0 International License.