Congenital Diaphragmatic Hernia - Diagnosis After Intra-Thoracic Cholecystitis
Keywords:
Congenital, Hernia, Diaphragm, Agenesis
Abstract
Congenital diaphragmatic hernia due to diaphragmatic agenesis is extremely rare. We report the case of a 53-year-old female patient with a congenital right diaphragmatic hernia due to a right hemidiaphragm agenesia diagnosed in the context of acute intrathoracic cholecystitis. She was admitted to the Emergency Department for diffuse abdominal pain, nausea and vomiting with 2 days of evolution. Thoracic and abdominal radiography showed hydro-aerial levels in the right hemithorax. The computed tomography showed a right diaphragmatic hernia with signs of incipient incarceration. The patient underwent surgery consisting of a right exploratory thoracotomy, reduction of the hernial contents, closure of the defect with a double-sided prosthesis anchored in a pericardial patch, and pericardial reconstruction with a polypropylene prosthesis, with a remarkable evolution. This case shows a rare late presentation of a congenital hemidiaphragm agenesia in adulthood, with a special focus on the indications and surgical techniques used for its correction.
Downloads
Download data is not yet available.
References
Faisal Al-Zayer, Abdulla H Aljaroof, Maram Al-Marhoun, Basem Abualsaud, Mohammed Al-Zaher, Abdul-Wahed Meshikhes, Congenital right diaphragmatic hernia in an adult, Journal of Surgical Case Reports, Volume 2019, Issue 12, December 2019, rjz371. doi.org/10.1093/jscr/rjz371.
Sagiroglu J, Tombalak E, Yilmaz SB, Balyemez F, Eren T, Alimoglu O. Laparoscopic cholecystectomy in an adult with agenesis of right hemidiaphragm and limb reduction defects: First report in literature. North Clin Istanb. 2015 Nov 4;3(2):146-149. doi: 10.14744/nci.2015.68926.
Fei L, Saviano C, Moccia F, del Genio G, Trapani V, Nunziale A, Lombardi G, Cecchi M. ePTFE soft tissue patch reconstruction of hemidiaphragmatic agenesis with late clinical presentation. Hernia. 2008 Feb;12(1):103-6. doi: 10.1007/s10029-007-0254-z.
Vega MT, Maldonado RH, Vega GT, Vega AT, Liévano EA, Velázquez PM. Late-onset congenital diaphragmatic hernia: A case report. Int J Surg Case Rep. 2013;4(11):952-4. doi: 10.1016/j.ijscr.2013.07.034.
Wu L, Shi J, Chen Q, Jiang G. Congenital multiple eventrations of the right diaphragm in adulthood. J Thorac Cardiovasc Surg. 2014 Aug;148(2):735-6. doi: 10.1016/j.jtcvs.2013.12.053. Epub 2014 Jan 15.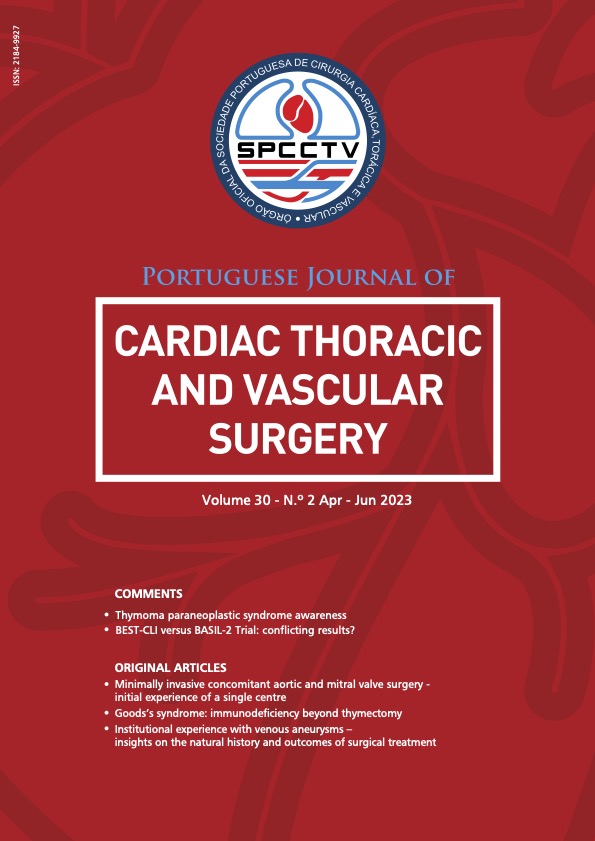 Downloads
How to Cite
1.
Pinto J, Pereira R, Freitas J. Congenital Diaphragmatic Hernia - Diagnosis After Intra-Thoracic Cholecystitis. Rev Port Cir Cardiotorac Vasc [Internet]. 2023 Jul. 7 [cited 2023 Oct. 3];30(2):55-7. Available from: https://pjctvs.com/index.php/journal/article/view/300
License
Copyright (c) 2023 Portuguese Journal of Cardiac Thoracic and Vascular Surgery
This work is licensed under a Creative Commons Attribution 4.0 International License.