THE USE OF NEAR INFRARED SPECTROSCOPY IN ALKAPTONURIA - THE MISLEADING OCHRONOSIS - A CASE REPORT AND LITERATURE REVIEW
Abstract
Introduction: Near infrared spectroscopy is a non-invasive method to assess regional oxygenation and is being used in transcatheter aortic valve implantation to document periods of cerebral hypoperfusion, where cerebrovascular events are one of the most feared complications.
Alkaptonuria is a rare metabolic disease characterized by accumulation of homogentisic acid in tissues and body fluids. The accumulation of pigment might interfere with the absorption of near infrared light, used in near infrared spectroscopy monitoring.
We present a case of near infrared spectroscopy failing to accurately monitor cerebral oximetry in a woman, with alkaptonuria, undergoing a transcatheter aortic valve implantation.
Downloads
Download data is not yet available.
References
Vretzakis G, Georgopoulou S, Stamoulis K, Stamatiou G, Tsa- kiridis K, Zarogoulidis P et al. Cerebral oximetry in cardiac anesthesia. J Thorac Dis. 2014; 6(S1):60-69.
Reardon MJ, Van Mieghem NM, Popma JJ, Kleiman NS, Sondergaard L, Mumtaz M et al.Surgical or Transcatheter Aortic-Valve Replacement in Intermediate-Risk Patients. N Engl J Med. 2017; 376(14):1321-1331.
Grabert S, Lange R, Bleiziffer S. Incidence and causes of silent and symptomatic stroke following surgical and transcatheter aortic valve replacement: a comprehensive review. Interactive CardioVascular and Thoracic Surgery. 2016: 469–476.
Karaaslan P, Darçın K, Özyüksel A, Kutlu E, Köse EA, Boztosun B et al. Effect of rapid ventricular pacing on cerebral oxygenation in transcatheter aortic valve implantation (TAVI): role of routine near-infrared spectroscopy monitoring. Biomedical Research. 2017; 28 (7): 3176-3181.
Ghosh A, Elwell C, Smith M. Cerebral Near-Infrared Spectroscopy in Adults: A Work in Progress. Anesth Analg. 2012;
(6):1373-83.
Mistry JB, Bukhari M, Taylor AM. Alkaptonuria. Rare Diseases. 2013; 1:1, 1–7.
Argiriadou H, Anastasiadis K, Antonitsis P, Kanyamimboua D, Karapanagiotidis G, Papakonstantinou C. The Inability of Regional Oxygen Saturation Monitoring in a Patient With Alkaptonuria Undergoing Aortic Valve Replacement. J Cardiothorac Vasc Anesth. 2009; 23(4) 586-588.
Davie SN, Grocott, HP. Impact of Extracranial Contamination on Regional Cerebral Oxygen Saturation - a comparison of three cerebral oximetry technologies. Anesthesiology. 2012; 116:834-40.
Kovač P, Miš K, Pirkmajer S, Marš T, Klokočovnik T, Kotnik G, et al. How to Measure Tissue Oxygenation Using Near-Infrared Spectroscopy in a Patient With Alkaptonuria. J Cardiothorac Vasc Anesth. 2018 Dec;32(6):2708-2711.
Namekawa M, Ishida K, Kimura M, Fujii C, Yamashita S. Alkaptonuric Ochronosis and the Failure of Regional Cerebral Tissue Oxygen Saturation Monitoring by Two Different Near-infrared Spectroscopy Devices. J Cardiothorac Vasc Anesth. 2018 Oct;32(5):2286-2288.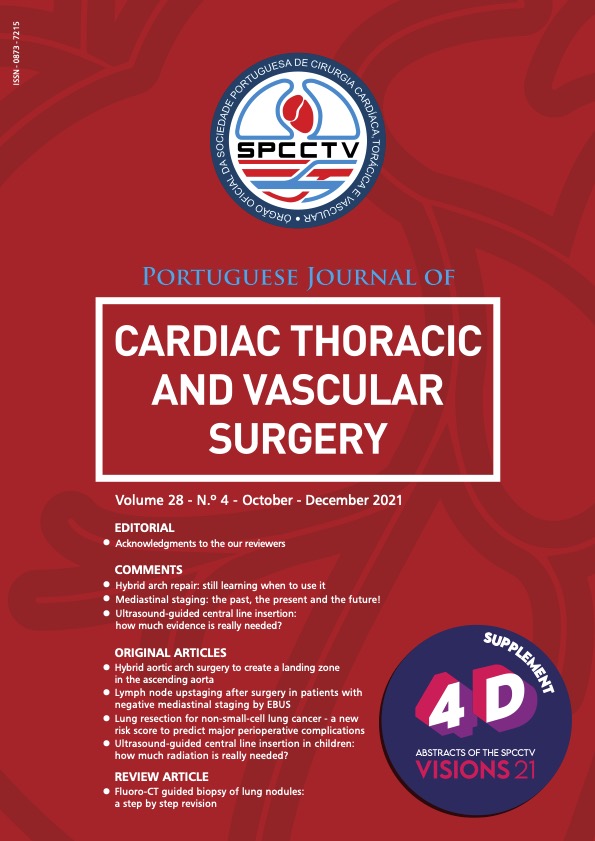 Downloads
How to Cite
1.
Mateus C, Carvalho AF, Fonte Boa A. THE USE OF NEAR INFRARED SPECTROSCOPY IN ALKAPTONURIA - THE MISLEADING OCHRONOSIS - A CASE REPORT AND LITERATURE REVIEW. Rev Port Cir Cardiotorac Vasc [Internet]. 2022 Jan. 4 [cited 2022 Jan. 28];28(4):47-9. Available from: https://pjctvs.com/index.php/journal/article/view/224
License
This work is licensed under a Creative Commons Attribution 4.0 International License.