FLUORO-CT GUIDED BIOPSY OF LUNG NODULES: A STEP BY STEP REVISION
Abstract
Introduction: Transthoracic biopsies under fluoro-computer tomography (CT) guidance play an important role on the diagnosis and management of lung nodules, permitting histological examination and differentiation between benign and malignant lesions(1). Furthermore, with recent advances in target therapy, it is increasingly necessary to obtain tumor tissue for the analysis of molecular fingerprints allowing personalized treatment(1).
Although many studies report low complication rates for this procedure, they are not negligible, urging the need for a structured and reproducible guide to reduce technique-related complications(1,2).
Downloads
Download data is not yet available.
References
Tsai IC, Tsai WL, Chen MC, Chang GC, Tzeng WS, Chan SW, et al. CT-guided core biopsy of lung lesions: a primer. AJR Am J Roentgenol. 2009 Nov;193(5):1228-35.
Bladt O, Verschakelen J, De Wever W. P-352 CT fluoroscopy guided transthoracic core needle biopsy of pulmonary lesions: A study of 69 lesions. Lung Cancer. 2005;49:S208.
Manhire A, Charig M, Clelland C, Gleeson F, Miller R, Moss H, et al. Guidelines for radiologically guided lung biopsy. Thorax. 2003 Nov;58(11):920-36.
Beslic S, Zukic F, Milisic S. Percutaneous transthoracic CT guided biopsies of lung lesions; fine needle aspiration biopsy versus core biopsy. Radiol Oncol. 2012 Mar;46(1):19- 22.
Trikha, G., Grage, R., Scalzetti, E. and Kanchwala, A., 2007. CT-guided biopsy of lung lesions using a coaxial system to obtain core samples. Chest, 132(4), p.592B.
Gohari A, Haramati LB. Complications of CT scan-guided lung biopsy: lesion size and depth matter. Chest. 2004 Sep;126(3):666-8.
Mohapatra M, Sengupta A, Shankar G. CT Guided Biopsy of Lung lesions – Prevalence of Pneumothorax and Variables affecting it. International Journal of Contemporary Medical Research. 2019;6(10):8-13.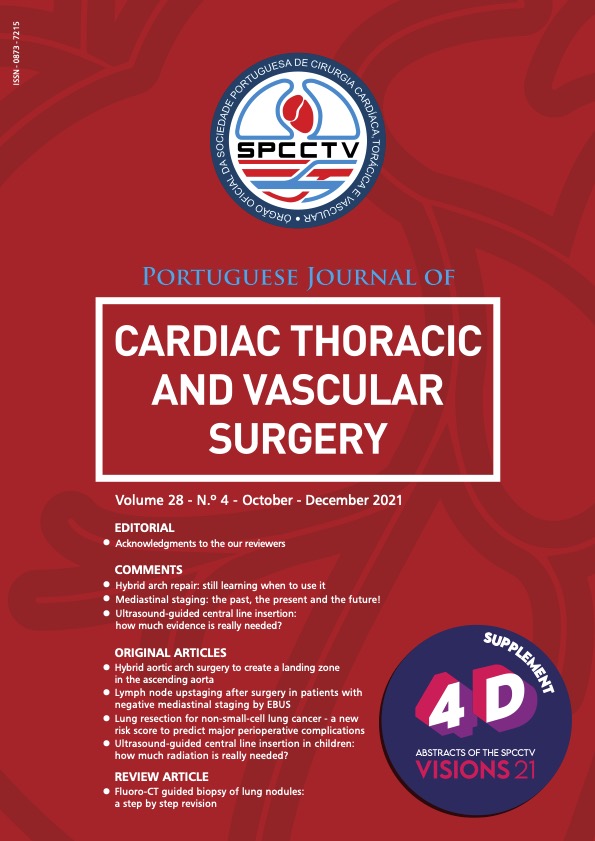 Downloads
How to Cite
1.
Vieites Branco I, Martins S, Monteiro JP, Rocha D, Pereira T. FLUORO-CT GUIDED BIOPSY OF LUNG NODULES: A STEP BY STEP REVISION. Rev Port Cir Cardiotorac Vasc [Internet]. 2022 Jan. 4 [cited 2022 Jan. 28];28(4):43-6. Available from: https://pjctvs.com/index.php/journal/article/view/223
License
This work is licensed under a Creative Commons Attribution 4.0 International License.