MANAGEMENT OF THE UPPER LIMB ARTERIOVENOUS MALFORMATIONS
Abstract
Arteriovenous malformations (AVMs) involving the upper limb constitute 10% of the total AVMs. In the upper limb, AVMs are more frequent in the hand than in the arm, being the hand one of the body's regions more frequently associated with AVMs, coming after the head and neck. The total prevalence of the upper limb AVMs remains unknown and there is currently no definitive consensus for the treatment of upper limb AVMs. The purpose of this study was to review the
best evidence of the treatment for the upper limb AVMs and describe their clinical characteristics and diagnosis. The majority of patients with asymptomatic AVMs follows a conservative management. In the symptomatic patients, the treatment with surgery and or chemical embolization is beneficial. The amputation can be necessary in the case of life-threatening and massive AVMs, constituting the first step in patient's rehabilitation. Although the most common option for the management of symptomatic or functional AVMs is the embolo-sclerotherapy combined with surgery, different outcomes should be taken into account to plan the treatment, specially the presence of symptoms, bleeding and heart failure.
Downloads
Download data is not yet available.
References
Tasnadi G. Epidemiology and etiology of congenital vascular malformations. Seminars in vascular surgery. 1993;6(4):200-3.
Enjolras O, Wassef M, Chapot R. Color atlas of vascular tumors and vascular malformations. Cambridge ; New York: Cambridge University Press; 2007. x, 299 p. p.
Bastide G, Lefebvre D, Jaeger JF. The organogenesis and anatomy of vascular malformation. International angiology: a journal of the International Union of Angiology. 1990;9(3):137-40.
Balakrishnan G. Vascular anomalies of the upper limb. Indian journal of plastic surgery : official publication of the Association of Plastic Surgeons of India. 2011;44(2):276-82.
Greene AK, Orbach DB. Management of arteriovenous malformations. Clinics in plastic surgery. 2011;38(1):95-106.
Mulliken JB, Fishman SJ, Burrows PE. Vascular anomalies. Current problems in surgery. 2000;37(8):517-84.
Buckmiller LM, Richter GT, Suen JY. Diagnosis and management of hemangiomas and vascular malformations of the head and neck. Oral diseases. 2010;16(5):405-18.
Shantel W, Helen K, Ludmila P, Yongmei C, Michael TL, Stephen S, et al. EPHB4 Gene Polymorphisms and Risk of Intracranial Hemorrhage in Patients With Brain Arteriovenous Malformations. Circulation: Cardiovascular Genetics. 2009;2(5):476-82.
Rockman CB, Rosen RJ, Jacobowitz GR, Weiswasser J, Hofstee DJ, Fioole B, et al. Transcatheter embolization of extremity vascular malformations: the long-term success of multiple interventions. Annals of vascular surgery. 2003;17(4):417-23.
Szilagyi DE, Smith RF, Elliott JP, Hageman JH. Congenital Arteriovenous Anomalies of the Limbs. Archives of Surgery. 1976;111(4):423-9.
Mulliken JB, Glowacki J. Hemangiomas and vascular malformations in infants and children: a classification based on endothelial characteristics. Plastic and reconstructive surgery. 1982;69(3):412-22.
Finn MC, Glowacki J, Mulliken JB. Congenital vascular lesions: clinical application of a new classification. Journal of pediatric surgery. 1983;18(6):894-900.
Yakes WF, Rossi P, Odink H. Arteriovenous malformation management. CardioVascular and Interventional Radiology. 1996;19(2):65-71.
Upton J, Coombs CJ, Mulliken JB, Burrows PE, Pap S. Vascular malformations of the upper limb: a review of 270 patients. The Journal of hand surgery. 1999;24(5):1019-35.
Fleetwood IG, Steinberg GK. Arteriovenous malformations. Lancet. 2002;359(9309):863-73.
Liu AS, Mulliken JB, Zurakowski D, Fishman SJ, Greene AK. Extracranial arteriovenous malformations: natural progression and recurrence after treatment. Plastic and reconstructive surgery. 2010;125(4):1185-94.
Enjolras O. Classification and management of the various superficial vascular anomalies: hemangiomas and vascular malformations. J Dermatol. 1997;24(11):701-10.
Kohout MP, Hansen M, Pribaz JJ, Mulliken JB. Arteriovenous malformations of the head and neck: natural history and management. Plastic and reconstructive surgery. 1998;102(3):643-54.
K. S, L. H, M. R, R. E, J J, J L. Arteriovenous malformation of the hand: challenges in diagnosis and management. The Journal of Surgery. 2004;2(1):50-1.
Fayad L, Hazirolan T, Bluemke D, Mitchell S. Vascular malformations in the extremities: emphasis on MR imaging features that guide treatment options. Skeletal Radiology. 2006;35(3):127-37.
Enjolras O. Classification and Management of the Various Superficial Vascular Anomalies: Hemangiomas and Vascular Malformations. The Journal of Dermatology. 1997;24(11):701-10.
Burrows PE, Mulliken JB, Fishman SJ, Klement GL, Folkman J. Pharmacological treatment of a diffuse arteriovenous malformation of the upper extremity in a child. The Journal of craniofacial surgery. 2009;20 Suppl 1:597-602.
White RI, Jr., Pollak J, Persing J, Henderson KJ, Thomson JG, Burdge CM. Long-term outcome of embolotherapy and surgery for high-flow extremity arteriovenous malformations. Journal of vascular and interventional radiology : JVIR. 2000;11(10):1285-95.
Mendel T, Louis DS. Major vascular malformations of the upper extremity: long-term observation. The Journal of hand surgery. 1997;22(2):302-6.
Visser A, FitzJohn T, Tan ST. Surgical management of arteriovenous malformation. Journal of plastic, reconstructive & aesthetic surgery : JPRAS. 2011;64(3):283-91.
Sofocleous CT, Rosen RJ, Raskin K, Fioole B, Hofstee DJ. Congenital vascular malformations in the hand and forearm. Journal of endovascular therapy : an official journal of the International Society of Endovascular Specialists. 2001;8(5):484-94.
Diaz O, Scranton R. Endovascular treatment of arteriovenous malformations. Handbook of clinical neurology. 2016;136:1311-7.
Wu IC, Orbach DB. Neurointerventional management of high-flow vascular malformations of the head and neck. Neuroimaging clinics of North America. 2009;19(2):219-40, Table of Contents.
Lee BB, Do YS, Byun HS, Choo IW, Kim DI, Huh SH. Advanced management of venous malformation with ethanol sclerotherapy: mid-term results. Journal of vascular surgery. 2003;37(3):533-8.
Do YS, Yakes WF, Shin SW, Lee BB, Kim DI, Liu WC, et al. Ethanol embolization of arteriovenous malformations: interim results. Radiology. 2005;235(2):674-82.
Sahlein DH, Mora P, Becske T, Nelson PK. Nidal embolization of brain arteriovenous malformations: rates of cure, partial embolization, and clinical outcome. Journal of neurosurgery. 2012;117(1):65-77.
Do YS, Kim YW, Park KB, Kim DI, Park HS, Cho SK, et al. Endovascular treatment combined with emboloscleorotherapy for pelvic arteriovenous malformations. Journal of vascular surgery. 2012;55(2):465-71.
Park UJ, Do YS, Park KB, Park HS, Kim YW, Lee BB, et al. Treatment of arteriovenous malformations involving the hand. Annals of vascular surgery. 2012;26(5):643-8.
Cho CH, Choi JS. Permanent ulnar nerve palsy after embolotherapy of arteriovenous malformation around the elbow. Hand surgery : an international journal devoted to hand and upper limb surgery and related research: journal of the Asia-Pacific Federation of Societies for Surgery of the Hand. 2011;16(2):167-9.
Fernandez Alonso L. [Surgical treatment of vascular malformations]. Anales del sistema sanitario de Navarra. 2004;27 Suppl 1:127-32.
Su YH, Karri V, Lu LF, Chen HC. CASE REPORT Upper-Limb Disarticulation for Life-Threatening High-Flow Arteriovenous Malformation: Report of a Case. Eplasty. 2010;10:e71.
Hernesniemi J, Romani R, Lehecka M, Isarakul P, Dashti R, Celik O, et al. Present state of microneurosurgery of cerebral arteriovenous malformations. Acta neurochirurgica Supplement. 2010;107:71-6.
Ramirez-Senent B, Abadal JM, Vazquez E, Lago I, Galvez E, Araujo MA, et al. Endovascular Management of a Giant High-Flow Lower Limb Arteriovenous Malformation. Vasc Endovascular Surg. 2017;51(8):572-6.
Lee BB, Do YS, Yakes W, Kim DI, Mattassi R, Hyon WS. Management of arteriovenous malformations: a multidisciplinary approach. Journal of vascular surgery. 2004;39(3):590-600.
Sanchez-Morales GE, Anaya-Ayala JE, Serrano-Cueva MA, Salas-Torrez E, Hinojosa CA. Hand Ischemia due to Steal Syndrome Associated with Multiple Arteriovenous Malformations in a Patient with Parkes-Weber Syndrome. The journal of hand surgery Asian-Pacific volume. 2019;24(1):89-92.
Folkman J. Angiogenesis: an organizing principle for drug discovery? Nature reviews Drug discovery. 2007;6(4):273-86.
Lapresta A, Hermosa E, Boixeda P, Carrillo-Gijon R. Acquired digital arteriovenous malformations: laser treatment of an uncommon vascular abnormality. Actas dermo-sifiliograficas. 2014;105(5):e33-7.
Bekhor PS, Ditchfield MR. Acquired digital arteriovenous malformation: ultrasound imaging and response to long-pulsed neodymium:yttrium-aluminum-garnet treatment. Journal of the American Academy of Dermatology. 2007;56(5 Suppl):S122-4.
Mendonça C, M M. Multidisciplinary approach in the management of a giant axillary arteriovenous malformation. Journal of vascular surgery. 2008;47(3):657.
Lee BB, Laredo J. Regarding "Multidisciplinary approach in the management of a giant arteriovenous malformation in the right axillary region". Journal of vascular surgery. 2008;48(3):775-6; author reply 6.
Kim JY, Kim DI, Do YS, Lee BB, Kim YW, Shin SW, et al. Surgical treatment for congenital arteriovenous malformation: 10 years' experience. European journal of vascular and endovascular surgery : the official journal of the European Society for Vascular Surgery. 2006;32(1):101-6.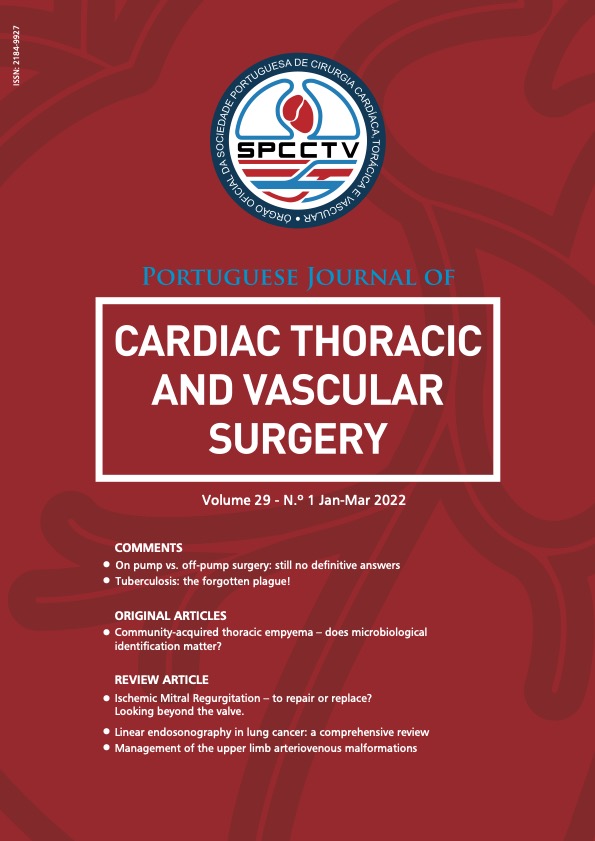 Downloads
How to Cite
1.
Pinheiro M, Carreira M, Rocha-Neves J. MANAGEMENT OF THE UPPER LIMB ARTERIOVENOUS MALFORMATIONS. Rev Port Cir Cardiotorac Vasc [Internet]. 2022 Apr. 11 [cited 2023 May 30];29(1):45-51. Available from: https://pjctvs.com/index.php/journal/article/view/184
License
Copyright (c) 2022 Portuguese Journal of Cardiac Thoracic and Vascular Surgery
This work is licensed under a Creative Commons Attribution 4.0 International License.