Lemierre's syndrome: case report of "the forgotten disease" in current COVID-19 pandemic
Abstract
Lemierre's syndrome refers to infectious thrombophlebitis of the internal jugular vein developed as complication of an oropharyngeal infection. It is a rare syndrome, affecting otherwise healthy young adults, which may lead to sepsis complicated by septic embolization. Although there is a characteristic clinical picture, many modern physicians are unaware of this syndrome, leading it to be termed 'the forgotten disease'. The authors report a case of late diagnosis due to initial suspicion of COVID-19 and highlight the pitfalls on its diagnosis.
Downloads
Download data is not yet available.
References
Leitão MJ, Meireles M, Toscano T, do Carmo G, da Gama AD. Síndrome de Lemierre [Lemierre's syndrome]. Rev Port Cir Cardiotorac Vasc 2004; 11(4): 223-226.
Lemierre A. On certain septicemias due to anaerobic organisms. Lancet 1936; 227(5874): 701–703.
Gore MR. Lemierre Syndrome: A Meta-analysis. Int Arch Otorhinolaryngol 2020; 24(3): e379-e385.
Bahall M, Giddings S, Bahall K. Lemierre's syndrome: forgotten, but not absent. BMJ Case Rep 2017; doi:10.1136/bcr-2017-221203.
Lee WS, Jean SS, Chen FL, Hsieh SM, Hsueh PR. Lemierre's syndrome: A forgotten and re-emerging infection. J Microbiol Immunol Infect. 2020; 53(4): 513-517.
Campo F, Fusconi M, Ciotti M, et al. Antibiotic and Anticoagulation Therapy in Lemierre's Syndrome: Case Report and Review. J Chemother. 2019; 31(1):42-48.
Gama R, Sousa M, Castro F, Condé A. Lemierre's syndrome: a forgotten life-threatening entity. BMJ Case Rep. 2020; 13(10): e236201.
Alves S, Stella L, Carvalho I, Moreira D. Lemierre's syndrome: a disguised threat. BMJ Case Rep. 2019; 12(4):e228397.
Santos FV, Pires SX, Pereira C, Gonçalves L, Martins S et al. Deep neck space infection and Lemierre's syndrome caused by Streptococcus anginosus: A case report. IDCases. 2019; 19: e00669.
Mação P, Cancelinha C, Lopes P, Rodrigues F. An 11-year-old boy with pharyngitis and cough: Lemierre syndrome. BMJ Case Rep. 2013; doi: 10.1136/bcr-2012008527bcr-2012-008527.
Jácome F, Dias-Neto M. Septic Pulmonary Embolism Secondary to Lemierre Syndrome. Eur J Vasc Endovasc Surg. 2021; 61(4):627.
Revzin MV, Raza S, Warshawsky R, D'Agostino C, Srivastava NC et al. Multisystem Imaging Manifestations of COVID-19, Part 1: Viral Pathogenesis and Pulmonary and Vascular System Complications. Radiographics. 2020; 40(6): 1574-1599.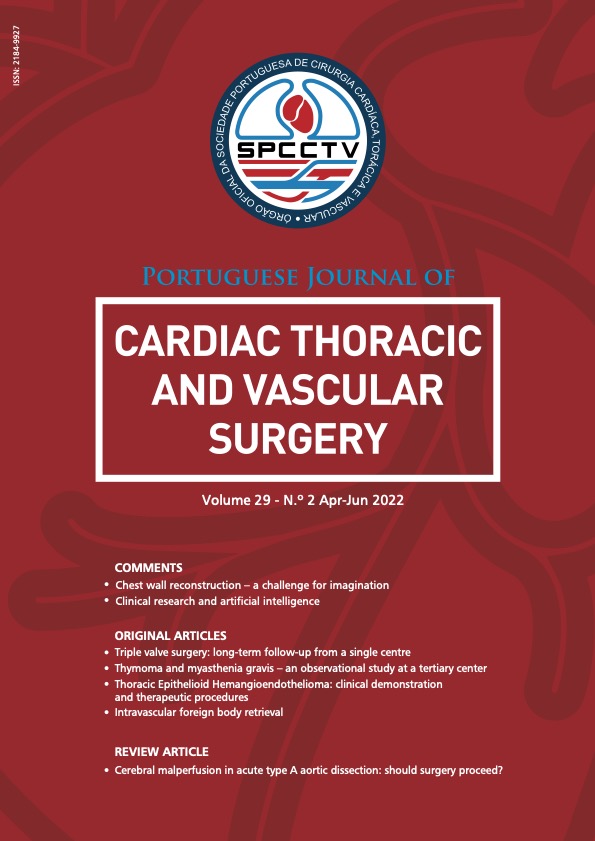 Downloads
How to Cite
1.
Lima-Bernardes F, Soares D, Costa T, Ferreira V, Vasconcelos J, Vidoedo J, Almeida-Pinto J. Lemierre's syndrome: case report of "the forgotten disease" in current COVID-19 pandemic. Rev Port Cir Cardiotorac Vasc [Internet]. 2022 Jul. 3 [cited 2023 Dec. 9];29(2):71-4. Available from: https://pjctvs.com/index.php/journal/article/view/183
License
Copyright (c) 2022 Portuguese Journal of Cardiac Thoracic and Vascular Surgery
This work is licensed under a Creative Commons Attribution 4.0 International License.