VASCULAR ACCESS COMPLICATIONS IN EXTRACORPOREAL MEMBRANE OXYGENATION: A JOINT EFFORT OF INTENSIVISTS AND VASCULAR SURGEONS
Downloads
Download data is not yet available.
References
Abrams D, Combes A, Brodie D. Extracorporeal membrane oxygenation in cardiopulmonary disease in adults. J Am Coll Cardiol 2014;63(25 Pt A):2769–78.
Cheng R, Hachamovitch R, Kittleson M, et al. Complications of extracorporeal membrane oxygenation for treatment of cardiogenic shock and cardiac arrest: a meta-analysis of 1,866 adult patients. Ann Thorac Surg 2014;97:610–6.
Foley PJ, Morris RJ, Woo EY, et al. Limb ischemia during femoral cannulation for cardiopulmonary support. J Vasc Surg 2010;52:850–3.
Aziz F, Brehm CE, El-Banyosy A, Han DC, Atnip RG, Reed AB. Arterial complications in patients undergoing extracorporeal membrane oxygenation via femoral cannulation. Ann Vasc Surg 2014;28:178–83.
Augusto R, Silva MP, Campos J, Coelho A, Coelho N, Semião AC, Brandão D, Canedo A. Arterial vascular complications in peripheral venoarterial extracorporealmembrane oxygenation support. Rev Port Cir Cardiotorac Vasc. 2019;26(1):45-50.
Bisdas T, Beutel G, Warnecke G, Hoeper MM, Kuehn C, Haverich A, et al. Vascular Complications in Patients Undergoing Femoral Cannulation for Extracorporeal Membrane Oxygenation Support. The Annals of Thoracic Surgery. 2011 Aug;92(2):626–31.
Zochios VA, Wilkinson J, Dasgupta K. The role of ultrasound as an adjunct to arterial catheterization in critically ill surgical and intensive care unit patients. J Vasc Access. 2014 Jan-Feb;15(1):1-4. doi: 10.5301/jva.5000190. Epub 2013 Oct 7.
Sobolev M, Slovut DP, Lee Chang A, Shiloh AL, Eisen LA. Ultrasound-Guided Catheterization of the Femoral Artery: A Systematic Review and Meta-Analysis of Randomized Controlled Trials. J Invasive Cardiol. 2015 Jul;27(7):318-23.
Jackson KW, Timpa J, McIlwain RB, et al. Side-arm grafts for femoral extracorporeal membrane oxygenation cannulation. Ann Thorac Surg 2012;94:e111–2.
Hwang JW, Yang JH, Sung K, Song YB, Hahn JY, Choi JH, Gwon HC, Choi SH. Percutaneous removal using Perclose ProGlide closure devices versus surgical removal for weaning after percutaneous cannulation for venoarterial extracorporeal membrane oxygenation. J Vasc Surg. 2016 Apr;63(4):998-1003.
Vierhout BP, Saleem BR, Ott A, van Dijl JM, de Kempenaer TD, Pierie ME, Bottema JT, Zeebregts CJ. comparison of Percutaneous femoral access in Endovascular Repair versus Open femoral access (PiERO): study protocol for a randomized controlled trial. Trials. 2015 Sep 14;16:408.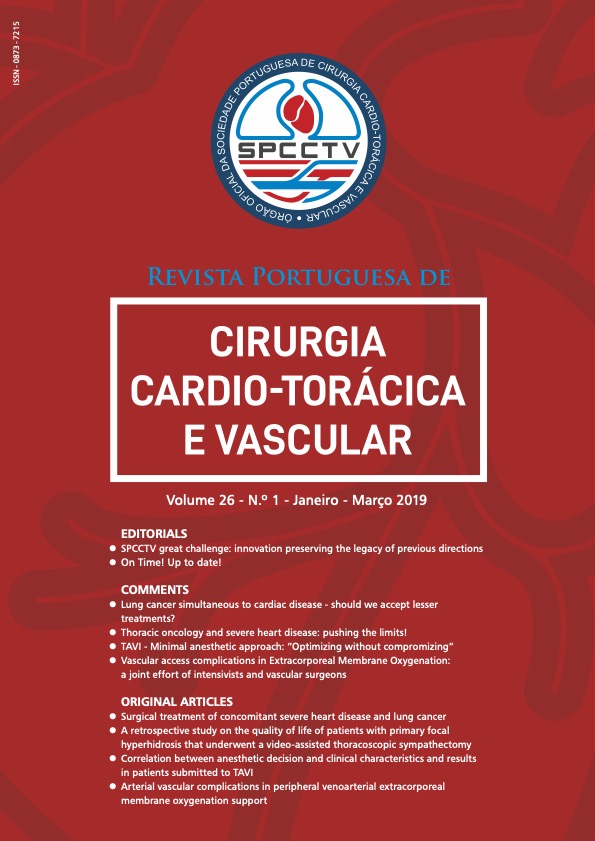 Downloads
How to Cite
1.
Dias-Neto M. VASCULAR ACCESS COMPLICATIONS IN EXTRACORPOREAL MEMBRANE OXYGENATION: A JOINT EFFORT OF INTENSIVISTS AND VASCULAR SURGEONS. Rev Port Cir Cardiotorac Vasc [Internet]. 2021 May 27 [cited 2022 Aug. 11];26(1):17-8. Available from: https://pjctvs.com/index.php/journal/article/view/143
Section
Editorial Comment
License
This work is licensed under a Creative Commons Attribution 4.0 International License.