LEVOSIMENDAN IN SINGLE VENTRICLE HEART FAILURE AFTER LONGTERM SURVIVAL OF A MODIFIED BLALOCK-TAUSSIG SHUNT
Abstract
We report the case of a 44 year-old patient with complex ACHD, admitted with acute decompensated heart failure (ADHF) in hemodynamic profile B. He had a single ventricle with pulmonary atresia, previously submitted to three modified Blalock-Taussig shunts (mBTs) at the age of 2, 12 and 19 years old. Despite conventional treatment with diuretics, β-blockers (BB) and isosorbide dinitrate the patient progressed to profile C and the transthoracic echocardiogram disclosed a reduced systolic function. Likewise, levosimendan was commenced and an appropriate decongestion and a marked reduction in the NT-proBNP were seen. Treatment with angiotensin-converting-enzyme inhibitor, BB, ivabradine and mineralocorticoid receptor was optimized. The patient was discharged home after 26 days in NYHA class III and referred for heart transplant after right heart catheterization. To our knowledge, this is the first report of successful levosimendan's use in ADHF in a mBTs long- -term survivor.
Downloads
Download data is not yet available.
References
Hoffman JIE, Kaplan S. The incidence of congenital heart disease. J Am Coll Cardiol [Internet]. 2002;39(12):1890–900.
Stout KK, Daniels CJ, Aboulhosn JA, Bozkurt B, Broberg CS, Colman JM, et al. 2018 AHA/ACC Guideline for the Management of Adults With Congenital Heart Disease. J Am Coll Cardiol. 2018 Aug;
Scholtz W, Jategaonkar SR, Dimitriadis Z, Haas NA, Horstkotte D. 63-year Survival after Blalock-Taussig Shunt Operation in a Patient with Single Ventricle, Tricuspid Atresia, and Pulmonary Stenosis. Congenit Heart Dis. 2011;6(2):179–82.
Saab FG, Aboulhosn JA. Hemodynamic Characteristics of Cyanotic Adults with Single-ventricle Physiology without Fontan Completion. Congenit Heart Dis. 2013;8(2):124–30.
Rafiq I, Freeman LJ. Pulsed levosimendan therapy in the management of chronic end stage cardiac failure in "adult congenital heart disease." Vol. 195, International Journal of Cardiology. 2015. p. 283–4.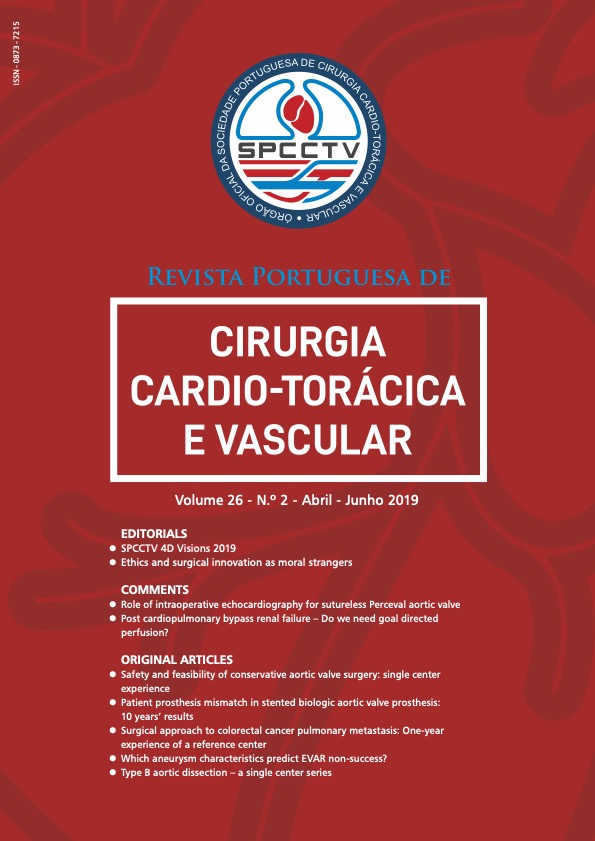 Downloads
How to Cite
1.
Tavares J, Baptista B, Sarmento P, Gonçalves B, Abecassis M. LEVOSIMENDAN IN SINGLE VENTRICLE HEART FAILURE AFTER LONGTERM SURVIVAL OF A MODIFIED BLALOCK-TAUSSIG SHUNT. Rev Port Cir Cardiotorac Vasc [Internet]. 2021 May 26 [cited 2023 Feb. 3];26(2):147-9. Available from: https://pjctvs.com/index.php/journal/article/view/130
License
This work is licensed under a Creative Commons Attribution 4.0 International License.