Role of intraoperative Echocardiography for Sutureless Perceval Aortic Valve
Downloads
Download data is not yet available.
References
Shrestha M, Fischlein T, Meuris B, et al. European multicentre experience with the sutureless Perceval valve: Clinical and haemodynamic
outcomes up to 5 years in over 700 patients. Eur J Cardiothorac Surg 2016;49:234–41.
Ramakrishna H, Patel PA, Gutsche JT, et al. Surgical aortic valve replacement—Clinical update on recent advances in the contemporary era. J Cardiothorac Vasc Anesth 2016;30:1733–41.
Meco M, Montisci A, Miceli A, et al. Sutureless Perceval aortic valve versus conventional stented bioprostheses: Meta-analysis of postoperative and mid- term results in isolated aortic valve replacement. J Am Heart Assoc 2018;7.
Shrestha M, Folliguet T, Meuris B, et al. Sutureless Perceval S aortic valve replacement: A multicenter, prospective pilot trial. J Heart Valve Dis 2009;18:698–702.
Nguyen A, Fortin W, Mazine A, et al. Sutureless aortic valve replacement in patients who have bicuspid aortic valve. J Thorac Cardiovasc Surg 2015;150:851–7.
U.S. Food and Drug Administration/Center for Drug Evaluation and Research. Sorin Perceval Sutureless Heart Valve - P150011. Available at: https://www.accessdata.fda.gov/cdrh_docs/pdf15/p150011b.pdf. Washing- ton, DC. 2017. Accessed November 23, 2017.
Dohmen PM, Lehmkuhl L, Borger MA, et al. Valve-in-valve replacement using a sutureless aortic valve. Am J Case Rep 2016;17:699–702.
Di Eusanio M, Phan K. Sutureless aortic valve replacement. Ann Cardiothorac Surg 2015;4:123–30.
Cerillo AG, Amoretti F, Mariani M, et al. Increased gradients after aortic valve replacement with the Perceval valve: The role of oversizing. Ann Thorac Surg 2018.
Laborde F, Fischlein T, Hakim-Meibodi K, et al. Clinical and haemody- namic outcomes in 658 patients receiving the Perceval sutureless aortic valve: Early results from a prospective European multicentre study (the Cavalier Trial). Eur J Cardiothorac Surg 2016;49:978–86.
Beckmann E, Martens A, Alhadi F, et al. Aortic valve replacement with sutureless prosthesis: Better than root enlargement to avoid patient-prosthesis mismatch? Interact Cardiovasc Thorac Surg 2016;22:744–9.
Lee T, Mittnacht AJC, Itagaki S, et al. Mitral regurgitation exacerbation due to sutureless aortic valve replacement. Ann Thorac Surg 2018;105: e103–5.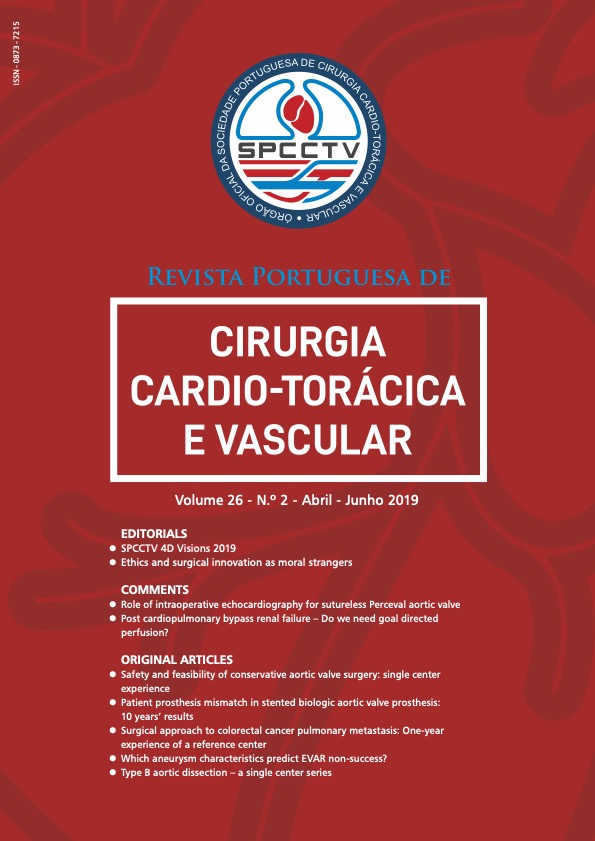 Downloads
How to Cite
1.
Celestino C. Role of intraoperative Echocardiography for Sutureless Perceval Aortic Valve. Rev Port Cir Cardiotorac Vasc [Internet]. 2021 May 26 [cited 2023 Oct. 3];26(2):87-9. Available from: https://pjctvs.com/index.php/journal/article/view/119
Section
Editorial Comment
License
This work is licensed under a Creative Commons Attribution 4.0 International License.